This shop has been compensated by Collective Bias, Inc. and its advertiser. All opinions are mine alone.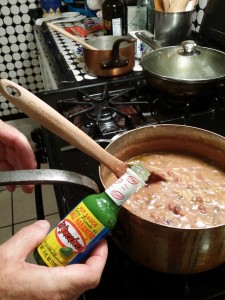 In this house a lot of cooking happens. Sometimes it's me making jam and the family recipes I love to create or experiment with and sometimes it is Gianfranco Minuz, a Michelin-starred chef that graces my kitchen with his beautiful cooking. We learn from each other. I delight in showing him the Mexican food that is obscure, different or just spicy like habanero and he loves showing me his Italian recipes from the Tre Venezia area he hails from.
This time we were working in the kitchen together, yet apart. We had a couple of bottles of El Yucateco Habanero Sauce that we'd bought at Walmart and the challenge was to create or re-create a recipe utilizing the sauce.  I had the red, he had the green and we each decided to go with a very traditional and simple dish from our respective cultures. I made a very simple, yet delicious and typically sweet guacamole with green grapes and peaches, while he made pasta e fagioli or pasta with beans.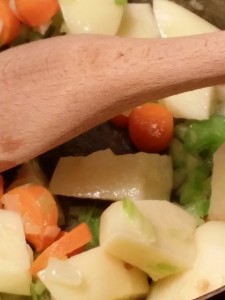 Guacamole with green grapes and peaches is a very traditional, though probably little known (in this country) way of making guacamole.  The grapes are sliced in half and the peach diced then mixed in with the mashed guacamole.  Whenever I make it, I like to put minced serrano peppers in it to give a spiciness that mixes well with the sweetness of the grapes, avocado and peaches.  This time, I added a few dashes of the El Yucateco habanero sauce which turned up the heat just a tad and imparted a tanginess instead of the usual almost bell pepper taste the serrano chile imparts. I liked the flavor change and it added a depth to the sweetness.
Gianfranco explained the dish he made is typical fare and is made by just about everyone in Italy and each adds their own twist to it.  He told me that some people add dried chili peppers, others add a little sausage, still others add different spices. For him, it was normal to add a completely different ingredient to such a traditional dish.  He tasted the sauce first, gauging heat level and gently put the bottle down, smiling.  I watched him take cooked frijoles from my fridge and blend some of them into a puree with a hand blender, then add them to the flat pasta he'd broken in pieces that was now cooking with carrots, potatoes, onions, olive oil and celery. It became a thick and hearty soup, much like the fideo con frijoles my grandmother would make.  Once it was cooked, he added the Habanero sauce drop by careful drop, tasting after each addition.  The end result was a creamy, rich and satisfying soup that was spicy and flavorful.  I think it's a perfect dish for a cold winter night, though it was pretty delicious on this hot summer evening.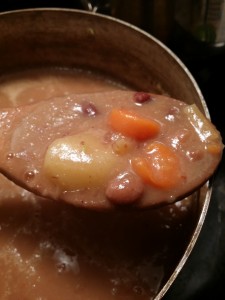 Guacamole with Green Grapes and Peaches
1 avocado
1 peach, finely diced
1 cup of green grapes, halved
El Yucateco Green Habanero Sauce or, if you want extra heat, their Black Label Reserve
Peel and mash the avocado, adding salt to taste. Add peaches, grapes and El Yucateco Habanero sauce to taste.  That's it!
This guacamole doesn't have salt in it as it is intended to be a sweet and refreshing dish that cleanses and cools the palate. In this case, just the tiniest hint of spice made it seem sweeter than usual and even more creamy.
Pasta e fagioli (pasta with beans)
Half a small onion, diced
1 potato, diced
1 carrot, sliced into thin rounds
1 stalk of celery, diced
1 clove of garlic, minced
Olive oil
Salt and pepper to taste
One handful of flat pasta (like fettucini), broken into small pieces)
2 cups of cooked beans
Water, as needed
El Yucateco Habanero Sauce or Black Label Reserve
Heat a heavy saucepan on medium heat and add olive oil, just enough to coat the bottom of the pan.
Add the diced onion and cook until transparent.
Blend half of the beans using a hand blender until creamy.
Add potatoes, carrots and celery and garlic to the pot with the onions and cook for a few minutes, stirring to mix well.
Add the pasta and stir in the blended and whole beans.
Let simmer, stirring often till the vegetables and pasta are cooked through. If the soup is too thick, you can add water in small amounts to get it to the consistency you desire.
Add salt and pepper to taste, and just before serving, add the Yucateco Habanero Sauce and a dash of olive oil.
You can find more recipes at:
Join us at the bilingual #SauceOn Twitter Party for inspiration and ideas on how to bring more excitement to your everyday meals by using El Yucateco.  We'll be sharing delicious and exciting recipes using El Yucateco and there will be $550 in Walmart gift cards!  RSVP here:  http://www.sofabchats.com/parties/233-sauceon
Like El Yucateco on Facebook:  https://www.facebook.com/elyucateco
Suggested hashtags for sharing this post are #SauceOn #CollectiveBias #MyColectiva