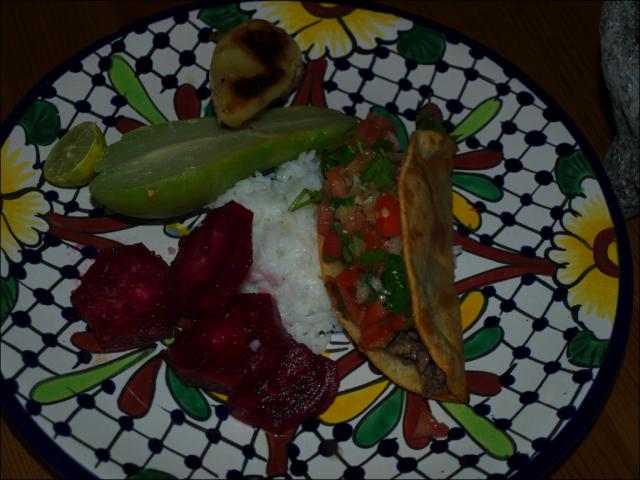 Fiestas Patrias is a big deal for me.  I usually go all out and have a big party, invite tons of people, make mountains of red, white and green food, have papel picado and paper flowers decorating the house, my Aztec dancer group dances, the big Mexican flag is out, there's music (sometimes mariachis) and we all go out the door at midnight and scream at the top of our lungs, "Viva Mexico!  Viva Zapata! Viva la Patria!"
Yeah, we're those crazy, noisy, party-loving Mexicans down on your block.
Last year, I didn't host the party.  I was ill and battling something for months that made me incredibly tired, a slacker blogger and have serious lack of stamina to stand in a kitchen for hours cooking.  This year, I had thought I could do it.  I'm feeling great actually so I was geared up to throw a huge one and make up for  last year.  Then I got the call from my daughter telling me she was HIV+.  I suppose this has no place on a cooking blog, but it's my blog and my life so there you go.  Welcome to my world.  She's my only daughter.  I've three sons and one daughter.  After finding out, I went to bed for a little over a month and barely left it.  Not like me at all.  I'm usually the optimist and the "let's fix it" person.  Not this time.  This knocked me down hard and it took a long time getting back up.  I'm up.  I'm fighting because that's me.  I'm learning all I can and I'm being strong for my girl.
As far as Fiestas Patrias goes, I decided not to do it at all.  Not in a party mood, although I did go to Olvera Street for a little while to get my fill of it on Sunday afternoon.  Check out my photos of the event there, si quieren. 
I was sitting here at my desk working when I looked at the little Mexican flag in my pencil cup and thought to myself, "I should at least do a tiny Fiestas Patrias for Jasmine & Aiden.  They need to experience their culture".  Bueno.  I got up, ran to the store and picked up a few things.  This is what I made:
Ground Beef Hard-Shelled Tacos (my daughter's favorite)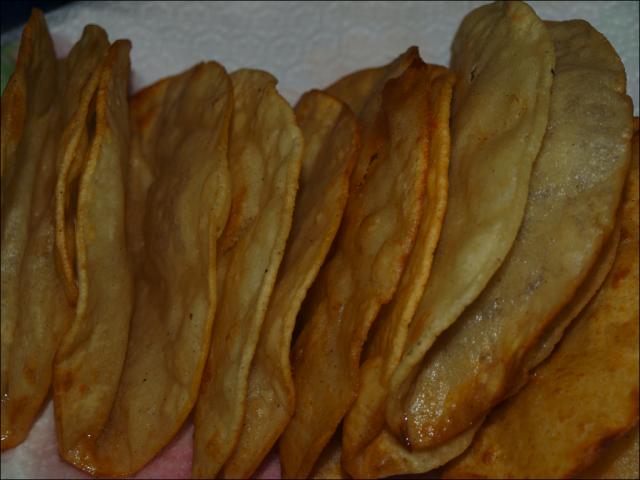 What my grandmother would call salsa patria – a mixture of chopped tomatoes, cilantro and onion sprinkled with salt.  We use it to serve over tacos or as a side dish.
A chile salsa I only make de vez y cuando (once in a while).  It doesn't have a name and I can't remember which aunt taught me to make it, but it's very delicious.  Made with chiles gueritos, cilantro, onion, garlic, salt, white pepper, tomatoes and vinegar.  Recipe below.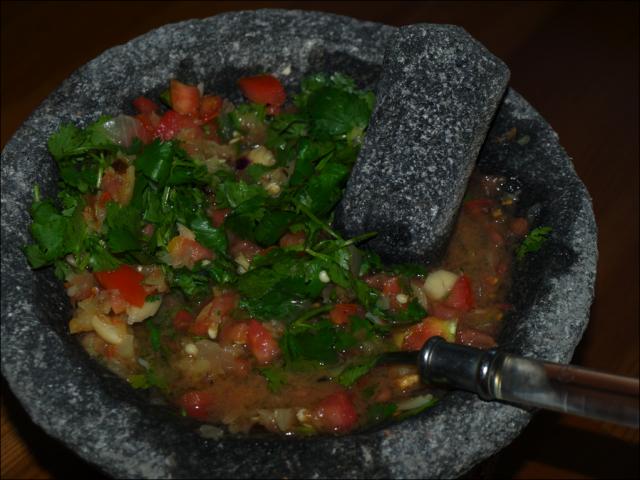 White rice
Boiled chayotes served with lemon, salt and chile powder.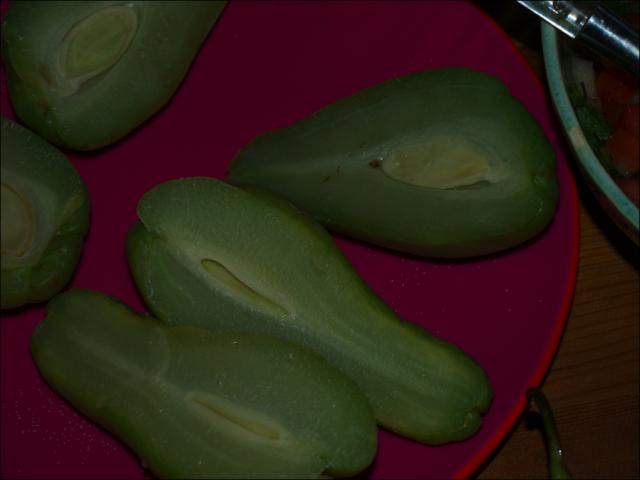 Tunas (prickly pears) ice cold and sliced.
Fried chiles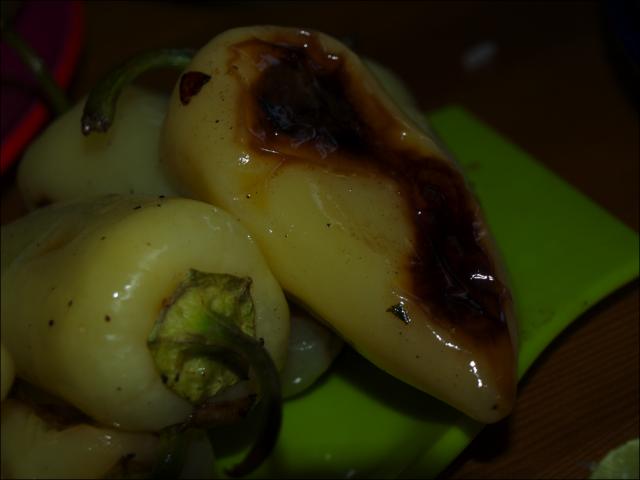 That's it!  Very simple, very homey but still with the red, white and green theme.  Still traditional and very much enjoyed by all.
Recipe for the tacos:
Extra lean ground beef
1/4 of an onion, chopped fine
dash cumin
dash white pepper
dash ground bay leaf
salt to taste
oil
corn tortillas
Cook the ground beef with the onion and spices on medium heat, making sure it's finely crumbled.  Set aside when completely browned and the onions carmelized.
Heat the oil in a deep frying pan on medium heat.  I like to pour the oil about half way to the top.  Use any oil you like, this time I used extra virgin first cold-pressed olive oil.  Whatever works for you is fine.
When the oil is hot, slide in a tortilla and quickly flip it to the other side, then fold carefully.  Tongs will help.  I use two forks – I don't know why, it's just easy for me to hold the taco shell open with one and hold down the other end of it with the other one.  If you let the taco shell close, it will harden shut and you won't be able to fill it.  Keeping it open while frying is key.  Fry till golden brown and crackly hard.  If you don't fry it long enough, it will be chewy and get soggy from the filling quickly.
Set each taco shell aside on either brown paper or paper towels on a plate or pan so that the oil gets absorbed.  Bad enough we're frying them, so make sure to get all the excess oil off.
Stuff the tacos with the beef and any other fillings you like.  For these, I just stuffed them with the meat, the salsa patria and chile salsa.  You can add lettuce, tomatoes, rice, beans, cheese, whatever.  It's completely up to you and tacos are very flexible.  I make some from mashed potatoes that are to die for.  I'll put that recipe in another time.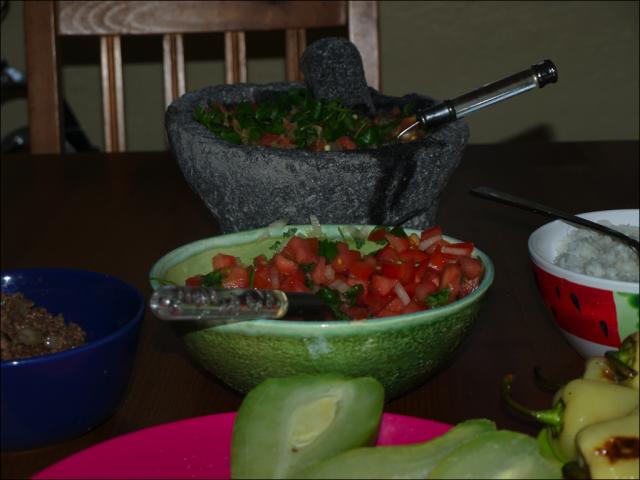 Salsa de chiles gueritos con vinagre (Chili salsa with vinegar)
Yellow chiles – chiles gueritos (how many depends on how hot you want it, for this one I used three in the sauce, but fried more to serve on the plate)
Cilantro, chopped or torn
1 tomato, diced
¼ of an onion, sliced and fried with the chiles
3 cloves of garlic, whole and fried with the chiles
salt to taste
white pepper, a dash
½ c. vinegar (any kind you like – this time I used white balsamic)
Wash the chiles and pat them dry, them fry them in a little oil.  Since I had just finished cooking the ground beef for the tacos, I fried them in that with a little more oil.  The meat drippings add flavor to the salsa.
Add the sliced onions to the chiles and fry those as well as the cloves of garlic.
Chop or tear your cilantro (about a handful) and set aside
Chop tomatoes and set aside
When the chiles are well-browned, take them out of the pan and wrap them in a clean, damp cloth and let them sit a few minutes.  This steams the skins off.
After the chiles are cool enough to handle, peel them and remove the stems.  Leave in the seeds if you want it hot or take them out for mild.  I didn't bother de-seeding or de-veining in this instance.  Add the prepared chiles to a food processor.
Add the onions, vinegar and garlic to the food processor with the chiles with a dash of salt.  Puree, but not too smooth.  You want a little texture.
Add the chile puree to a bowl with the fresh chopped tomatoes and cilantro.
Add salt and white pepper to taste and stir.
That's it.  You'll find this salsa spicy, tangy and delicious on tacos or other dishes.
Buen provecho y feliz fiestas patrias.