The only times I remember seeing my Grandma Lupe without her apron on was on Sundays when we walked over to the little church Cristo Rey on Perlita Avenue.  On those days she looked elegant and wore lipstick.  As soon as we got home though, she would change her church clothes and put on an apron.  I loved those aprons.  To me, they represented warmth, plenty, love and goodness.  They were part of my grandma and I learned to love those worn aprons almost as much as I loved her.
The aprons were handmade, usually by my Auntie Jessie who was a whiz with the sewing machine.  They were made of flour sack or plain cotton, old sheets, whatever material they found.  They had large pockets and sometimes were embroidered.  My grandmother did the most beautiful, delicate embroidery.  Even the sheets, dish towels and pillowcases were edged in her lovely crochet and decorated with embroidery.  Sometimes those big pockets had sweet treats for a much-loved grandchild, the same way mine do.
On bad days at home away from my beloved grandparents, I would cling to the apron she gave me and remember hers.  It comforted me much like a security blanket comforts a toddler.  That apron told me someone loved me, that there was a creaky little house near Los Feliz filled with warmth, laughter and puro amor.
She called me her Reina del cielo (queen of heaven) and when I walked in the door fresh from being picked up by bus (my grandfather would take three buses to where I lived and then bring me back on three more) on school vacations, there she was: that sweet, loving woman who would open her arms wide and I would run into them feeling safe, loved and finally home.  Her apron smelled of her unique scent – rose petals, herbs, chilis, onion, garlic and the sweet smelling furniture wax she used on her wood. The smells from the kitchen were more tantalizing and delicious.
I was home.  Really home.  This was where I belonged and the home of my heart.  It still is even though she's been gone over 20 years.  That home she gave me lives on in my heart and is my biggest sanctuary however far I roam and against any challenges that arise.
I loved folding her aprons after they'd been laundered.  She had an apron drawer in her kitchen.  Piles of neatly folded aprons lay there waiting to serve her.  The stories and recipes they could tell if only they could speak!  My grandmother was THE cook of the neighborhood and as you turned down the corner on Goodwin Avenue, you could smell whatever she was cooking all the way down the street.  Everyone loved her.  She and my grandfather were known in the neighborhood for their kindness and generosity though they had little.  They'd never dream of accepting money for help and always, always would come of the words of my Papa saying, *"no cobramos por ayuda."  They were loved.
Yesterday, a UPS man knocked at my door with a package from Foodbuzz.  I opened it and there was a coupon for a free Alexia Foods entree and yes, you guessed it, an apron.  As I held the apron up to show my son, the memories of my grandmother's aprons came flooding in and brought me to tears.  I told my son the story about my grandmother's aprons and he said to me, "Wow Mom, she sounds amazing.  I wish I had known her.  Thanks for writing about her.  Make sure you write about the aprons."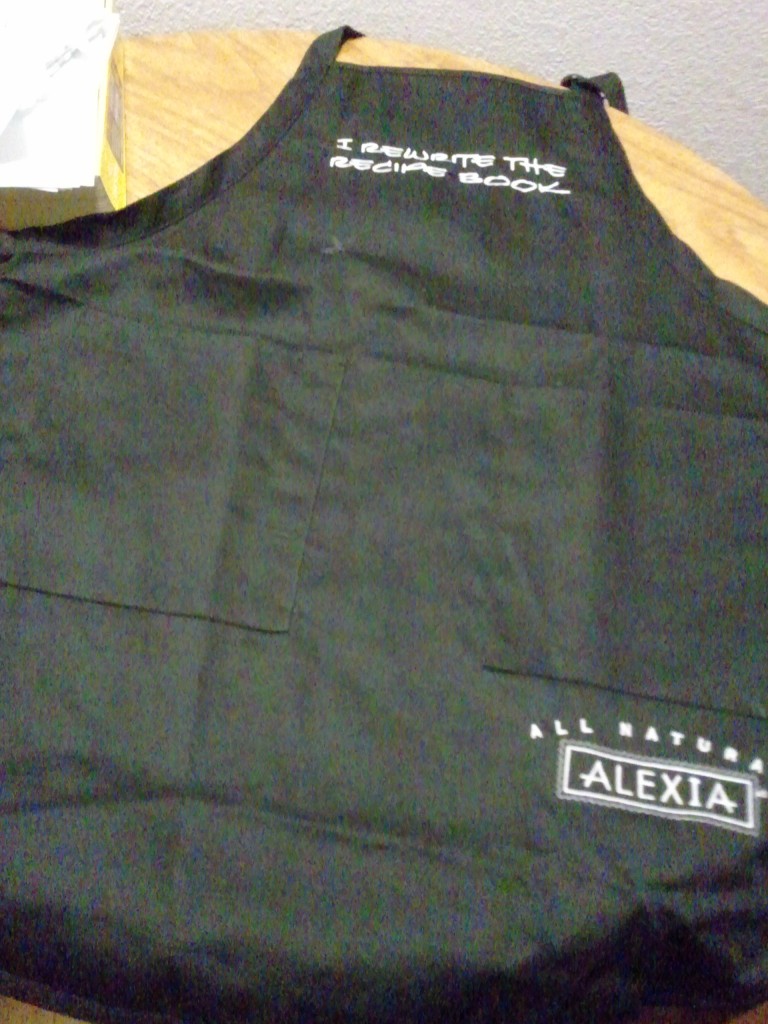 Disclosure:  Alexia Foods sent me a free apron and a free coupon.  The apron is the awesome by the way and I haven't cashed in the coupon yet to try their product but I will and I'll write about it with another Federally mandated disclosure that I got stuff for free.
*For Spanish or Spanglish words, I'm not going to translate them.  I used to get the "look it up" answer if I asked what a word was and i sure did learn, so si quieres saber, LOOK IT UP.