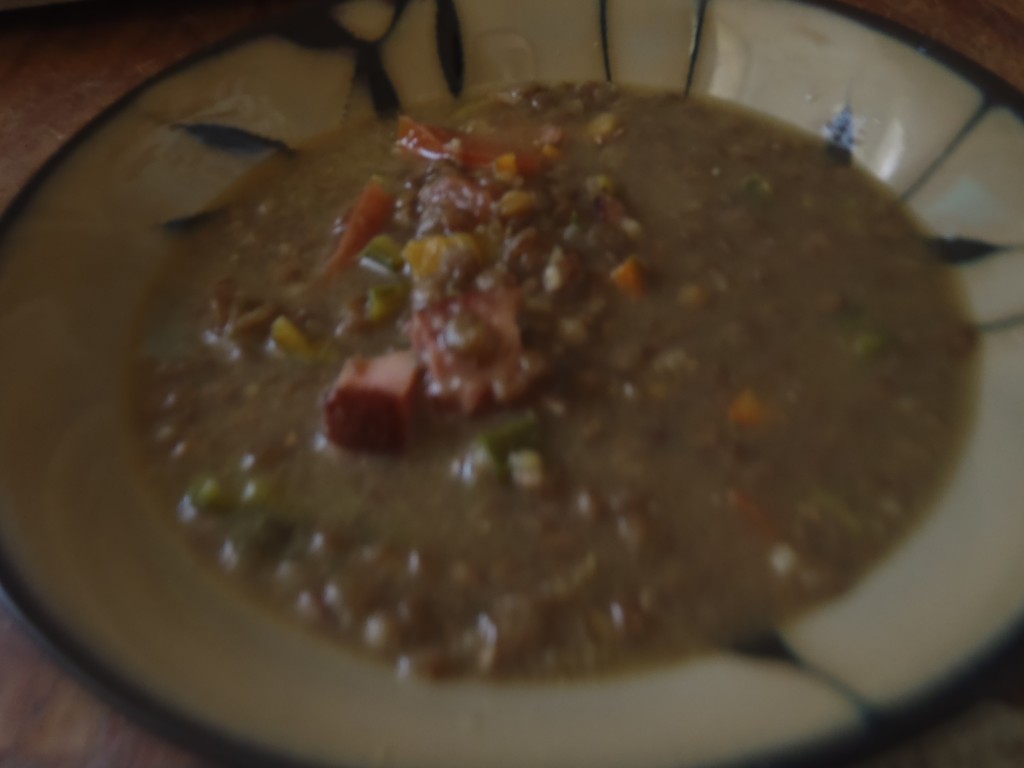 It's been cold here in Los Angeles and I've been gravitating to soups and stews for their comforting warmth.  Today, I wanted lentils or lentejas as we call them.  I wanted something different though, not the Mexican style lentils I usually make.  I wanted soup, but something rich and rib sticking that would pair well with crusty, warm bread.
I set my lentils to boil with a clove of garlic and a quartered small onion.  While that boiled, I rummaged round the fridge to see what I had on hand.  The Ziplock bags of sliced Honeybaked ham almost danced into my hands.  Mmmmm.  I was already imagining that smokey, pork flavor mixed with the lentils.  I found tomatoes and some long green California chiles as well and pulled those out to dice them.  Once my lentils were cooked, I fired up a heavy skillet, coated it liberally with some bacon fat and fried up my chiles and tomatoes.  I also diced up one small Serrano pepper for some heat and fried that with the other chiles and tomatoes.  Once the chiles and tomatoes were well caramelized, I added the diced ham and fried that till nicely browned.  Then I scooped in the lentils and let them simmer into the mixture.  I let it simmer covered for about a half hour and the result was a spicy, thick and delicious soup.
Gina's Spicy Lentil Soup
2 cups of dried lentils
2 cloves of garlic
water
one small onion, quartered
one tomato, diced
two California chiles, chopped
one Serrano chile, diced finely
one cup ham, roughly chopped
Salt and pepper to taste
In a heavy saucepan, bring the water to boil and add the lentils.  I usually add two cups of water for every cup of lentils.  Add the garlic cloves and the quartered onion.  Simmer, covered for about 45 minutes or until the lentils are soft.  You may have to add more water to prevent them from drying out. Lentils absorb an awful lot of water.
Chop your chiles, seed and de-vein them.  Diced the tomatoes and set aside.
In a heavy greased skillet (I used bacon fat but you can substitute olive oil or anything you want), fry the chiles and tomatoes until carmelized.  Add the chopped ham and fry till browned nicely.
Add the lentils to the chile and ham mixture and lower the heat.  Add salt and pepper to taste.
Simmer, covered another 20 minutes so that the flavors blend well.
Serve with warm, toasty bread.