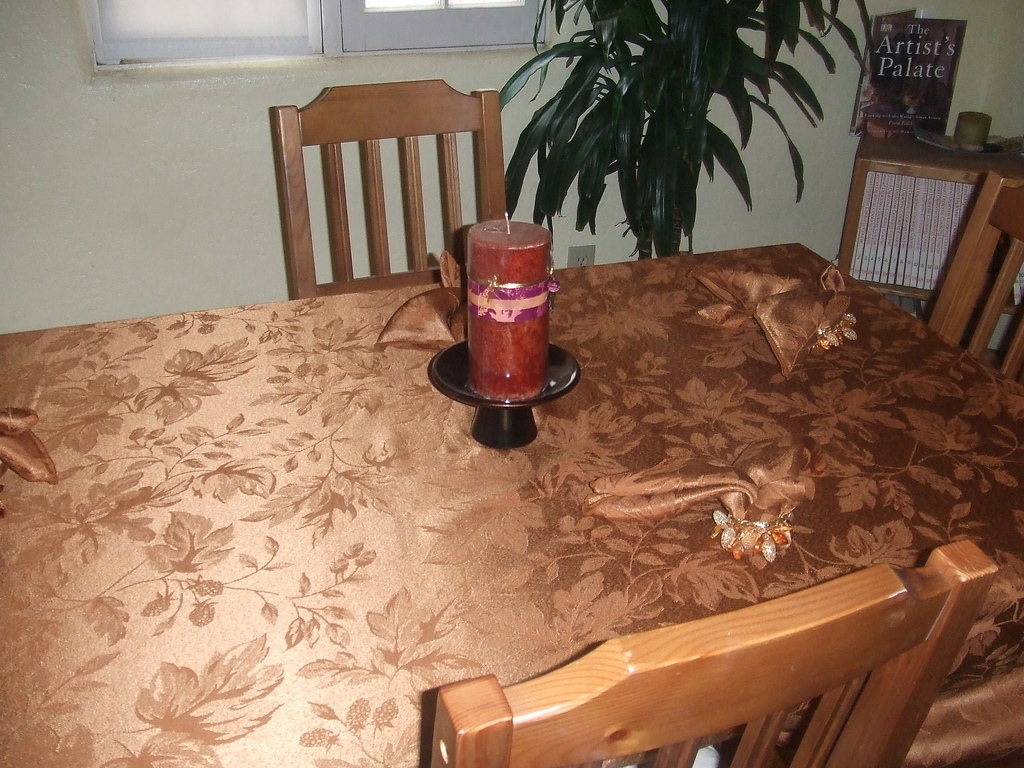 Thanksgiving is right around the corner and this time of year always makes me think of my Grandma Lupe and the excitement of cooking a holiday dinner.  Nothing was better than Thanksgiving at Grandma and Papa's house.
We'd arrive a few days or the day before depending on school, etc.  Either my Uncle Adam would go pick us up in his VW Van or my Papa would take the three buses from Atwater Village/Glendale to where we lived in Bell-Cudahy (yeah that city that was in the news recently for fraud).  I'd usually go with my Papa on the bus which was always an adventure and probably the reason I love bus rides even now.  In the van on the freeway, the sight of the green hills near Griffith Park always did and still sing to me "Grandma's house."
If coming by bus, we'd get out of the bus at San Fernando Road and walk across the tracks to Goodwin Avenue.  You can't do that now because of the Metrolink.  There used to be an old Tiki House with a HUGE elephant with a little Indian boy sitting on it outside of the shop.  They sold things like sea shells and other stuff.  Though what sea shells had to do with India, I have no idea.  Still, it was a dusty and magical place and I'd always gawk at the elephant while holding Papa's calloused hand.  For me, that elephant and the boy seemed out of a storybook, firmly proving to me that my grandparent's house was a magical place in another world altogether apart from the reality of my life.
My Grandma would be waiting with a hug.  Those hugs always said "home" to me.  Then the tantalizing smells coming out of the kitchen would drive me nuts till I got to sit down and eat something delicious.  Sometimes my Uncle Kiki would be there and we'd spend time coloring. He showed me how to use a Kleenex to brush away some of the color and make the page look more polished.  Both he and my mother were the artists in the family.  Auntie Jessie would sew clothes for my Barbies and she'd always have a fun surprise for me.
Thanksgiving morning we'd get up and the excitement would be literally vibrating off the walls.  All the women were there.  My mother, her sisters, my cousins.  There'd be uncles and aunts and sometimes relatives we didn't know from Piru come down for the day.  The big dining table would be set with the beautiful dishes from the special occasion cabinet.  Glassware would be out and card tables set up for us kids.
The smell of turkey would permeate the air mixed with the spicy scent of pumpkin pies (empanadas too!) and the sweeter, softer and yeasty smell of Grandma's famous pan.  Butter would be melting and I'd watch fascinated, as someone would pour it into sour cream then add finely chopped chives from the garden to it for the baked potatoes that I'd helped make.  That was a kid job.  My sisters, cousins and I would wrap scrubbed potatoes into foil and poke them with forks.  We LOVED that job.  To this day, baked potatoes with sour cream and chives are one of my favorite comfort foods and the sight of aluminum foil wrapped spuds make me smile.
By the time the big turkey was done, us kids would be nearly out of our minds with impatience, but we still had to wait.  Food had to be brought to tables, Grace needed to be said.  Finally, we could eat!
My grandmother used to make this amazing punch no one seems to have the recipe to anymore.  The taste of it haunts me. My Aunt Lupita remembers it had canned cherries in it and someone else remembers it had grape juice.  Whatever it was, it was delicious, refreshing and she only made it for very special occasions.
The best part of all about Thanksgiving was being with family.  It was loud, loving, boisterous and fun.  Watching my grandfather or one of my uncles carve a turkey was an adventure as was the seemingly never-ending procession of plates coming out of the kitchen.  I still overdo the dishes on Thanksgiving and make far too much food.  I cook like there's still all those people in the house full of wonder on Goodwin Avenue even if my table is set for just a few now.
I created this post as part of Frigidaire's Talk Turkey Campaign.  Share your own recipes and tips at Frigidaire's Make Time for Change site.  For every recipe or tip that's shared, Frigidaire will donate $1 to Save the Children's U.S. Programs, which creates lasting change for children in need.