Table of contents for Journeys
The Dreams of Autumn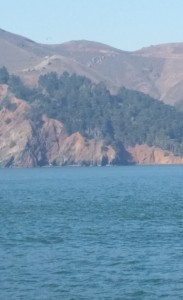 He found himself wondering at times, especially in the autumn, about the wild lands, and strange visions of mountains that he had never seen came into his dreams. He began to say to himself: 'Perhaps I shall cross the River myself one day.' To which the other half of his mind always replied: 'Not yet.' – Frodo (The Fellowship of the Ring)
There is something about setting off on a journey that brings to my mind myth, fairytale and the fantastic stories about such travels, which of course leads to Tolkein, because he wrote one of the greatest journey/travel adventures of all. In my family, the Oakland Raiders also have that mythic sheen…maybe it's the silver. In any case, I grew up hearing about them, listening to familial devotion to these players, the colors, the team, the legends like Joe Montana. Somehow the stories, longings, and football dreams of the Raiders became somewhat legendary. A trip to Oakland to O.cO (the Oakland Coliseum and current home of the Raider Nation) was a pilgrimage of mythic, even epic proportions. I had never gone but it hung over me, not much different than a pilgrimage to Mexico City for the Guadalupana or the Pilgrim's Progress.
I'd never been to San Francisco either, though I have and do travel. For some reason, the City by the Bay to me, also had mythic proportions and well it should for a writer. Jack London, Jack Kerouac, Hunter S. Thompson, Lawrence Ferlinghetti, Amy Tan, Robert Frost, Naomi Wolf, Laurence Yep, Dashiell Hammet, Ambrose Bierce and Daniel Handler all hail from San Francisco and it seems to me there is muse in the very air of the city, not to mention a rich and diverse history.
Recently, I was offered an opportunity that would lead to a decision to go on a journey I'd only dreamed of but had never gotten around to doing. The NFL had sent me Raider tickets and oh boy, to Oakland I would go. Like Frodo, I was setting off to new lands and was a jumble of emotions: excitement, trepidation and wonder. I was going to the land of myth, a magical place and for my family, my Uncle Kiki especially, I would pay homage to the Silver and Black.
If you're going to go on a journey to magical lands, you must take a companion and that person must be brave, stout-hearted, non-complaining, no stranger to hardship and above all, of good cheer, quite like Sam Gamgee. They should be able to roll with the punches and be able to handle the impossible as well as an occasional crisis (there is always the capacity for something to go wrong when you travel), not only that, they must have strengths in the areas you are most weak. I chose Ellie Vega, for all of these reasons and more.
We texted and nattered on for weeks about what we'd like to do, what we'd like to see, who we'd meet and how we would go. Being thrifty and also wanting to spend every penny possible in the City, we opted to take Megabus up rather than fly. "More money for San Francisco food and clothes", we said, nodding to ourselves sagely. "Prudent" we thought.
Finally, the day had come. I worked a short day and rushed home to pack last minute things. My suitcase was packed, all my electronics and power cords were neatly stowed into my carry on bag, I even had snacks and bottled water for a long seven-hour bus ride (with wi-fi). Ellie and her friend Lillie picked me up and off we went into the sunset and adventure.

*The photo in this post was taken from a moving boat with a Samsung Galaxy Note 3 smartphone camera on the Verizon network. I am NOT being compensated for this post
Suggested hashtags: #dreams #VZWBuzz #GalaxyNote3 #Samsung #Verizon #travel #NFL #NFLAllClear #SanFrancisco #Oakland #OaklandRaiders