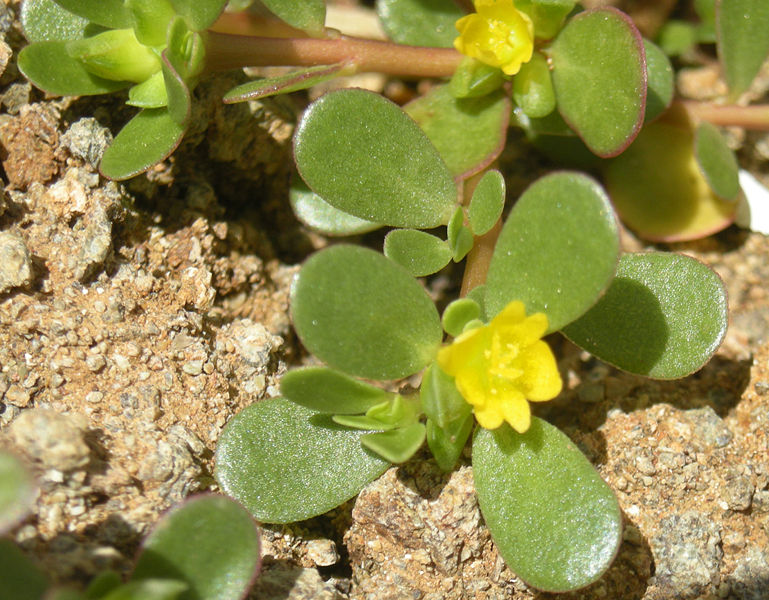 I am longing for sunshine and springtime which has got me thinking about verdolagas.  Verdolagas (purslane, pigweed, hogweed) are to me all about spring.  They grow wild on roadsides, all through Griffith Park and used to be, near the road where they put the Metro in Highland Park.  i know the hills in Lincoln Heights used to get covered with them in the Spring but I'm not sure now.  I've not been out looking for wild greens in a while.  In L.A. they are now more easily found in the markets like Superior that cater to a Mexican/Latino clientele.
When I was a kid, verdolagas grew rampant right on the grass at my grandparents house and in cracks on the sidewalk.  My job was to yank them up, but we didn't throw away our weeds.  No que no, I brought them in in a little basket to my grandmother who carefully cleaned them and cooked them in a variety of ways.  I loved to much on the cleaned raw greens for the tangy flavor.
Chanfles has a pictorial on how to clean and cook verdolagas here, but the way Grandma Lupe used them in food was different.  There are tons of recipes for verdolagas and everyone has their favorite.  My personal favorite was verdolagas con carne de puerco y chile.
The pork is cubed, fried till it's crispy then cooked in a sauce made of cooked verdolagas, caramelized tomatoes and onions, chopped serrano chiles and cilantro.  Served with rice, beans and tortillas its an amazing start to Spring.
Verdolagas con carne de puerco y chile
1 bunch of well cleaned verdolagas, ends trimmed then chopped into about 1-inch sections
1 pound boneless pork chops, cubed (get pork with the fat NOT trimmed off)
1 small onion, sliced into rings
1 clover of garlic, minced
2 large tomatoes, diced
3-4 fresh serrano chiles, seeded, de-veined and sliced into thin strips
salt and pepper to taste
chopped cilantro, about 1/4 cup
Boil the verdolagas for about ten minutes.  Drain and set aside.
Fry the pork until very crispy and browned.  Scoop out and set aside.
In the frying pan, you fried the pork in add the onion and fry until caramelized.  Add the tomatoes, chiles and garlic and cook down until you have a soupy sauce.  Add salt and pepper to taste and chopped cilantro, then add the pork.
Simmer on low heat for about 20 minutes, stirring occasionally.
Serve with rice, beans and warm tortillas.