So there was this chocolate sauce just sitting in my fridge, left over from the eclairs.  The chocolate glaze was in there too.  Seriously, they were calling me, begging not to be left in there on their own.  Several times, i walked over and thought maybe I should make more eclairs.  Maybe creampuffs.  No, it's too hot. Then today it got to be too much.  I finished the chapter in the book I was reading and headed for the kitchen .  I sat at the table with the recipe and my cup of coffee and decided to go for it.
The chocolate glaze had hardened so I set it in simmering water.  I decided to do the same lavender-orange pastry cream since it turned out so delicious and decided at the last moment to pour a little lavender into the chocolate glaze.  I love lavender chocolate.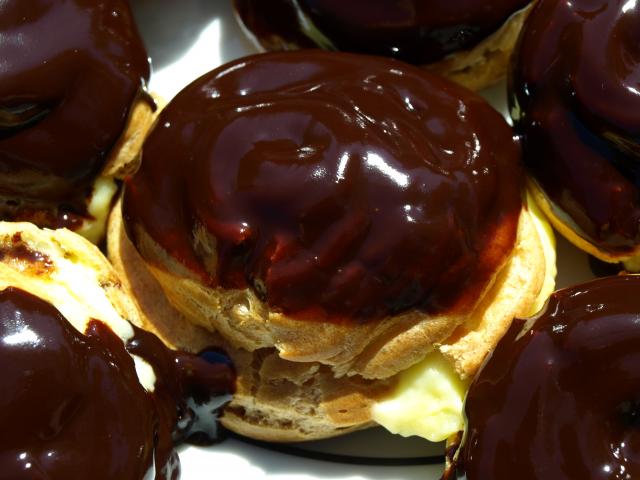 The pâte à choux was easier to do work with this time.  I'm not sure why but it was.  In fact, the whole thing was so simple, I am worried for my hips.  I could easily make these all the time.
I piped big fat circles onto parchment paper covered baking sheets and set them to bake.  I know!  Baking again in August.  Crazy I tell you.  Estoy pero bien loca.  That means I'm pretty crazy in Spanish.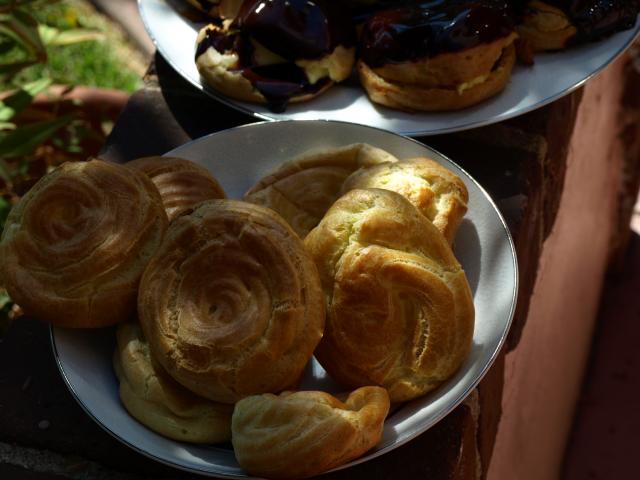 The circles puffed beautifully, everything went like clockwork.  I decided to scoop the remaining chocolate sauce on the bottom of each cream puff, then load it with the cream and top with glaze.  They were delicious, rich and sinfully decadent.
I think I'm going to live to regret having these in my repertoire…you see my dilemna.