Photo courtesy of the lovely and gracious Darlene Chan who is the best person you'll ever want to have on your side.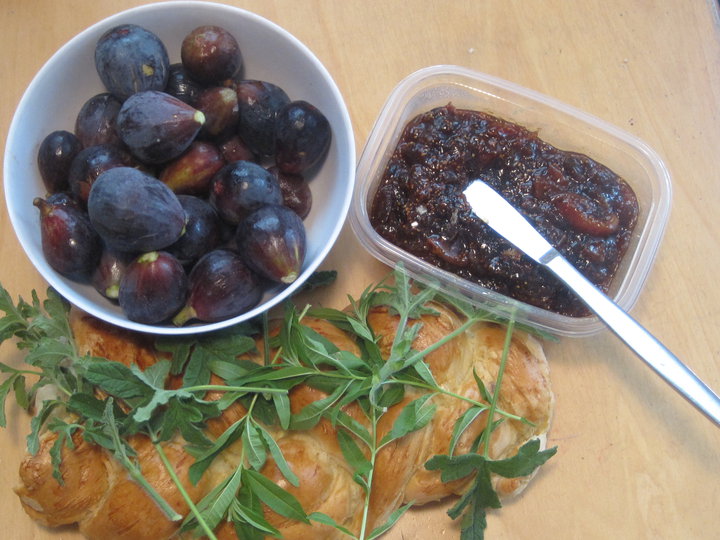 My little fig tree in the backyard has been so generous.  I've made jam, a tart, pudding, candy, dried some, given away tons and still have more figs every day.  The jam I made with the grandkids  was such a success (and gone so quickly) that I have been planning on making more for a few days but hadn't gotten around to it.
One of my Twitter amigas and an amazing cook, Maura Hernandez blogged an amazing recipe for her Mermelada de Higos, a spicy version that had me drooling. That got me thinking about marmalade which I adore and I started wondering what it would be like to merge with my figs.  I had some fresh Meyer lemons and a few tangerines in the house, so I thought, "Why not?"  Scanning the pantry I was annoyed I was out of cardamon which I thought would give depth to the marmalade.  I did find orange flower water and the lemon verbena that we recently planted has been flourishing so I adjusted the recipe compiling in my head.
The recipe came together easily and perfumed the house with an almost flowery citrusy scent.  The resulting marmalade is figgy, slightly bitter from the citrus and flowery.  Completely delicious and oh so good on the warm bread I baked.  The citrusy notes of tangerine, lemon and the verbena give it an almost summery, light taste.  I can see making tons of this to eat on those bleak, grey days when the taste of summer will be so welcome.
5 pounds of chopped, fresh figs
3 Meyer lemons, thinly sliced
3 tangerines, thinly sliced
10 lemon verbena leaves, finely chopped
2 cups of water
3 cups of sugar
1 tablespoon orange flower water
Dash cinnamon
In a large pot, bring the water to a boil, then lower the flame to it's lowest setting.  Add the figs, Meyer lemon and tangerine slices, cinnamon, orange flower water, 1/2 the verbena and sugar.
Let simmer and cook down for about four hours, stirring occasionally.  In the last hour, add the second half of the lemon verbena.  All the water should be cooked down and you should have a thick, rich marmalade.  If still too watery, let simmer another hour or so until it cooks down.
Serve with yummy homemade bread.
Makes 3 Mason jars full.
Buen provecho!