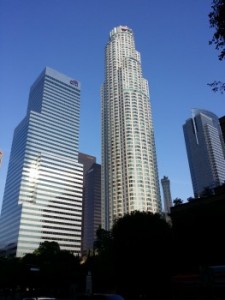 I love my city. I especially love how Downtown Los Angeles is revitalized and oh so different from when I was growing up. When I was little, I used to take the Number 9 bus from Downtown L.A. near the old Clifton's Cafeteria with my Papa Chava to Atwater Village just over the tracks from Glendale. I remember always being scared because it was so dirty and there were disreputable characters roaming about. It is so odd for me now to see people laughing, talking, walking their dogs, or grabbing coffee in their p.j.s before heading back to the lofts they live in that used to be sewing factories. With the revitalization that has taken place over the years, there is a plethora of restaurants, cafes and other eateries. There are shopping malls and theaters too and while there are still areas where the city is dirty and somewhat disreputable, it is an amazing playground and a delight to walk around or to take in dinner and a show.
Friday night I really got into the whole DTLA dinner and theatre experience. I participated in #GetYourPhilLA, a partnership with the Los Angeles Philharmonic and local, Downtown restaurants. The program includes a fabulous prix fixe dinner at $32.00 (drinks not included) and then a concert at the stunning Walt Disney Concert Hall, now celebrating it's tenth year. The concert is also at a bargain price with some programs starting as low as $50.00!
I met with a friend early in the evening. The weather was absolutely perfect and I spent some time taking photos of the light hitting the buildings as I walked from the train station to Border Grill where I was meeting my friend. We had a pleasant time chatting and catching up in the bar before the dinner. If you're headed to Border Grill any time soon, I heartily recommend the sangria. It was fabulous. For dinner, we both had the tequila-braised short ribs (they had me at tequila) which was succulent, melt in your mouth goodness followed by a luscious dessert of rice pudding bomba with espresso ice cream. It was to die for.
After dinner there was a talk by one of the orchestra members, Peter Rofé, who spoke very enthusiastically and with passion about Sibelius and how the composer painted landscapes with music. While the noise from the bar drowned out some of the talk, I got the gist of it and it came back later while listening to the incredible music.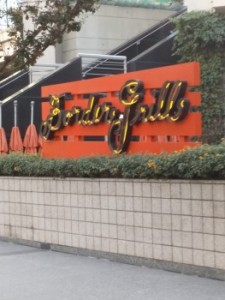 Replete with good food, conversation and a bit of a musical education, we walked uphill to the concert hall where we easily found our seats looking down onto the stage. The hall is magnificent and truly, there are no bad seats.
I'm often swept away by music, especially when it is played with such obvious heart. Sibelius played by the Los Angeles Philharmonic was wonderful. The violinist, Leila Josefowicz was incredible. Her playing and the conducting of Esa Peka Salonen was simply amazing. The music was evocative and yes, I could see the landscape painting – the feeling of the storm in it. It was an absolutely magical night and the train ride home at a late hour was surprisingly easy. We were at my place in Mt. Washington in about twenty minutes. I'm currently planning to attend another program soon and work my way through some of L.A.'S wonderful diversity in dining while I explore the Downtown that is such a far cry from the scary DTLA of my childhood. If you're in Los Angeles, live here or just visiting, I encourage you to get your Phil. You'll have a blast.
This is the concert I attended and I am positive the upcoming ones will be just as beautiful.
Los Angeles Philharmonic
Los Angeles Philharmonic
Esa-Pekka Salonen, conductor
Leila Josefowicz, violin
Casual Fridays            Friday, October 25, 2013, 8:00
Walt Disney Concert Hall 10th Anniversary Celebration
SALONEN            Violin Concerto
Mirage
Pulse I
Pulse II
Adieu
Leila Josefowicz
SIBELIUS            Symphony No. 5 in E-flat major, Op. 58
Tempo molto moderato
Andante mosso, quasi allegretto
Allegro molto
More about the program:
The Los Angeles Philharmonic is partnering with some of Downtown LA's best restaurants for the launch of their Get Your Phil program: a specially crafted prix fixe dinner for only $32 per person (including tax/tip, doesn't include alcoholic beverages), followed by a wonderful concert (some packages start at a bargain rate of $50 per person) at Walt Disney Concert Hall.  At dinner, guests will also enjoy an insightful presentation about the concert by a special guest and a member from the LA Phil.
For more details about the program visit:  http://www.laphil.com/dinnerpackages
See dates and participating restaurants below:
Fri NOV 8 * – Tovey & Shostakovich – Le Ka – Menu 

Sat NOV 30 – Bach, Schumann and more – Blue Cow Kitchen – Menu
*This evening is also a part of the LA Phil's Casual Friday program with a shorter program, casual attire, and post-concert meet & greet.  On Casual Fridays,  orchestra members share personal experiences and background information about the music they've played for the audience to enjoy.  The program is slightly shorter,  without intermission,  leaving time for the post-concert reception and a chance to socialize with talented and well-respected artists, while enjoying cocktails and mingling with other music lovers. And not only is the dress code casual for the audience,  it's also relaxed for the musicians,  who are not in tuxes and evening gowns,  and are more approachable.
Suggested hashtags for this post: #GetYourFill #WDCH10 #BorderGrill #DTLA #music #food