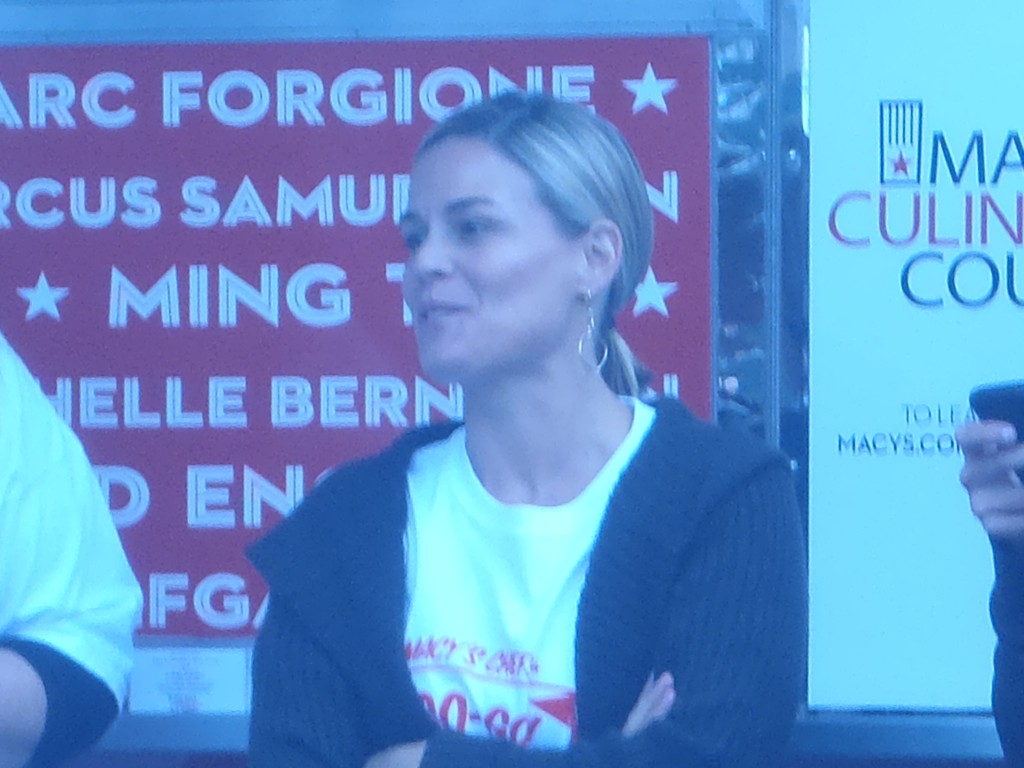 I am addicted to Iron Chef America. In fact, one of my dreams is to be a judge on the show and get to taste all that glorious food. I love all the chefs and have a serious chef crush on Michael Symon (his love for pork is almost Mexican). Morimoto's artistry just boggles my mind and Bobby Flay's sauces make me dream and yearn. I'm a total ICA groupie, but my favorite chef of all is Cat Cora.
Why Cora? Well, she's a woman kicking some serious chef butt in what is still a predominantly man's world. Her food looks to die for and she's always so calm and in charge. She's likeable. I watch her cooking on Iron Chef America and really admire her style. She is one of the co-founders for Chefs for Humanity and participates in a lot of charity organizations. So I think she rocks.
When Ana Lydia Monaco of padma media marketing invited me to attend the Macy's Chef's a Go Go event at the Santa Monica Food Truck Lot, featuring my favorite Iron Chef, there was no question. I was going! I think my sons all the way in Virginia heard me squealing with excitement.
The event was great. I met up with Ana Lydia, her husband Frank, the Duo Dishes, beautiful blogger Chrystal. We ate some fabulous food, chatted up a storm and had a great time. The food from all the trucks was delish and fun sampling. Best of all was not only meeting Cat Cora but getting to taste her food while hanging out with foodie friends. YUM!
The Macy's Culinary Council truck and Chef Cora got a lot of attention. People were lined up and everyone fell into some serious love with those meatballs.
Chef Cora was gracious enough to let us post her recipe for the luscious lamb meatballs we had at the event. If you try making them, let me know how they turned out!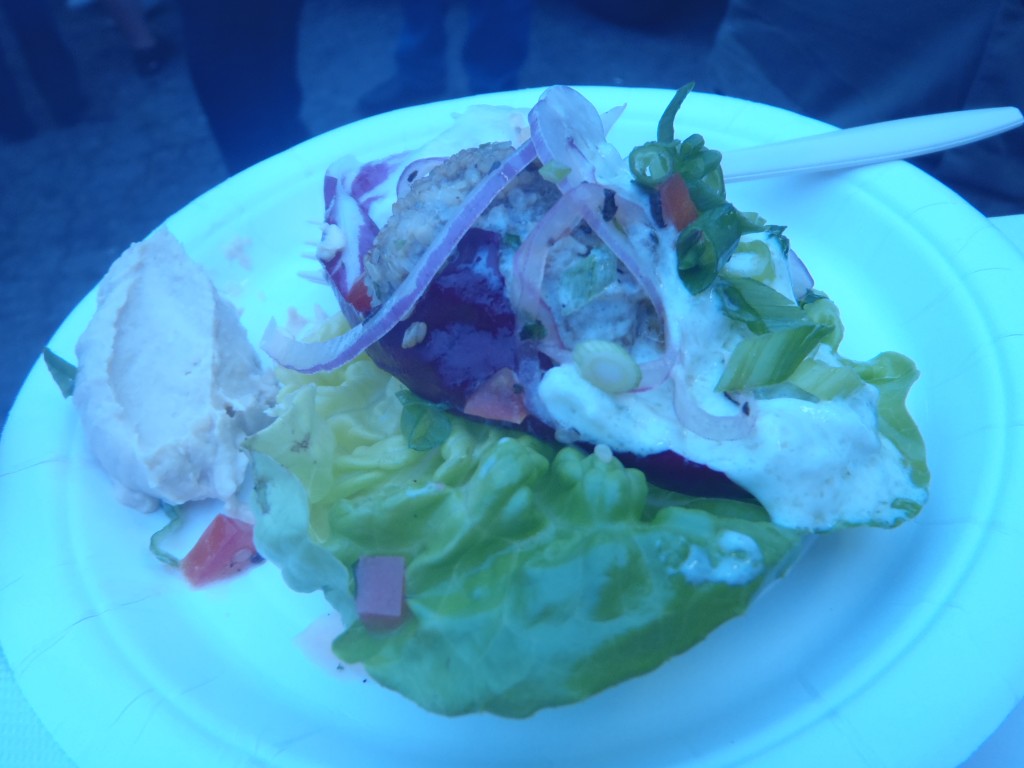 Sesame-Encrusted Lamb Meatballs in Lettuce "Gyros" with
Tomato Salad & Avocado Tzatziki
Toasted Sesame Seed-Encrusted Lamb Meatballs:
1 pound
lean lamb, ground
½ cup
onion, finely chopped
¼ cup
plain bread crumbs
1
egg, beaten
1½ teaspoon
allspice, ground
1 teaspoon
coriander, ground
1 teaspoon
cumin, ground
1 teaspoon
fresh mint, chopped
1 teaspoon
Sicilian sea salt
½ teaspoon
black peppercorns, coarsely ground
2 jars (1.62 ounces each)
toasted sesame seeds (about ? cup)
For the Meatballs, mix lamb, onion, bread crumbs, egg and seasonings in large
bowl. Shape into 36 (1-inch) meatballs. Roll in toasted sesame seeds to coat
evenly. Place on foil-lined shallow baking pan.
Bake in a preheated 400°F oven 15 minutes or until lightly browned and cooked
through. Drain on paper towels and allow to cool slightly. Serve with Avocado
Yogurt Sauce and Tomato Salad, below.
Yields 12 servings
Avocado Tzatziki:
1 tablespoon
½ cup
1 teaspoon (about 1 large clove)
1 teaspoon
2 cups
1 cup (about 1 medium)
1
Add lemon juice, olive oil, garlic and salt to the yogurt. Add grated cucumber,
diced avocado and mix well. Chill for at least one hour.
Cat's Note: To get as much cucumber flavor as possible, grate the cucumber
right over the yogurt.
Yields 2½ cups
fresh lemon juice
extra virgin olive oil
garlic, minced
kosher salt
plain yogurt (or low-fat)
cucumber, peeled, seeded and grated
avocado, peeled, diced small
Tomato Salad:
5
1 medium
¼ cup
2 Tablespoons each
2 tablespoons
2
To taste
To taste
1 head
1 head
2 heads
Roma tomatoes, diced for garnish
red onion, sliced thinly for garnish
Kalamata olives, pitted and halved
fresh oregano & Italian flat-leaf parsley,
chopped fine
olive oil
limes, halved
kosher sea salt
freshly ground black pepper
Butterleaf Lettuce, leaves separate
radicchio, leaves separate
scallion, sliced thinly on the bias for
garnish on yogurt
In a mixing bowl, mix the tomatoes, onion, olives, oregano, parsley, olive oil, lime
juice, salt and pepper and blend well.
On lukewarm serving plates, layer a Butterleaf lettuce leaf with a radicchio leaf
until you have 12 lettuce "cups," and place a lamb meatball into each one. Top
with the tomato salad mixture, spoon on a dollop of the avocado tzatziki on top,
and garnish with the scallions. Serve immediately.
Recipes compliments of Cat Cora.