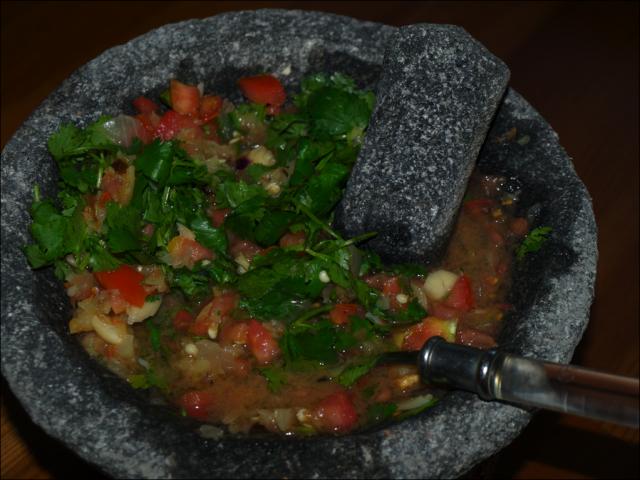 I know it seems crazy to want to fry things in summer's heat but whenever summer is right around the corner, I get to thinking about frying some Tilapias for Mojarra's Fritas. I love, love, love Mojarra's Fritas which would probably freak out my grandparents. They both were from Central Mexico and hated even the word fish, so I didn't grow up eating seafood at all with the exception of American canned tuna and if we opened a can at Papa and Grandma's house, my grandfather would be grossed out by the smell. Lent was particularly hard for my very religious, Catholic grandparents since they hated fish so much. My love of all things seafood came much later in my life.
An old boyfriend taught me how to make Mojarras and I contributed all the sides that I always make with it now. I never make the dish without those particular sides because it all goes so well together. For this fish feast, I make white rice topped with a garlic-lemon butter sauce, a cucumber jalapeno salad, salsa de molcajete, purple onions en escabeche, sliced avocados, freshly made corn tortillas and for dessert, a roasted pear flan. Yeah baby, I'm getting hungry already and I haven't even started writing out the recipes.
Make all the sides and dessert ahead of time so that you can serve the fish almost immediately. The fish will be fork tender and delicious and you will have some very happy guests.
Make fresh corn tortillas. If you don't know how, here's a great video on how to make them.
Cucumber-jalapeno salad
6-8 salad cucumbers, peeled, scored with a fork and sliced thin
4 fresh jalapenos, seeded, de-veined and finely diced
1 bunch green Mexican onions, very thinly sliced
1 bunch cilantro, stripped from the stems and finely minced
Juice of two lemons
Salt to taste
Peel the cucumbers, rinse, then taking a fork, score it all the way around. When you slice it, it will look like a little flower. I slice them thin, about 1/8 inch thick. You don't want them too thin, you want texture. Place them in a deep salad bowl.
Add the jalapenos, onions, cilantro, lemon juice and salt and toss together. Cover and refrigerate until you're ready to set the table.
Purple onions en escabeche
5 red onions, thinly sliced into rings
1 cup of vinegar
7 cloves of garlic, peeled
1 tsp cumin seed
1 tsp dried oregano
1 bay leaf
1 cone of piloncillo (brown Mexican sugar)
Heat the vinegar in a large pot, along with the garlic, spices and sugar until the sugar melts.  Add in the onions and continue to cook on a very low flame for about an hour.  Let cool, then refrigerate.  Serve cold.
Salsa de molcajete
4-6 tomatoes
6 chile gueritos
3 cloves of garlic
1 onion, quartered
cilantro
salt to taste
Roast the tomatoes, chiles, onion quarters and garlic on a comal or griddle until well roasted but not burnt.
In a stone mortar (molcajete) mash the roasted garlic and onion with some coarse salt until almost creamy.
Peel the chiles and tomatoes and add to the molcajete one by one mashing them into a chunky salsa.
Strip cilantro off the stems and stir into the salsa. I usually use half a bunch for this amount of salsa, but it really depends on how much you like cilantro.
The salsa should be chunky and rustic.
Garlic-lemon butter sauce
4 cloves of garlic, peeled and mashed into a paste
Juice of one lemon
2 cups of butter
On a low flame, melt the butter with the garlic, stirring to prevent from burning or browning. Add the lemon juice when the butter is melted through. Set aside and keep it warm. We serve the butter over both the fish and the white rice.
Roasted Pear Flan
4 Anjou pears, cored and sliced thin
2 tbsp melted butter
1/2 cup sugar
3 egg yolks
1 (5 ounce) can sweetened condensed milk
1/2 teaspoon nutmeg
1 cup milk
1 teaspoon vanilla extract
3 eggs
Spread the sliced pears on a baking sheet and brush with the melted butter. Roast in a 400 degree oven for ten minutes or until nicely browned. Let cool.
In a small saucepan melt sugar over medium heat, stirring frequently, until sugar is a dark, caramel-colored liquid. Remove from heat and pour into a 8 ramekins. Quickly turn the ramekins to coat bottom and sides with the caramel, then arrange the roasted pear slices on the bottom of each and let cool.
Heat oven to 325.
Put the condensed milk, milk, eggs, egg yolks and flavorings into a deep mixing bowl and whisk together until well blended.
Pour the flan mixture into the ramekins and place each ramekin into a large baking dish filled half way with water. Bake for 1 hour.
Remove from oven and remove the ramekins from the water carefully.
Cool and then refrigerate for at least a few hours before serving. Just before serving, cover the ramekins with a plate and invert. I always run a sharp knife along the sides to loosen them up before inverting.
Mojarras Fritas
The first step in making good mojarras fritas is finding a good piece of fish. I like to head out to the Cabrillo Beach area early in the morning and buy it as fresh as I can get it. Can't make it to the beach? Local markets in L.A. Carry nice Tilapias – I buy from Whole Foods Market but you can find Tilapia all over Los Angeles. Buy one fish per person. My feast serves 8 people.
8 fresh Tilapia
Olive Oil
Coarse Kosher salt
Trim off the dorsal and side fins off the fish and score the sides of the fish with a sharp knife. I make three long cuts on each side. Wash the inside of the fish well, then rub both the inside and outside of the fish with the kosher salt and set on brown paper to dry off. Here's a great video on how to prepare the fish for frying.
In a large skillet, pour in olive oil a little over half way to the top and heat on medium flame. When the oil is very hot, carefully slide in a fish and fry till very crispy and brown (about ten minutes). Turn over and do the same for the other side. I do two at a time to work quicker, but depending on the size of your skillet and the Tilapia, you may only be able to do one at a time. Drain the fish on brown paper and serve immediately with all the sides. We take a little bit of everything but the dessert and put in a hot tortilla to make incredible fish tacos.
Buen provecho!