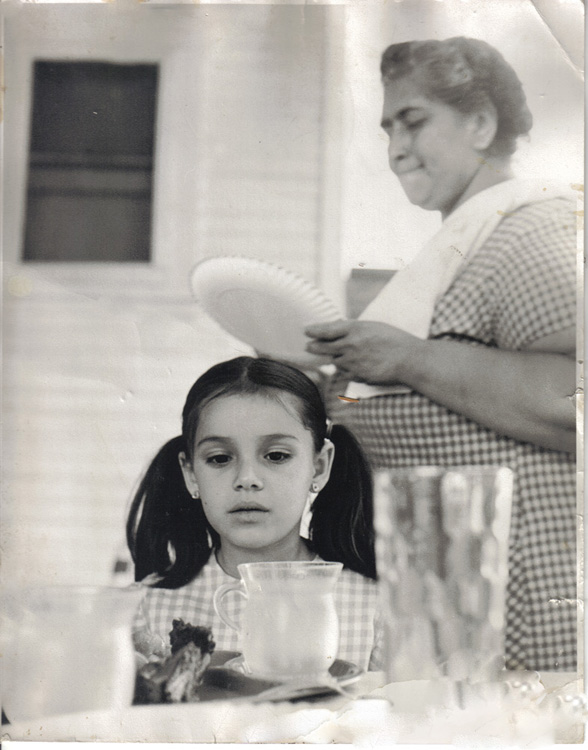 I know right?  It sounds weird.
Not to Mexican households, especially mine.  I love potato salad.  Not that sickening sweet pile of mush that they sell in the grocery stores and the slightly better version sold at deli counters.  No, I love the thick, chunky, tangy almost red potato salad my grandmother Lupe would make for picnics and bbqs.  She didn't do fried chicken.  Hey we were Mexican.  There were always hamburgers and hot dogs for the kids, chicken on the grill that my Papa Chava or some uncle would do.  Maybe even steaks, but I don't really remember what the grownups ate.  I was there for the potato salad and my grandma Lupe's amazing purple punch with cherries in it.  If the mole was happening, that's when I got really happy and excited.
My Grandma's potato salad had big chunks of just firm enough not to fall apart potato, mustard, mayo, paprika, hard boiled eggs, big pieces of diced pickle, tiny bits of chopped celery, grated onion, and lots of pitted black olives.  One of my favorite parts of helping was that I got to wear the olives on my fingers and play with them before eating.  It was all she could do to keep me from eating them all.  I always got at least ten and pretended that they were my crazy witch fingernails or Swamp Thing or whatever my fertile imagination was running with that summer.
Grandma always made tons of potato salad early in the day so that all the flavors would meld while it was still hot and have plenty of time to be cold by the time we were ready to eat.  We'd help make her purple punch (still trying to find the recipe for that one), her green limeade one and the punch she put rainbow sherbet in.  YUM.  I seriously need to find those recipes.  There's be fruit salads and the melon ballers would be rocking in three different sizes, green salads, chile salsa, her mix of tomatoes, onions and cilantro with the pretty cilantro flowers in it and a hustle bustle of activity.  The picnic table in the patio my mother's cousin Jackie had helped built (I still remember being scared of his hammer), the patio with our baby hand and footprints embedded into the dark green cement where shelves of potted plants were everywhere and the sweet scent of Grandma's flowers and the bay laurel tree would drift in.  God I miss that patio.  There was nothing like sitting in it playing marbles with my Papa or embroidering dish towels with Grandma and Auntie Jessie.
If there was mole, it was one of my favorite things.  The spicy, chocolate thickness of dark red mole on tender, falling off the bone chicken meat mixed with the coolness of the potato salad was perfection.  The mole was spicy enough for the adults and we kids made sure to put lots of lemon to cut the spice and mix in the potato salad that would turn red and taste absolutely delicious.  The tang of the pickle went well with the lemon cutting through the spice and the occasional bite of egg, celery or olive added texture, crunch and interest.  It was a party on a plate.
It's Labor Day weekend and I'm planning on making potato salad for my own grandkids today.  Will there be mole?  Absolutely.  Hot dogs too, grass fed beef hamburgers (hey it was on sale at Whole Foods) maybe some fish and definitely some icy cold fruit salad.  There will be a fig tart with ice cream and most of all there will be memories of mole and potato salad.