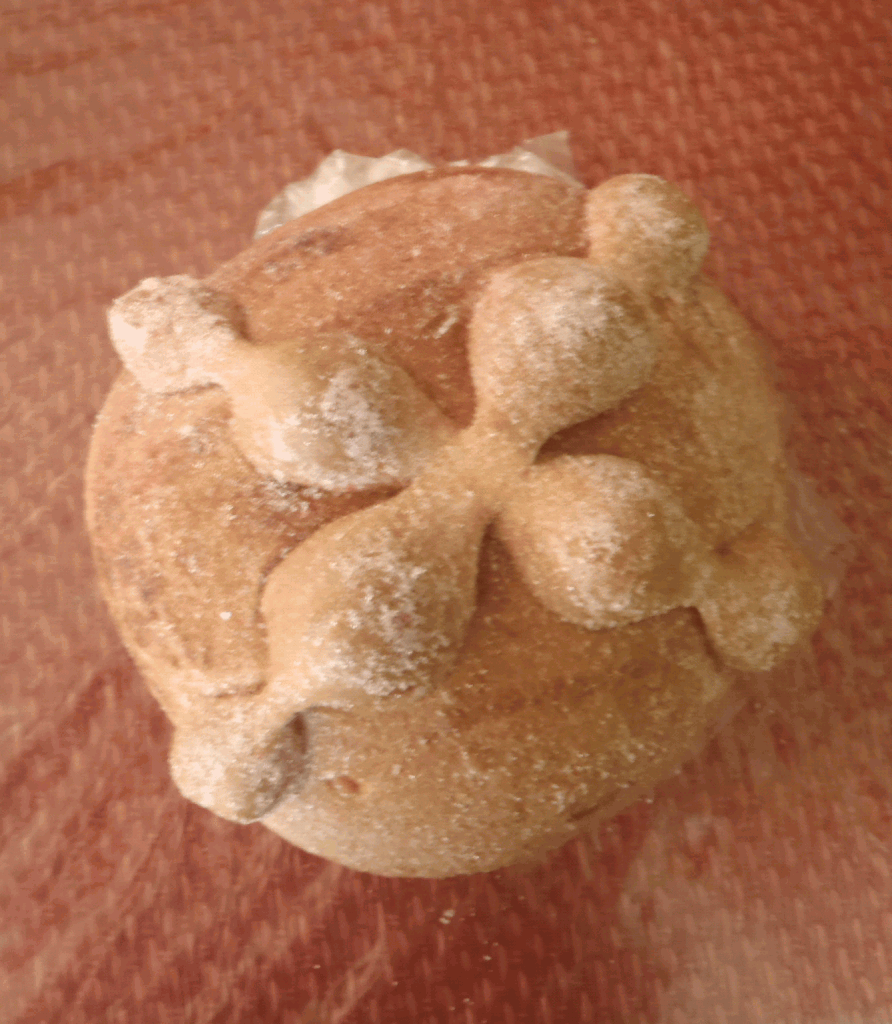 Each October, about this time of the month, I start baking the bread known as pan de muertos. It's traditional, sweet, delicious with coffee and we only make it at this time. I make several loaves of it from about October 28-November 2nd. Four go with me to the Dia de los muertos ceremony I attend each year in Lincoln Park. I bring other things with me too, to put on my altar and share with the other danzantes, but the pan de muertos is always front and center.
During the ceremony, after the danza we eat and share a meal with friends and family. It is thought that our ancestors (the dead) are visiting and eating with us, so we make their favorite foods. The bread is usually decorated with dough shaped like bones (disfuntos) to represent the departed. Sometimes, you shape a teardrop as well to represent your sorrow. I never add the teardrop. I prefer to remember my dead in happiness, free of the pain that plagued them in their last years.
At our Aztec dance ceremonies, the smells of food mix in with the burning copal resin, the charcoal filled heaters that surround the circle, the scent of the last jacarandas and night-blooming jasmine of the season, and L.A. traffic. The smells rise up in a cloud thanks to the copal and from a distance, you can see the hazy, otherworld quality of it as you hear the drums at least two blocks away. In the circle, the smell is intense and after the hard dancing is over, you wander round snacking on posole, tacos, chicharrones and other dishes people have brought. I wrap myself in a serape and sip at ponche or champurrado and eventually wander back to my altar and sit down with a little pan de muertos and music.
I don't know where the tradition comes from. Some say our dia de los muertos ceremonies go back to Aztec times honoring Mictlantecuhtli, the spirit of the dead. After the conquest, it got mixed up with Catholic tradition and became intertwined with All Soul's or Saint's Day, November 2nd. I like imagine the original pan de muertos was probably something like the modern day candy we call alegrias, made of amaranth and honey, but the Spanish and French brought dairy, yeast, flour and European baking to Mexico, so pan de muertos is rich in eggs, anise and orange flower water; a bread soft, sweet and mildly spicy that melts in your mouth when it is fresh out of the oven. Dipped in coffee or Mexican chocolate, it's perfection and absolutely sublime. That each taste of it is a prayer in memory for loved ones lost, makes it all the more special.
Pan de Muertos
2 1/4 cups all-purpose flour
1/3 cup sugar
1 package dry active yeast
1/4 cup very warm water
1/3 cup unsalted butter, at room temperature
2 tablespoons orange blossom water
zest of two oranges
1/4 teaspoon salt
6 tablespoons milk, room temperature
2 eggs, room temperature
2 tablespoons butter
1/4 cup sugar
Dissolve yeast in water, then add one cup of the flour. Stir to make a soft sponge, cover with a cloth, and let rise in a warm place until doubled.
To the yeast mixture add the remaining flour mixed with salt, sugar and the cooled butter that has been mixed with eggs, anise water, orange blossom water and orange rind. Mix well and turn out on a board floured with the remaining 1/2 cup flour. Dough will be soft, so keep hands floured and knead lightly. Pat into a greased bowl and set in a warm place for about 1 1/2 hours to rise.
Shape into a round loaf, saving some of the dough to form the knob and four bone strips.
Bake in a preheated 350 degree F oven for about 30-45 minutes. Brush with orange flower glaze then dust with sugar.
Orange Glaze
1/2 cup sugar
1/3 cup fresh orange juice
2 tablespoons orange-blossom water
2 tablespoons grated orange peel for zest
In a small saucepan over a medium flame add orange juice, cinnamon, and 1/4 cup sugar. Bring to a boil and remove from flame. Set to the side.
If you can't find orange blossom water, you can substitute fresh orange juice.
If you want a less sweet version, you can make an egg wash and brush the loaf before it goes into the oven with it, then dust with sesame seeds. This is also very traditional.