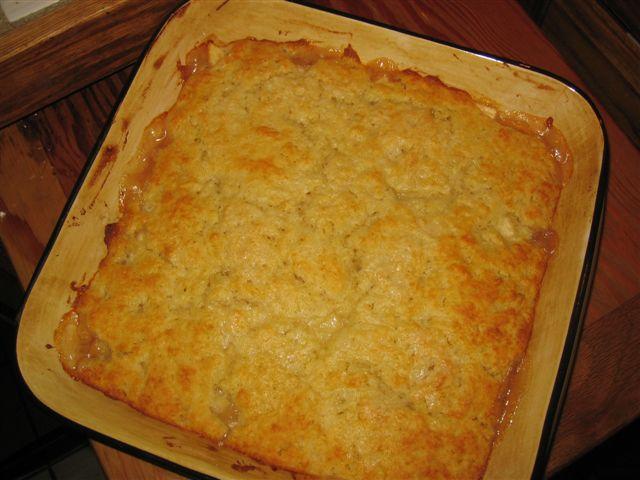 Recipe submitted by Darlene Chan
I hate buying buttermilk for one recipe because ultimately I use 1/2 cup and then it sits in the fridge until I throw it out. This time I thought I'd be a bit smarter. I had originally bought a quart to use for buttermilk pancakes, which left me with 3/4 of a carton to use! A peach cobbler recipe caught my eye, it was a hot summer day and voila! Another 2/3 c of buttermilk used up. I still ended up throwing most away, but at least I got the cobbler out of it.
Peach Cobbler
Fillling:
1/4-1/2 c. sugar, depending on fruit's sweetness
1 T cornstarch
1 1/2 lbs peeled peaches (or nectarines) halved, pitted and cut into 1/2? thick slices and cut in half again
1 T fresh lemon juice
Topping:
1 c. all purpose flour
3 T plus 1 tsp sugar
1 tsp baking powder
1/2 tsp baking soda
1/4 tsp salt
3 T unsalted butter, cold and cut into 1/2? cubes
2/3 c low fat buttermilk
Make the filling: preheat oven to 350 degrees. In a pot of boiling water drop peaches in for a couple of minutes. Drain and peel skin. In a large bowl, whisk together sugar and cornstarch. Add peaches and lemon juice; toss to combine. Take a little bite from a piece of peach and decide if you need to add more sugar. Fill one 2 qt baking dish and transfer to a rimmed baking sheet.
Make the topping and bake: In a large bowl, whisk together flour, 3 T sugar, baking powder, baking soda and salt. Using a pastry blender or your fingers, blend in butter until mixture resembles coarse meal. Add buttermilk; stir just in dough forms. Drop dough onto fruit. Sprinkle dough with remaining teaspoon of sugar. Bake until fruit is bubbling and biscuit topping is golden brown, 35-45 minutes. Let cool 15 minutes. Serve warm with ice cream, whipped cream or as is!