When I was a little girl, one of the big joys of my life was watching Lucha Libre (Mexican wrestling) with the men in my family. I'd happily run over to our little black and white television and fiddle with the antenna wrapped in foil to get the UHF channel that ran Mexican T.V.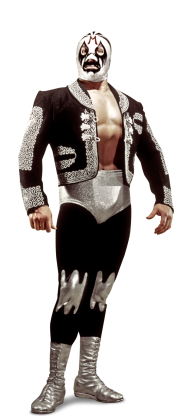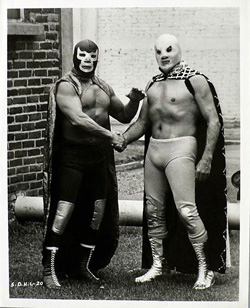 The big guy to me, and the one I admired most was Mil Máscaras, or the man of a 1000 masks. He was my hero, but El Santo (The Saint) was my grandfather's and with good reason. El Santo, wearing his ever-present silver mask, went up against such fierce baddies as La Llorona (scariest ever Mexican legend to me) and the Momias de Guanajuato (think mummies/zombies) on film. Yes, there is Mexican Wrestling cinema! For a time, there were lots of movies made with El Santo & The Blue Demon going up against traditional Mexican monsters/ghosts and the like and good old American monsters like Frankenstein. I loved El Santo too and to a lesser extent, The Blue Demon, but Mil Máscaras stole my heart. It's no wonder that he is considered to be one of the most influential Mexican wrestlers ever, he was that awesome. He was one of the first wrestlers to introduce those crazy high-flying moves of Lucha Libre to Japan – the plancha and tope suicida. He was internationally famous and was inducted into the Professional Wrestling Hall of Fame as well as inducted into the WWE Hall of Fame in 2012, an honor well over due.
I will never forget going to the Olympic Auditorium in Downtown L.A to watch Lucha Libre. It was my first experience with an arena and a live sporting event. We went there occasionally to watch boxing and the Chicano kid boxers go at it and a few times, to see Lucha Libre. Oh how I loved it! It made me a lifelong fan of the sport and my love for my hero that much stronger. I forgot about wrestling for a while when I became a teenager, but I never forgot about Mil Máscaras. He remains firmly ensconced in my heart as my first ever besides my grandfather hero.
Raising three young boys as a single parent brought me back to the world of wrestling. By then I'd found the WWE and (don't laugh) the GLOW girls. My boys loved them and so did my daughter. Too, too often I'd come home to find them wrestling on the floor in a pile, my youngest, Bobby, executing a Máscaras move from on top of the table, leaping onto his brothers and sisters and making them yell. The WWE bonded those wild little monsters more than I could ever do. I laugh as I write this because they are still tightly knit, they still somehow end up play fighting which means someone still ALWAYS gets hurt.
My children are grown and gone now and my oldest is into Jujitsu, another form of wrestling. My granddaughter Zoey is a champ at it and made some boy in her league cry. I kind of got in trouble for being insanely proud of that and calling her "Zoey the Killer" and making a poster with a Bruce Lee quote so I have to remind myself to be more restrained. I remain not so secretly thrilled that she's a force to be reckoned with and am planning on a Mexican wrestling movie and WWE fest when she comes to visit with her brother. Tradition is important.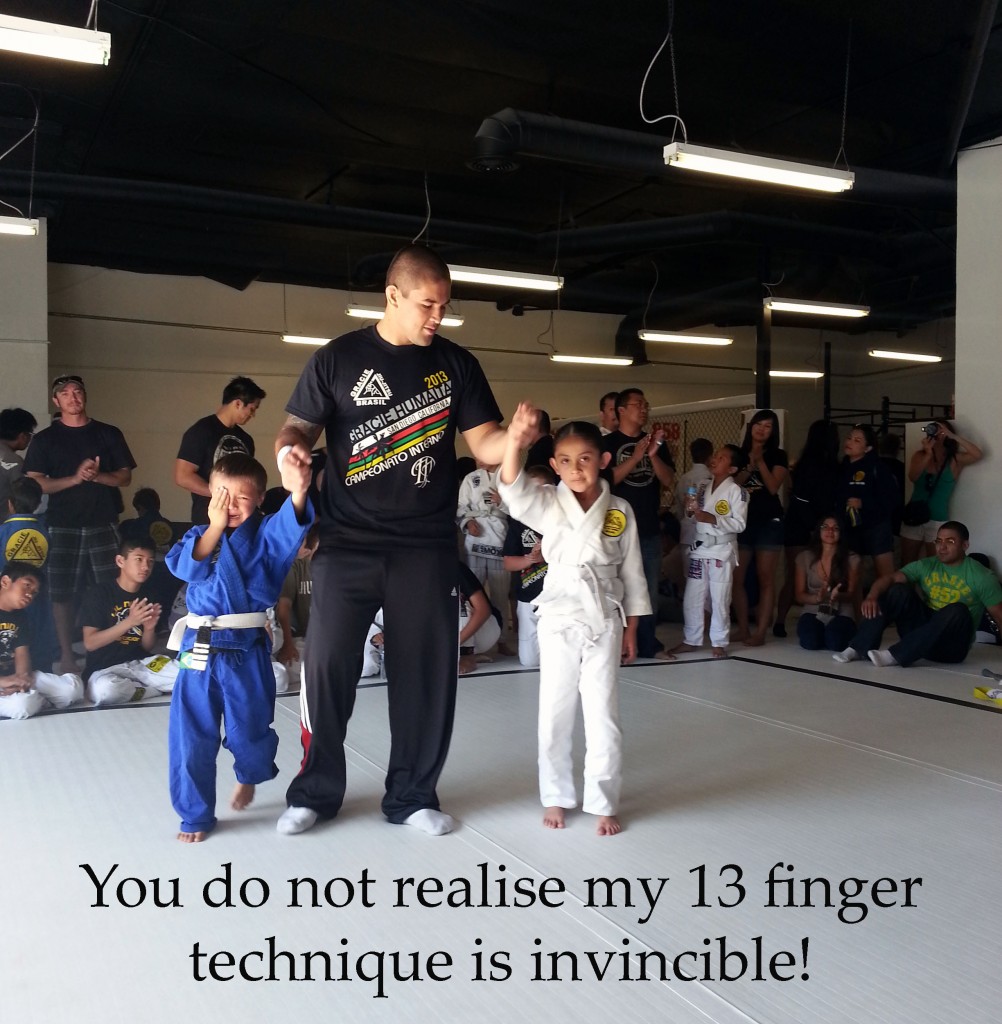 I owe the WWE a lot. Mexican wrestling taught me early on to be strong and a fighter. The WWE helped my children bond with each other and made them tough, wild and that it was okay to be completely ridiculous sometimes. Not one of them is ashamed to be completely absurd and I think watching grown men chase each other with a chairs and make insane flying moves from a rope in spangly tights and unusual masks helped foster that.
Now the WWE is teaming up to help our real heroes, those military veterans that come home and need jobs. They have partnered with Hire Heroes USA, an organization that works to get our vets working. As the mother of a vet, I am beyond moved and can't think of a more worthy pursuit than finding our Veterans gainful employment. They sacrificed so much to fight for our freedoms and so many are struggling now to find work. It isn't right. The United States Department of Labor estimates that the military discharges 160,000 active service members and 110,000 Reserve and National Guard members annually. Statistically, about 32,000 of those veterans will join the ranks of nearly 1 million veterans already unemployed. Those are some depressing statistics.
To support Hire Heroes USA's mission, the WWE will make a donation and utilize all its assets, including TV broadcasts, live events, digital and social media to generate awareness and raise funds. In addition, Hire Heroes USA will partner with WWE to implement a veterans hiring initiative and enhance WWE's military hiring practices.
The partnership, which will expand WWE's commitment to the military through the support of programs that create job opportunities for U.S. military veterans and their spouses, will be featured during the 10th anniversary of WWE Tribute to the Troops. This annual holiday special airs on USA Network this Wednesday, December 19 at 9 p.m. and on NBC this Saturday, December 22 at 9 p.m. Que padre, que no? This is a heroic effort worthy of El Santo and my hero Mil Máscaras.
Even better is that the #WWEMoms, the #WWE and #HireHeroes are having un chingon of a Twitter party on Thursday, December 19th and you should totally be there to learn more about the program and find out what we can do as individuals to help support them.  Also, you should follow @WWEmoms and @snowinRI, who are working hard to make this an amazing Twitter event.  RSVP and join the chat for a chance to win a Longchamp tote bag, an iPod Nano, or a WWE 2K14 video game for Xbox 360!
P.s.  I totally slipped in that poster I made of my granddaughter in her winning jujitsu match – the one I got in trouble for.  sssh, don't tell my son.