No, not the song.
But seriously, what are you drinking this holiday season? Better yet, what are you gifting?
At Christmas time, I love finding special bottles of liquor fro friends and family. That special bottle that will sit in pride of place for a while before they drink it. The one whose bottle is so gorgeous people keep it long after the spirits are gone. Most of all, I love giving out tequila. Go to Elodia's and Frank's empty handed over the holiday season? No way! I'm taking tequila instead of that bottle of wine. For my son that has everything and who is so hard to shop for, say no more – I'm sending him a good bottle of aged tequila. For my margarita loving comadres…tequila of course!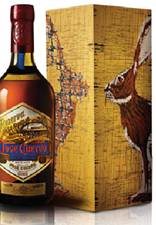 Are you a tequila novice and wondering what kind to get? Well read on chicos, because I have the perfect gift for the tequila lovers on your Christmas list.
Make a lasting impression this holiday season with culture and contemporary art as seen in the latest Jose Cuervo Reserva de la Familia bottle!
Every year, Jose Cuervo and Tequila Reserva de la Familia offer famous Mexican artists the opportunity to create original artwork for its packaging. Each Reserva de la Familia box is made of wood and features the artwork of renowned Mexican artists. This provides a unique experience for consumers to enjoy the one-of-a-kind taste of Jose Cuervo's finest tequila, and an opportunity for tequila lovers to share a unique gift with family and friends.
For the 2012 collection, Mexican artist, Ricardo Pinto, has been chosen to feature his artwork on the box for the special edition of Reserva de la Familia Extra Añejo. Pinto is known for recreating the architecture, urbanity and temporal scope of the everyday life of Mexico City through a "very personal and intimate" approach. This is showcased throughout three Jose Cuervo Reserva de la Familia boxes that provide a visual richness between his unique style and modern graphics. Each bottle of Reserva de la Familia is bottled by hand, hence its limited production, and its SRP is $159.99.
Reserva de la Familia is the result of over 200 years of heritage and tradition. It is the first ultra-premium tequila that provides an authentic experience for the palate. Jose Cuervo produces it by hand using an exclusive method consisting of the finest agaves aged between 10 and 12 years old, fully ripe and extracted from the best farms. Experience it best by sipping it neat or on the rocks, with a twist of lemon.
So what are you waiting for? Support Mexican art and make someone (maybe yourself) very happy by grabbing one of these gorgeous bottles of my favorite liquor – TEQULA. AJUA! (Imagine Mariachi music)…