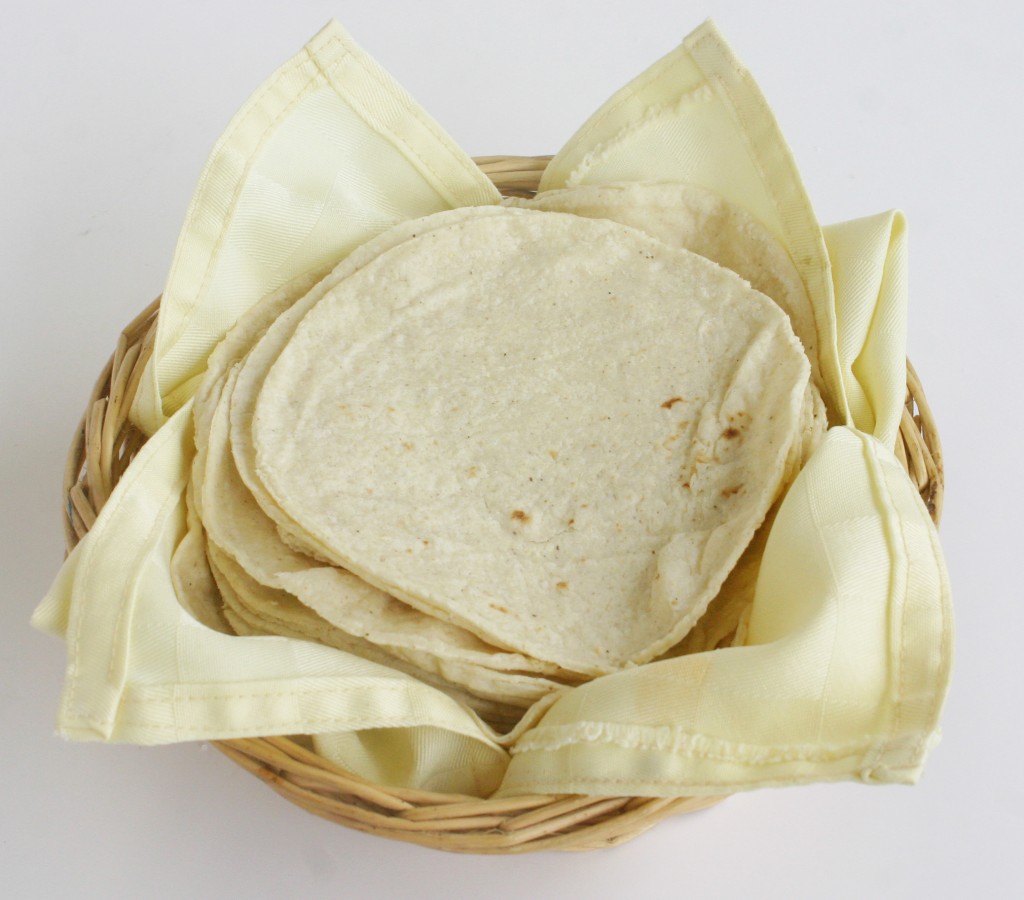 When I was growing up the best thing in the world to eat was a fresh flour tortilla right off the comal.  My grandmother Lupe would always slather the fluffy, white moon-shaped tortilla in butter and roll it up, tucking in the ends and wrapping it in a paper towel so I would drip butter everywhere.  She'd look down and smile while placing the treat in my hands.  I'd thank her and skip off with my treasure, braids swinging behind me as my little patent leather Mary Janes clicked on the creaky wood floors.  I'd usually head out to the garden or patio and eat my tortilla.  The melted butter and the soft floury texture of it tingled my tastebuds and no matter what I did, a little butter always dripped onto my chin.  It was perfection and I'd always want another.
Sometimes I'd try to roll them out in the kitchen with my grandparents.  I could never get them as perfectly round as my Papa could and he'd laugh and call them my 50 states, meaning that I made about 50 different shapes as randomly structured as states on a map.  He was proud of every single, weirdly angled tortilla I made though and showed them off proudly even if they were more than slightly triangular.
Butter tortillas, as I called them then were moments of pure bliss.  Simple as they were, they brought sheer unadulterated happiness and always, always a smile.  My sisters loved them too and we'd simply crave them far more than any ice cream or candy.  For some reason, the tortillas with butter signified home, family, being loved and cared for and brought with them the warmth and happiness of my grandparents house.
I'm 49 years old now and when things are going badly or I feel a little lonely nothing makes me happy again like a homemade flour tortilla, slathered in butter and rolled up with a little jacket of paper towel just like Grandma made.  I make them for my grandchildren now and they love them just as much as I did.  I caught myself the other day standing at the stove, handing Aiden and Jasmine a perfectly rolled tortilla with butter and was struck by the fact that it was me on the other end, my grandmother's side handing out the tortilla.  As Jasmine skipped out of the kitchen, I saw myself at that age and hoped that her tortilla daydreams were just as wonderful as mine used to be.
There is something to be said for simplicity and the joy of plain, comfortable things.  My world is fast-paced, crazy sometimes, filled with information and sensory overload.  I can make it stop though by the simple act of making the simplest of doughs, rolling out a now perfect circle, heating it on a comal and turning it into a memory of a slower, happier time and taste the magic of my childhood.