When I was growing up, I loved tamale season and my favorites were the meat filled ones. I hated, absolutely loathed the sweet ones. Everyone in my family, especially my grandfather, loved the sweet ones but something about them just gave me the icks. Maybe it was the peanuts, maybe it was the peanut butter in the masa, maybe it was the fact that the taste of corn fought with the raisins, I don't know but I never liked them.
As an adult, I thought I'd give the sweet tamales another try. I still had the icks but was determined to find a sweet tamale that I liked. My grandmother had once made some incredible strawberry tamales that I liked and so, over the years I've been experimenting with berries and various fillings on my quest for the perfect sweet tamale. I've made strawberry ones that were great, coconut ones, piña colada, almond, blackberry and apple cinnamon and they were all good tamales but nothing I couldn't live without.
Yesterday, I invented the perfect sweet tamale. Raspberry flavored masa with a fig-walnut filling and a touch of raspberry syrup. Oh. My. God.
Want the recipe? I'd better write it down so I don't forget it since I made it up on the fly.
I had been shopping for ingredients for my tamalada and had bought the things for pineapple tamales as well as for coconut tamales. I was in this little store in Glendale and spotted large trays of fresh raspberries on sale and right along side of them, boxes of fresh mission figs for 49 cents. Yowza! I love figs and I love raspberries so I grabbed all the boxes of figs and five trays of raspberries. Marissa asked, "What do you need those for?" and I said, "No idea but this is a great deal" and tossed them into the cart.
Yesterday, when I was preparing for the tamalada I started pulling out the stuff to make pineapple tamales when I saw the raspberries. Something clicked and I got into this state my kids used to call the Mom-recipe inventing robot mode. It's weird really, almost a dreamlike trance where everything is on autopilot and images just pop into my head and somehow become a recipe. This is what I came up with.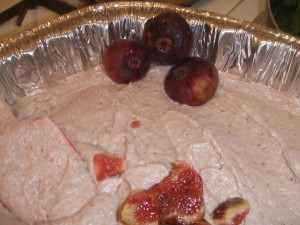 A stand mixer makes easy work of mixing the masa
Raspberry Tamales with Fig-Walnut Filling
3 lbs. raspberries, washed, hulled and patted dry
10 cups of prepared corn masa (can be ordered and bought ready made at Mexican bakeries or grocery stores)
4 lbs. fresh figs, washed
1 pound coarsely chopped walnuts
2 c. sugar for raspberries
1 tsp. allspice
3 tbsp. Chambord
2 cinnamon sticks
5 c. sugar for masa
2 more cups of sugar for syrup
Soaked corn husks
Wash raspberries and remove hulls. Gently pat them dry and put them into a heavy saucepan. Cover the raspberries just barely with cold water and add the two cinnamon sticks. Bring to a boil, then reduce to low heat and let simmer for about a half hour. Remove cinnamon sticks and slowly stir in 2 cups of sugar. I used brown Mexican cane sugar, but any sugar will do.
Once the raspberries are cooked down and the sugar is dissolved, about another ten minutes, turn off the stove and let cool.
Scoop out the cooled raspberries with a slotted spoon and puree them in the blender, leaving the water in the pot.
Push the puree through a very fine sieve into a bowl. Set aside.
Put the corn masa into a big mixing bowl, or if you have a KitchenAid stand mixer, which is what I used (Marissa and Rachel got it for my birthday present), put as much of the masa as you can into the mixing bowl. Make sure to use the splash guard if you're using the mixer. Turn on the mixer on medium speed and then start pouring the puree little by little into the bowl. Add the sugar and allspice and let it mix. I set the speed up to the maximum and let it do its thing for about 15 minutes. You want a light masa, so it's going to take some work. If you're beating this by hand, it's going to take a while and you'll need someone to spot you. Use the heavy-duty mixer.
While the masa is being mixed, turn the stove back on and heat up the remaining water from the raspberries. Add the two tablespoons of Chambord. Bring to a boil and start stirring in the remaining two cups of sugar. Lower the flame and let cook, stirring constantly until the consistency is thick and syrupy. It takes about five to ten minutes. Remove from heat and let cool. Strain, using a fine sieve. If the small raspberry seeds bother you, double strain it through cheesecloth. I thought they added a little texture and dimension so didn't bother. Set aside till you're ready to assemble the tamales.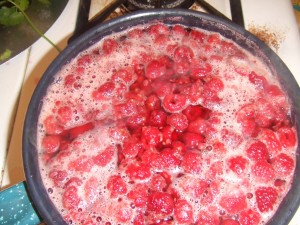 Once the masa is thoroughly mixed, removed from the mixing bowl into a bigger bowl or large container. I used a disposable aluminum roasting pan. Set aside.
Roughly chop the fresh figs and walnuts. Using a spatula, turn the figs and walnuts into the masa. If the masa seems a little watery and not spreadable, add more masa with your spatula till it's the right texture. You want something almost the consistency of thick peanut butter. It's now ready to be spread on the corn husks.
Soak corn husks for about an hour in warm water and pat dry. Run your fingers along both sides to check texture. The smoother side is where you should be spreading the masa. Using the back of a spoon spread the masa from the bottom up in a fan pattern. Get about a quarter inch of masa on the husk. Using another spoon, drizzle a line of the raspberry syrup right down the middle. Fold the bottom of the husk up and wrap the tamale. (See Rachel Braver's step-by-step photo instructions on how to wrap a tamale).
Once you've assembled and wrapped all your tamales, place them in a tamale steamer standing up, bottoms sides down. Depending on how many you fit in the tamale steamer, it could take anywhere from an hour to three for the tamales to be done. Make sure the steamer never runs out of water and make sure the tamales aren't sitting in water. They have to be above it and cook only with the steam. Tamales are done when the masa is set and firm.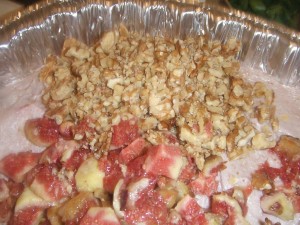 I served these a little of the left over raspberry syrup on top and some homemade whipped cream. Garnish with a couple of fresh raspberries if you like. One of the comments I got was, "wow this is like a dense cake". They are worth the effort and you can probably experiment to get this recipe smaller. I just tend to do things in huge batches.