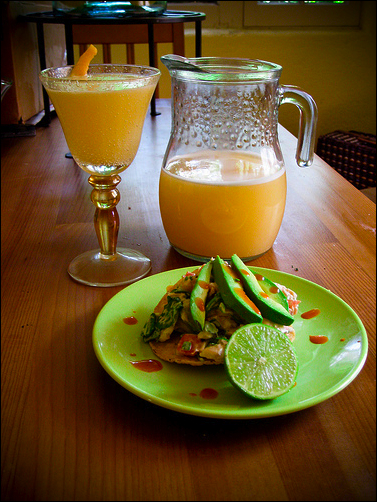 One of the simple things that I make and my grown children go absolutely nuts over and always ask for is my tostadas de atún or tuna tosadas. It's super simple, but so good and perfect for hot weather when you just don't want to cook at all. It also a good recipe to make when you have little, hungry kids in the house and they want to help cook. Jasmine and Aiden like helping cook a lot so I chop everything up for them, open cans and then just let them add everything to a mixing bowl and stir. It makes them happy and they get a decent meal in the heat. The recipe also allows for a lot of creativity. It's pretty flexible. When my kids were growing up, each one had their own spin on it. Albert always wanted me to add canned corn to it, lots of it and no mayo. Bernadette wanted pickles, cucumber and chopped celery. Phillip was the one who drowned it in so much lemon that we made him make his own and Bobby loved it with canned jalapenos and plenty of avocado.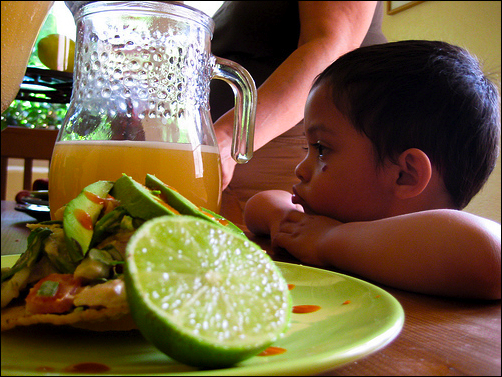 Last Saturday, it was typical L.A. July weather, hot and nasty. We had gone over to Read Books for story time and Jasmine invited her friend Velouria over for an impromptu kiddie pool play date (for all my Twitter friends who commiserated and suggested help for the drowned Blackberry, yes that's when I dropped it into the pool and thanks to all my Twitterfriend's advice, it survived and is working).
After some fun time out back with Velouria's mom Monica and the kids, Aiden and I went inside to fix lunch for everyone. I quickly decided on Tostadas de atún, because it was fast, easy and perfect for the day. I also decided I'd make my Grandma Lupe's horchata de melon or agua de melon, a very cool and refreshing drink made of cantaloupe seeds. It was always my favorite agua fresca in the summertime and my grandkids love it just as much as I did.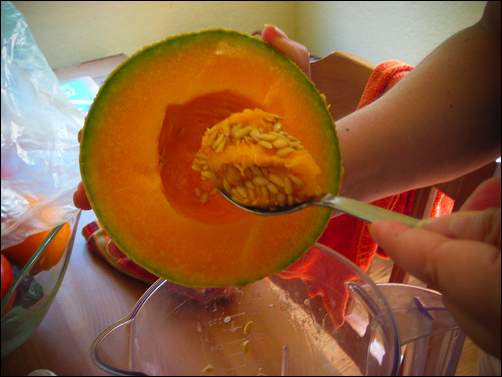 While Aiden and I were working on lunch Monica and the girls came in from outside and Monica very kindly offered to take pictures since my camera is broken and I am not so patiently waiting for my new one to arrive. Thanks Monica!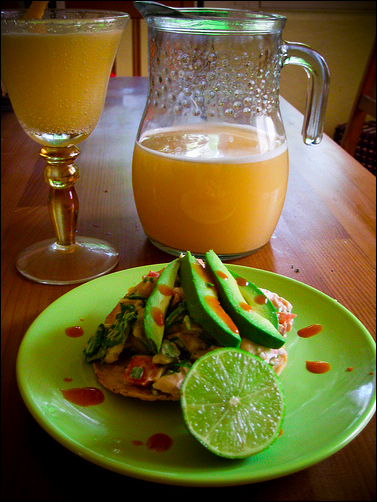 Tostadas de atún
Tostada shells (store bought like we use or you can make your own)
Canned tuna (we use albacore in spring water)
Mayonnaise (optional)
Lettuce or other green leafy (on this day we used Mache)
Fresh lime or lemon juice to taste
Chopped tomato
Chopped green onions
Chopped cilantro
Finely chopped fresh jalapeno peppers (optional)
Avocado chopped for the tuna and some slices for garnish
Powdered chile limon, sometimes called pico de gallo (optional)
Canned corn, chopped celery, chopped cucumbers, pickles, canned jalapenos (all optional)
Salt and pepper to taste
Tapatio or other chile sauce to taste
Add tuna to a mixing bowl and add the chopped tomato, avocado, cilantro and green onion along with any thing else you want to toss in. Add about a quarter cup of mayonnaise if you want it creamy or just add the juice of one squeezed lemon or lime if you want it plain. I use both.
Scoop it onto a tostada shell and garnish with avocado slices. Add Tapatio sauce if desired and a squirt of fresh lime.
Horchata de melon/Cantaloupe orchata
The seeds of one cantaloupe
Sugar or honey to taste
Ice
Water
Slice a chilled cantaloupe and scoop out the seeds and put into a blender.
Add about a cup of ice and water to almost fill the blender.
Puree for about five minutes, then strain through a sieve lined with cheesecloth to get all the seeds out.
Add sugar or honey to taste and more ice if desired. Serve.