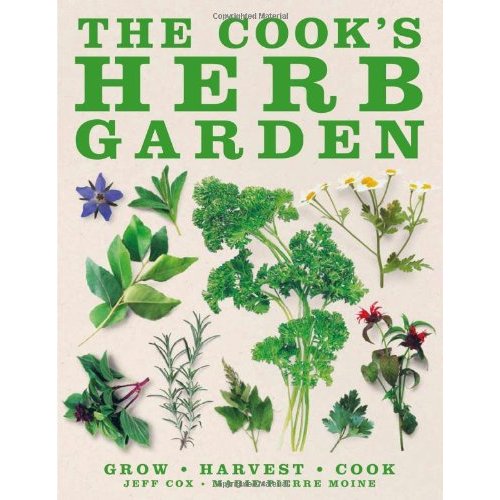 The Cook's Herb Garden: Grow, Harvest, Cook
Author: Jeff Cox, Marie Pierre Moine
Publisher: DK Publishing
ISBN-10: 0756658691
ISBN-13: 978-0756658694
The Cook's Herb Garden is a wonderful little book. It's jam-packed with full color photos of the herbs with handy diagrams and info. The book is divided into four sections: Choose, Grow, Harvest and Store, and Cook. It comes with a photographic herb catalog which gives a lot of information about the herb in question like where it grows best, if it's a perennial, best way to grow, growing conditions and culinary uses. I particularly liked the Climate section listing hardy, half hardy, and herbs tolerant of wet soil. There's a section on growing from seed, another on propagating and even one on weed control.
There's step-by-step advice on planting, harvesting, making homemade vinegars, flavored herb butters, rubs and marinades. In the Cook section you'll find over sixty recipes and there are some delicious ones. I loved the Black Currant Cordial and the Lemongrass and Chili Salsa just to mention a couple of the yummy recipes in this book.
I loved this book and keep it handy in the kitchen. Not only is it gorgeous with the wonderful photos, but it's so useful and any cook would be proud to have it in his/her kitchen. I loved reading about how to pick plants for certain places in your yard or garden, plant partners and creating beds and borders using herbs. I've long been fascinated by partner or companion plants and how they work together, so the little section on them was especially fun for me.
This is a great book for families as well as the cook. Kids will love the photos and working with their parents, or other family members in planning out the garden, making the recipes, harvesting and storing the herbs. Using the book to plan and grow a culinary herb garden will be a long-lasting and fun project that will give them skills and knowledge that will last them all their lives, not to mention some fabulous and fond memories. Teaching children about where food comes from and the process of seed to plate is a great lesson and in my experience, one they love. My grandchildren love making the herb ice cubes and experimenting with different herbs and spices. They get even more fun out of it knowing they helped plan the garden, planted and grew the herbs and took a large part in the harvest and storing of them.
This book is highly recommended for anyone and makes a great gift.