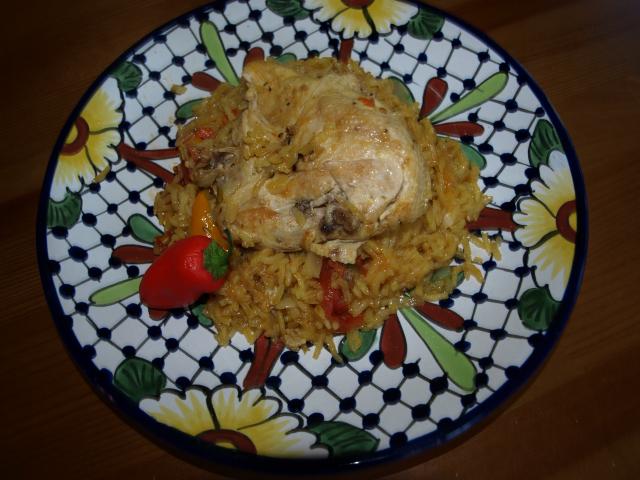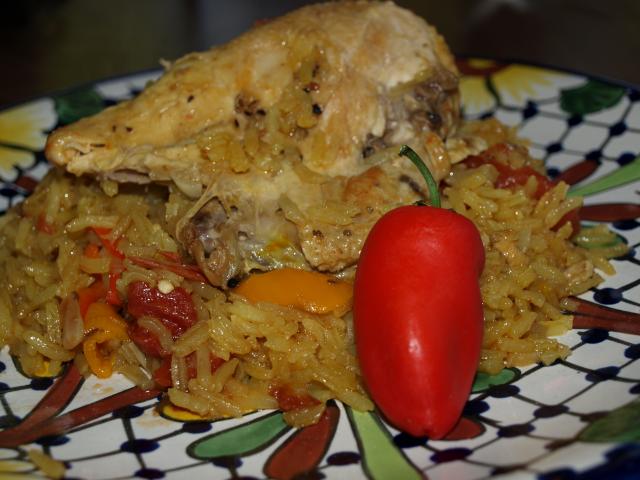 I've been craving my grandmother's arroz con pollo for a couple of days now.  I've been a little obsessed actually.  I can't remember when the last time I had it was, but it had to have been when I was in my teens.  I tried making it a couple of times when I was married, but it just didn't work out.  Neither did the marriage.
Today, Marissa and the kids came by and I decided to give it a shot.  I pulled out rice, onions, garlic, red peppers, the Bijol (a Mexican spice blend), saffron and oregano.  I didn't have peas but Marissa doesn't like them anyway, so I figured we were good to go.
I handed Marissa the camera and got to work chopping onion into nice thick squares, slivers of garlic, rounds of red pepper.  Jasmine and Aiden started to get excited and Aiden helped pour out the oregano.  I only know my grandmother's recipe, which is no recipe – it's a handful of this, a bit of that, un poquito aqui, un manito aya.  I hope my readers can figure it out from the pictures and the story because this time, this time it was like my memories of a fluffy mound of golden delicately flavored rice that melted on the tongue and the tenderest, chicken falling off the bone and flavored with the soul of the crocus.  It was magical.
Arroz con pollo/Chicken with rice
One cut up chicken
Enough olive oil to coat the bottom of a large frying pan
1 onion
five cloves of garlice, sliced thinly
chopped red peppers (not the hot kind)
dos manotes de arroz (two big handfuls of rice)
a manito (little handful of oregano) I think this ended up being about a tablespoon
un poquito de saffron (a little bit of saffron) like a pinch
un poquito de Bijol (about a ¼ tsp)
salt and pepper to taste
peas (optional)
chopped tomatoes (we were out of fresh so I used a 16 oz can of stewed)
water
Coat the frying pan with olive oil and let it heat on the stove.  Not too high a flame, you don't want smoking oil.  Just get it nice and hot.
Wash the chicken pieces and pat them dry.  Season with salt and cracked pepper.
Add the chicken to hot oil and let fry till crispy brown on one side, then turn and do the same with the other side.  It takes as long as it takes.  Use a lid or it will pop all over.
Once the chicken is browned completely, scoop it out and set it aside on a platter.
Drain the oil from that pan and pour it into another large skillet (one that has a tight fitting lid).
Add the oregano, garlic, saffron, and peppers to the same pan and deglaze it with about a cup of water.  Set that aside.
Heat up the oil in the second skillet.  Add in the onions and about two cups of long grain rice and let brown completely, stirring constantly with a wooden spoon.
When it's all browned, add the water and spices from the deglazed pan to the rice. Add salt to taste, I'd say about a teaspoon.
Add the chicken pieces one by one, skin side up around the pan.  Add just enough water to be about a half inch from the top of the pan.  Cover, lower flame to the lowest it will go and then simmer for about 40 minutes.  The rice should be fluffy and golden and the chicken so tender it falls apart at the touch of a fork.  All the water should have been absorbed by the rice.
Serve and enjoy!
Buen provecho.