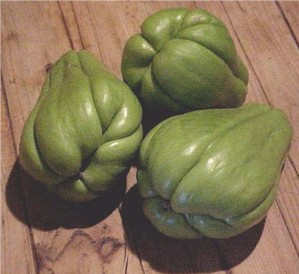 You see them in the markets sometimes individually wrapped in plastic. Green, bumpy looking things that are oddly shaped. Chayotes. What is it? A squash? What the heck do I do with it?
Chayotes were a big part of my growing up. We didn't find them in the market, they grew on fences in great abundance and we were always excited when it was time to pick them. Chayotes are springtime in a squash. Light green skin, translucent green insides and in a word delicious. You can make them in any number of ways but my two favorites are very simple and show the versatility of the squash.
The first thing we did with chayotes was slice them in half, toss them in boiling salted water and wait till they softened. We'd fish them out of the hot water with a slotted spoon, place them on a plate, sprinkle with salt and fresh squeezed lemon and just dig in. They tasted like nothing else. Fresh, springy and piquant they just screamed out healthy and good. We loved them and would eat one after another. I still make chayotes that way and still love them. I also slice them into soups, use chopped, cooked chayotes in salads or meat dishes. They are even used in desserts like my favorite below.
Chayotes con crema y uvas (Chayotes with Cream and Green Grapes)
3-4 chayotes, peeled, cored, diced into chunks
1/2 pound green, seedless grapes
Crema Mexicana or heavy cream, whipped
1 tsp. Vanilla
Sugar to taste
Dash nutmeg
Boil the chayotes in unsalted water till softened, about 10 minutes. You want them firm but cooked through. Strain out and rinse in cold water to stop the cooking. Set aside to drain.
Wash and hull the grapes and place in a large bowl, add in the drained chayote.
Whip the cream to stiff peaks, slowly adding sugar to taste (you want just a hint of sweetness), the vanilla and the nutmeg. Scrape it out into the bowl with the grapes and chayotes and gently fold in.
Serve in parfait cups or on top of pound cake. Refrigerate if not serving immediately.