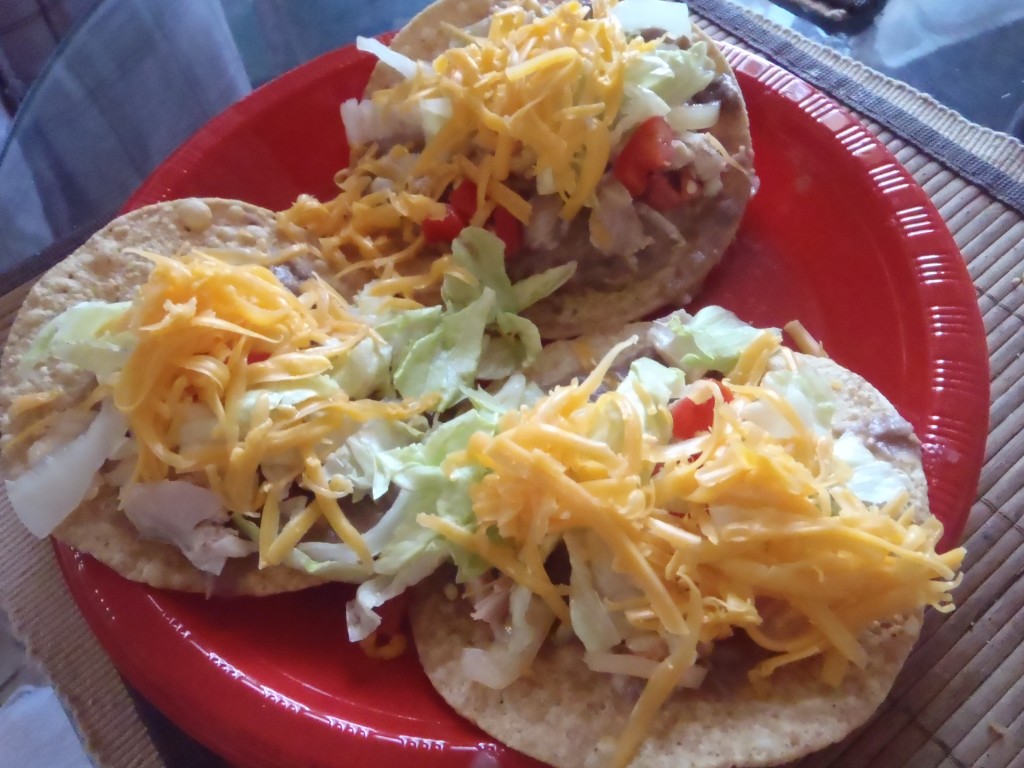 It's been crazy hot here in L.A., but that's usual for July. My meals have been light, cold, crunchy and not cooked. Things like tostadas de atun, sandwiches, fruit or even ice cream have made their way onto my table. I had the ice cream for breakfast one particularly hot day. Hey, there's milk in it! Don't judge me.
Today, finally the heat broke and I wanted real food. Something that wasn't too much trouble but also satisfying. I was craving Mexican food. Wandering round the kitchen I spotted a half of a package of *pre-made tostada shells left over from the ceviche the other day and my mouth watered thinking about the tostadas my grandmother would make. I found already cooked beans, boiled some boneless, skinless chicken with some herbs, onion and garlic then shredded it and I had the makings for tostadas.
Before too long, I served up plates of tostadas to everyone and the happy crunches made me smile. Not my grandmother's tostadas, because we were out of a thing or two, but delicious all the same.
Chicken and Bean Tostadas
Shredded chicken
Grated cheese
Shredded lettuce
Chopped chiles gueritos
Diced tomatoes
Diced onions
Re-fried beans (por favor, not out of a can)
Tostada shells
Tapatio sauce or other hot sauce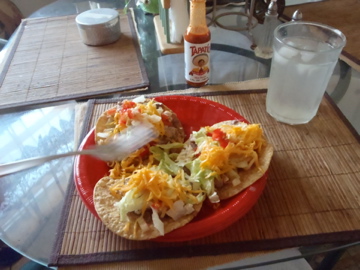 Spread the beans over the tostada shell and sprinkle with cheese. Top with chicken then start piling on the rest. I usually put tons of toppings in bowls so that everyone can pick out what they like and make them Lucha Libre style. We like to put cheese on the hot beans so it melts and then top them off with more cheese. You can add any other ingredients you like, e.g., avocado slices, sour cream, cilantro, different types of chiles, salsa, etc. Go wild!
*If it hadn't been July in L.A. After a long, hot week I would have fried the tostada shells myself but thank God I live in a neighborhood that has great tortillas and tostada shells that taste homemade because the market has a tortilleria in it.