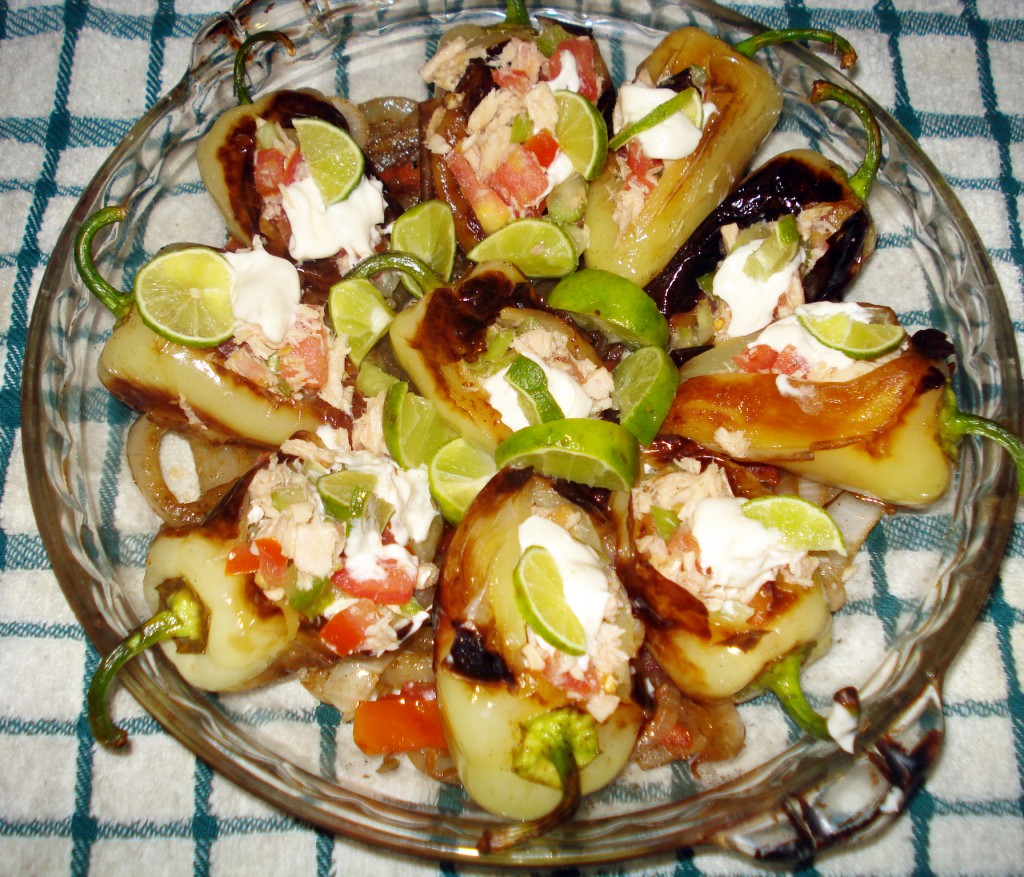 It was a hot summer night and I didn't feel like making a full dinner.  We just weren't that hungry but something snacky sounded good.  I mentally started going through the recipe list that lives in my head for something cool, spicy, semi-healthy and fun.  Running through the list I wasn't finding anything I was in the mood for then I remembered the big bag of chiles gueritos I had just bought at the market earlier in the day.  It got me remembering a trip to Mexico with my friend Elodia, her husband Frank, and the rest of her family.
We had been at her parent's home in the Imperial Valley visiting and since it was so close to the border, we just headed in to a little seafood restaurant they knew and loved.  One of the things that was served as an appetizer were these amazing little stuffed chile gueritos.   The chiles were fried in butter, stuffed with breaded and very fresh shrimp and served with a little side dish of soy sauce.  They were delectable and stayed in my memory for a very long time.  The memory of good friends, good food, cold beer and Mexico is one of my favorites and I've since fiddled with and made those same stuffed chiles as well as many permutations of them.  They always turn out amazing and everyone is a fan so I started thinking about what I had in the house to stuff the chiles with.
Stepping into my still almost an obstacle  course kitchen in the fixer upper house we just bought, I started scanning my shelves.  First thing I saw was the 36 cans of albacore tuna that my roommate David brought home proudly on one of his bargain shopping trips.  Laughing, I grabbed a can and started assembling the rest of my ingredients:  butter, chiles, a yellow onion, two stalks of celery, a few key limes, two tomatoes, salt, pepper, soy sauce and a squeeze bottle of mayo and got to work. About 20 minutes later, I had a relatively healthy and satisfying snack that was beautiful and delicious.  I served my chiles on a bed of caramelized onions and tomatoes to give a little sweetness to the dish.  It's the perfect thing for a hot summer night.  Just add cold beer or some icy Prosecco and you're good to go.
Chiles Rellenos de Atun
10 chile gueritos
tablespoon butter
1 can albacore tuna, drained well
2 stalks of celery, minced
1/2 a medium tomato, finely minced
salt and pepper to taste
squeeze of lime or lemon
caramelized onions and tomatoes
Wash the chiles and pat dry.  In a cast iron skillet, melt the butter on a low flame and then add the whole chiles stems and all.  Let brown and blister, then turn making sure each chile gets well browned and blistered all the way around.  Remove from heat and cover with a damp cloth.  Let cool.
In a mixing bowl, add the drained albacore tuna, the tomatoes, celery, lime juice,salt and pepper.  Mix well, breaking the tuna up into very small flakes.  Let rest for five minutes covered.
Peel the cooled chiles, leaving the stems on.  Slit them down the middle lengthwise stopping just before the end.  You want a small pocket.  Carefully remove the seeds if you want to.  My family happens to like them in because the chiles are spicier with.  Up to you.  I tend to leave them in if my boys are visiting but for guests, I remove all the seeds.
Using a spoon stuff each chile just enough to let a small about of the tuna mixture pop out.  Garnish with a dab of mayonnaise and a slice of lime. Serve them on a bed of caramelized onions and tomato slices and a dipping bowl of soy sauce on the side.  The sweetness of the caramelized veggies will cool the heat just enough.