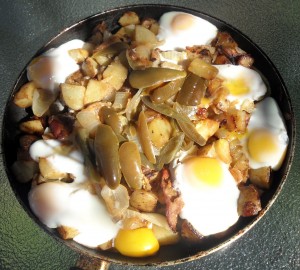 My grandfather (Papa Chava) was one of my favorite people and biggest influences in my young life. To me he was the strongest man in the world and the kindest. He was a sobador (traditional massage healer) and never took a dime for the help he gave people in the parish. He'd always say, "no cobramos por ayuda" we don't charge to help. He and my grandmother were old school Latino – they gave to their community, the genuinely cared about everyone and thought it was their duty and their privilege to be able to do for the people in the family and neighborhood.
My grandfather was strong. Like superman strong from a lifetime of hard physical labor. This is a man who a month after 7 major surgeries was out breaking concrete with a sledgehammer no matter what we said to try to stop him. In the end, he was frail, so frail with skin like tissue paper and no appetite. I'd parade food on days I was there, trying to tempt his appetite and rarely succeeded. He'd nibble just to make me happy, but with my grandmother gone and the cancer that was now in his bones, he was drifting away. During that time, we'd talk about food. He loved cooking too, but a different style than my grandmother. He liked big, peasant style meals – odd things like store bought chicharrones soaked in chile verde so bad for you; but oh so good. If he talked about a recipe or told me a story about food, I'd rush to recreate it in the hopes that the strength of memory would urge him to take a bite or two.
He told me about Mexico and living there as a child and young boy. He'd left as a teenager during the Revolution and his life there had been a hard one. He told me stories about working out in the milpas with his father when he was only three years old. He would proudly tell me how he earned a few centavos, bought his mother an olla and gave her the other two centavos. His work ethic was ingrained from the beginning and he passed it on to me, the one who can't stop even when I'm falling asleep.
Papa would talk about the mineros (miners) that worked in the silver mines. I don't know if he worked in the mines or family did. I just know that he knew about them. He'd talk about big, manly style one-pot food that often got made by his mother. Pots were expensive, a poor family didn't have too many. Maybe one or two so often things were made all in one pot. That's why that olla he bought his mother was so important and made him so proud. They were dirt poor and it was a really hard time in Mexico in Guanajuato, the seat of much unrest. The city of Celaya in particular has some pretty bloody history.
He never talked about hard times much. If I asked, he'd just say that he didn't like to talk about it, that bad times were better left in the past. It was enough to have me not speak of it again and enough to ignite curiosity and a passion for Mexican history, especially the history of the Revolution and the time just before it. I could see why the family didn't want to talk to children about those times and why he preferred to talk about Cantinflas, La India Maria, Chucho el Roto and food.
He did talk about food a lot. Papas (potatoes) in chile verde, big pots of potatoes, onions, eggs and chiles all mixed together, the tortillas his dear mother made, enchiladas mineras (a specialty in Guanajuato) and of maguey worms and nopales. One day I tried to recreate one of his miner /peasant one-pot recipes and he loved it so much, I made it several times. I lost my grandfather not too long after but my boys loved the recipe so much that I made it often. Every time I make it, I get a little weepy but I smile too, remembering that most gentle and strong man who taught me some of the best life lessons that have sustained me all my life. We call the recipe Papa's Papas, a name my youngest son Bobby came up with when he was just about four years old.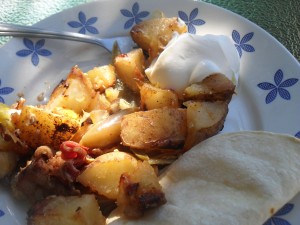 Papa's Papas/Papa's Potatoes
10 potatoes, chopped into bite-sized chunks with peel on
2 onions, halved and sliced into half rings
6 eggs
Salt and pepper to taste
Jalapenos en escabeche, sliced
1 lb of bacon, each sliced cut into four equal pieces
In a large dutch oven or skillet fry the bacon until crispy then add the potatoes right into the pan with the bacon and grease.
Add salt and pepper to taste and the onions. Fry on medium heat until the potatoes are nicely browned and the onions well caramelized.
Lower heat and cook until the potatoes are fork tender.
Crack the eggs right on top of the potatoes when they are done, in a circular pattern around the pot, sprinkle them with salt and pepper, add in about a cup of sliced jalapenos en escabeche (Herdez or La Costena brand is what I use) right in the center. Cover and turn off the heat. Let sit for about five minutes, letting the steam poach the eggs. The vinegary escabeche of the jalapenos will mix with the steam and infuse the whole dish.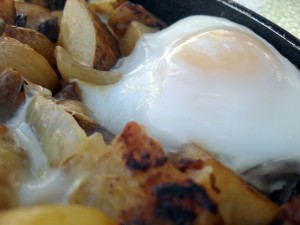 Serve with crema Mexicana, refried beans and warm corn tortillas. It makes a super hearty breakfast.
Make sure each person gets a section with a whole egg in it. If you're serving more than six people, add in another egg per person. The recipe is very flexible.