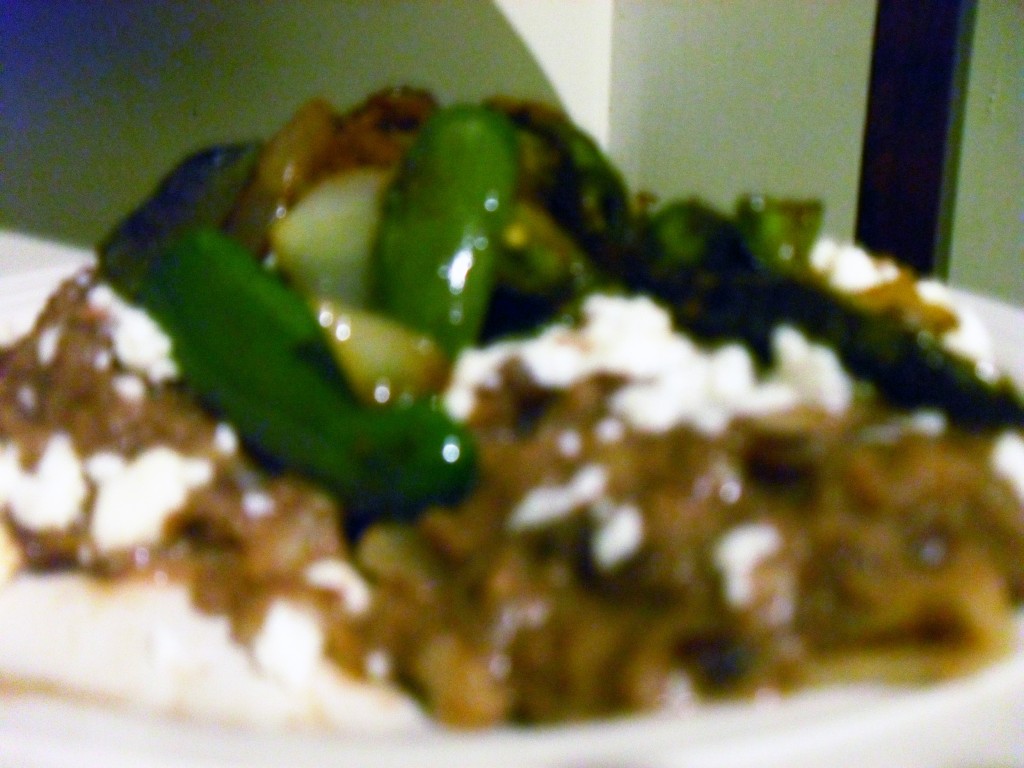 After all the intense summer heat of the past week, now that it's finally cooler I have been craving Mexican comfort food. I wanted enfrijoladas, those rich, creamy bean and cheese bits of yummy that melt in your mouth. An enfriolada is something like an enchilada only a bean sauce is used instead of the red or green chile sauce. They can be made with either corn or flour tortillas, but I use flour because they make the dish extra soft and velvety. Enfrijoladas are not only great comfort food, they are very economical. Typically served with enfrijoladas are what we call Chiles Toreados which could mean either toasted chiles or bullfighter style chiles depending on who you're talking to. Jorge Carbajosa over at Spanish Lesson has a good post on the word here. I use chiles jalapeños and thick slices of onion in mine.  Some people use Salsa Maggi for flavoring but I like Knorr Suissa.   The chiles are sliced into four pieces, toasted in oil along with the onions and then served over the enfrijoladas. My kids would kill me if I dared to take out the seeds since they like it hot and the whole point of toasting the chiles in such a manner is to make them hotter or mas bravos (like a bullfighter) but if you want them milder, go ahead and devein and seed them. The toasted chile flavor will still be fantastic and you'll still get a bit of spice.
I had a pot of frijoles de la olla all ready, so I set about making my enfrijoladas and showed my roommate David how it was done. The local market was out of panela cheese which is what I typically use, so I ended up using a mixture of Monterey Jack and Queso Fresco. The dish is nothing if not versatile.
We sat down to watch Iron Chef America and have our dinner with the dog doing his typical sad-eyed gaze at us. He knows better than to beg and always gets a treat so what he did next shocked us all. Ozzy leapt and snatched, literally snatched a jalapeno off of David's plate, gulped it down and ran.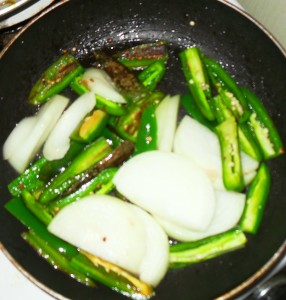 It happened so fast we were stunned. Really? Did he just eat a chile? Then he came back and his little tongue was just rapidly licking his lip and I felt so sorry for him, I grabbed some cold queso fresco and fed it to him hoping it would calm the burn. This is where it gets really wacky. The little monster ran away from me and David, who was now pouring him milk and attacked Phillip's plate stealing three more chile slices in the process. We put away our dinner dishes, kept the jalapenos high and away from him but he was still whining and trying to jump up on countertops after them!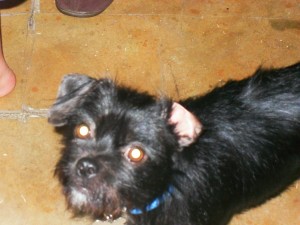 My dog is a schnauzer mix and who knows what the heck the other part of him is but we're certain it's something Mexican and crazy. We kept trying to feed him milk but Ozzy was almost high from the chili rush and I literally had to hold him down and pour it into him. He was going nuts. I Googled hoping it wasn't toxic and there wouldn't be a vet visit in our near future. I kept feeding him cheese till he seemed to calm down, then I put him in bed. He slept quietly all night and woke up just fine but he scared the heck out of us. From now on, Chiles Toreados will be renamed in this house – Perro Enchilados (hot dogs) in his honor. Still shaking our heads over this loco dog who was sniffing at jalapenos this morning but didn't have a chance to get to them.
Enfrijoladas
1 dozen flour tortillas
Cooked Beans
Milk
Oil for frying
Queso Panela (or Monterey Jack)
One onion, diced
Queso fresco
This recipe doesn't really call for measurements, but I'll try and estimate it out. In a large skillet, add about 1 tablespoon of oil and heat. Add in about 4 cups of frijoles de la olla and about a 1/4 to 1/2 cup of milk. Using a potato masher, mash the beans until smooth. Don't use the masher until the beans are really hot or it won't be so easy.
Remove from the heat and let cool.
Add to a blender once it's cool enough and blend until perfectly smooth. Pour back into the skillet and re-heat.
Grate about a pound of cheese, either panela or Monterey Jack and dice the onion finely. Mix the grated cheese and onion together and put into a plate or bowl.
In another skillet heat up enough vegetable or canola oil to dip tortillas in. Using a set of tongs, quickly dip each flour tortilla (or corn if you prefer) into the oil, flipping over to get both sides. You don't want them to fry to much. Literally about 30 seconds on each.
Once your tortillas are fried, using the tongs quickly dip them in the bean sauce. Try to do this quickly so your tortillas don't fall apart. Corn tortillas hold up better, but flour ones are my favorite.
One tortilla at a time, place in baking dish, fill with the cheese mixture and roll. I use the tongs because they are usually too hot and delicate for me to adequately do with my hands.
Once all the tortillas are filled and rolled, spoon more bean mixture on top and pop into a hot 350 degree oven for about ten minutes. Just long enough for the cheese to fully melt.
To serve, sprinkle with crumbled queso fresco and top with chiles toreados. We usually have ours with Mexican rice or a salad but they are a filling and delicious meal all on their own.
Chiles Toreados
About 6-10 fresh jalapenos
Oil for frying
Tablespoon Knorr Suissa or Salsa Maggi
1 onion, halved and thickly sliced (optional)
Wash the jalapenos and cut off the ends. Slice down the middle and then again to get four long strips. In a cast iron or other heavy skillet, add just enough oil to coat the pan and heat on medium flame.
Once the oil is hot, add the chiles and onion slices. The oil will pop so be careful. Fry the chiles on both sides until just toasted, not letting them get too dark, then remove the chiles, lower the flame and continue to let the onions cook until well caramelized.
Throw the chiles back in and stir in the Knorr Suissa. Remove from heat and serve over the enfrijoladas.
Try not to have a crazy, jalapeno eating dog around.