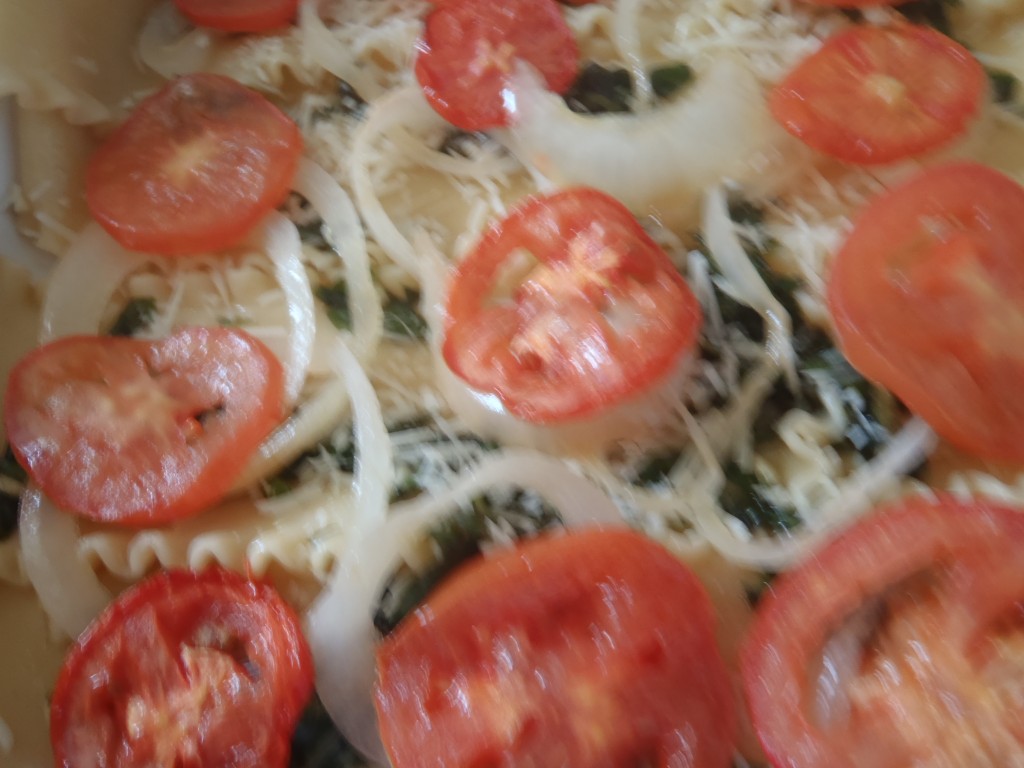 Fusion.  Can I call it that?
I'm making a bastardization of a Pizza Margherita kind of, sort of only with lasagna.  Does that qualify as fusion?  Fusion sounds hip, cool and so not like what my Aunt Lupita would call "cochinadas" which basically means a mess or pig slop, I'm not sure what.  It's what we always called our little cooking experiments.
I bought some beautiful organic basil the other day and wanted to make pesto, but didn't have any pinenuts or any other kind of nuts, so I stuck it in the fridge.  Yesterday, I was out at Walmart doing some shopping for a science project and I found some ridiculously priced Ricotta which always gets me thinking of lasagna.  An idea for something started forming in my head.  I adore Pizza Margherita or Margarita (however you want to spell it).  It's pizza made with fresh basil, slices of tomato and mozzerella.  Kind of like a Capresi salad which I also love on bread. So why not lasagna?  Béa over at La Tartine Gourmand makes an astoundingly delish (I've made it several times) green lasagna so why not something pesto-ish? I bought lasagna noodles.  Wasn't in the mood to make my own this time since this is an experiment in extreme cochinada-making.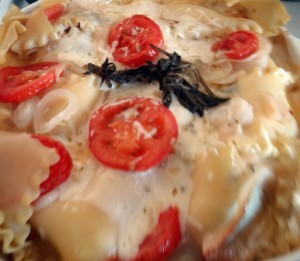 I assembled my ingredients in my head.  I'd chiffonade the basil to really bruise it and get the full flavor, then mince garlic and mix the two together.  I'd add olive oil and sea salt and just let it sit there for a couple of hours marinating itself.  The tomatoes i decided to roast because I wasn't sure if they would do well in the lasagna if not. I wanted them smokey not juicy if that makes sense.  As I was working this out in my head, I decided to also roast some onions with the tomatoes in the oven.
I didn't have mozzarella and was going to run out and get some, but found some pepper Jack cheese tucked away.  Why not?  It would cut through all that sweetness with a little spice and bite and I AM Latina.  Hey they sprinkle chili flakes on pizza don't they?  Total justification.
So I made it, cooking noodles, layering pasta, scooping cheese, delicately adding tomatoes and onions, spreading my basil mixture.  I put it in a casserole dish with a lid on it and stuck it in the oven at 350.  In less than five minutes, the house smelled INSANE.  I literally wanted to bite the air.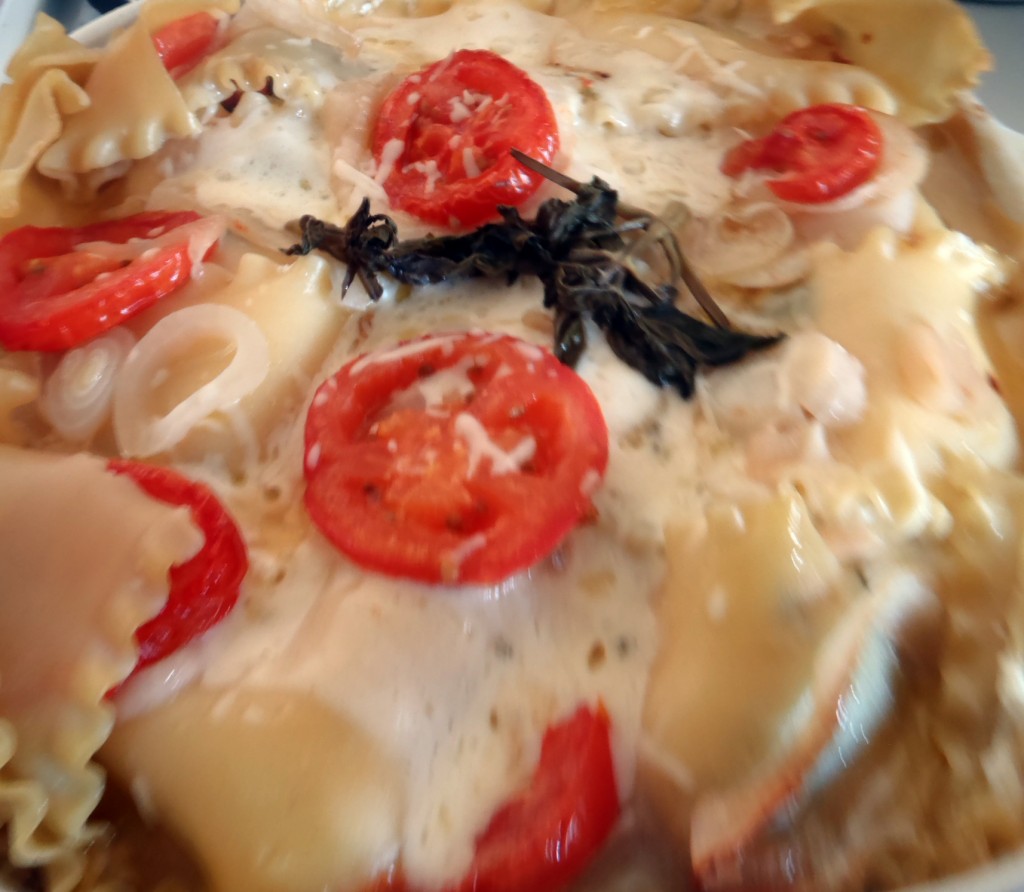 It worked!  The result was rich, creamy goodness with that wonderful blend of tomato and basil that I love in a pizza or caprese salad.  What would I do differently?  Next time I'm making the pasta dough myself and roasting the tomatoes and onions just a bit longer.  Other than that, not a thing.
Gina's Lasagna Margherita
3 cups of basil, chopped in a chiffonade
4-5 cloves of garlic, finely minced
1/4 olive oil
1 large white onion, cut into rings
4-6 large Roma tomatoes, sliced
sea salt to taste
Ricotta cheese
Parmesan cheese (a handful sprinkled on each layer)
Monterey Jack, pepper Jack or Mozzarella cheese (depends on how much cheese you want)
Lasagna noodles
Fresh basil leaves for garnish
Chiffonade the basil and mince the garlic.  Mix together with about a teaspoon of sea salt and the olive oil.  Let stand for about 20 minutes.  Set aside.
Slice the onions and tomatoes.  Sprinkle with oilve oil and roast in a hot oven (350 degrees) for about 20 minutes or until nicely browned and caramelized.  Let cool and set aside.
Cook the lasagna noodles according to instructions on box or recipe. Drain.
Place a layer of noodles in the bottom of a baking dish.  Spread with basil mixture.
Sprinkle with grated parmesan cheese,
Layer on onions and tomatoes evenly.
Scoop on Ricotta cheese.  Add Jack or Mozzarella.
Drizzle a little of the olive oil from the basil onto the cheese and add a little more basil.
Repeat till you get to the top.
On the top layer, cover with either the Jack or Mozarella cheese as well as a few onions and tomatoes.
Cover and bake for 30-45 minutes until cheese is bubbly and melted.
Garnish with fresh basil leaves and serve.
This goes great with a chilled Prosecco.