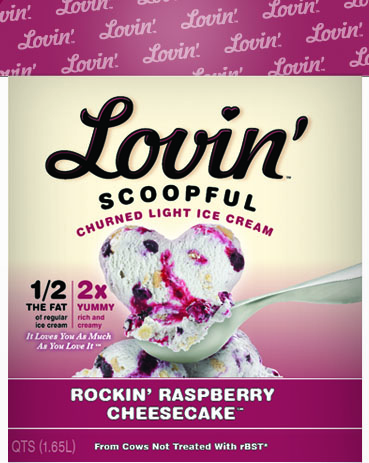 I recently had the pleasure of being asked to review Lovin' Scoopful ice cream, a product I was extremely interested in not only because of my love of ice cream but because the company donates 25% ($50,000 minimum annually) of its post-tax profits to the Special Olympics. Full disclosure: I received two coupons for free ice cream, a t-shirt and some $1.00 coupons.
As most of my readers know, I live in Los Angeles and you would think it would be easy enough to find this ice cream. Once I had my free coupons in hand, I roamed every Albertson's and Ralph's searching for it to no avail. I was starting to get a little desperate for ice cream when I finally found it at the Albertson's on Central and Chevy Chase in Glendale. I was really drooling and looking forward to the Raspberry Cheesecake flavor but the market I found it at only carried chocolate and vanilla so that's what I got.
I was expecting a not so creamy, kinda diet flavor in the ice cream given it has half the calories but was absolutely blown away by the rich, creaminess to it as well as a luscious taste. There were some incredibly happy people in my household. We want more!! We're dying to try the other flavors and are begging our local markets to carry the brand and more than just chocolate and vanilla. Raspberry Cheesecake please!
I highly recommend the ice cream if you can find it. It not only tastes great and is less calories for your hips, but it's ice cream for a cause and a good one. Think of it as socially responsible ice cream. You're not cheating on your diet, you're helping your community.
***************************************************
For a map and a full list of stores carrying Lovin' Scoopful ice cream, visit the brand's official website. For areas not yet served, consumers are encouraged to request that Lovin' Scoopful be added to ice cream shelves of your favorite store by simply asking the manager in charge.
Lovin' Scoopful is very excited to announce its newest social media tool to the world, a brand new Facebook application called: What Flavor Ice Cream Are You? Lovin' Scoopful has created a new Facebook application designed to be fun and engaging for new and existing fans of the brand. Facebook fans will be able to interact directly with Lovin' Scoopful through a series of playful and light-hearted questions. This quiz app will allow fans to tag themselves and their friends as specific Lovin' Scoopful ice cream flavors, based on their answers. This app provides fans with an entertaining way to match their personalities with ice cream flavors that best represents them. Fans will be able to invite their friends to participate and challenge them to take the quiz to see how well they match-up.
Join the conversation!
Find us on Facebook and become a fan: http://www.facebook.com/lovinscoopful
Find out what flavor of ice cream you are by trying our new Facebook application:
What Flavor Ice Cream Are You?
Follow us on Twitter: http://twitter.com/LovinScoopful
ABOUT LOVIN' SCOOPFUL
Lovin' Scoopful is a premium ice cream company operating with the objective of making not only its customers happy, but making many others happy as well through significant contributions to causes that help empower the human spirit. Tim and Maria Shriver, Angelo Moratti and Dan Samson, launched Lovin' Scoopful in 2008 with the intent of offering a high quality, fun and health conscious product that would also serve as an ongoing source of revenue for worthy causes. Currently, the company is proud to donate 25% ($50,000 minimum annually) of its post-tax profits to Special Olympics. As the company's creative director, Maria has been involved in every step of the product development process. "I've loved having a hand in all aspects of the company, from creating the sumptuous flavors and coming up with the product names and logo, to ensuring that the quality of our ice cream is the best our customers have ever experienced."
Lovin' Scoopful – "Loves you as much as you love it!"
For the full scoop on all Lovin' Scoopful fabulous flavors, visit www.lovinscoopful.com
ABOUT SPECIAL OLYMPICS
The Special Olympics is an international organization that changes lives by promoting understanding, acceptance and inclusion among people with and without intellectual disabilities. Through year-round sports training and athletic competition and other related programming for 2.8 million children and adults with intellectual disabilities in more than 180 countries, Special Olympics has created a model community that celebrates peoples' diverse gifts. Founded in 1968 by the late Eunice Kennedy Shriver, Special Olympics provides people with intellectual disabilities continuing opportunities to realize their potential, develop physical fitness, and demonstrate courage and experience joy and friendship. Visit Special Olympics at www.specialolympics.org.