Who doesn't like free money?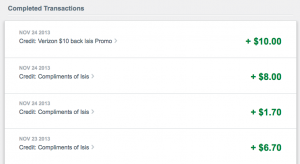 I recently had the chance to try out the new Isis Mobile Wallet with my Verizon LGG2 phone and I have to say, I was kind of skeptical about it.  While my kids call me Inspector Gadget, Nerdmom and other loving nicknames that usually involve my fascination with gadgets and phones, I'm a little leery when it comes to spending money with a mobile device.  I barely trust my ATM card for Pete's sake and am always leery when I use my credit and debit cards online.
Enter Isis…a handy dandy little app you use on your phone using NFC Technology.  It's tied to American Express, so has layers of lovely security from a trusted company that takes it very seriously.  That made me feel okay about trying it, and this is certainly the season to be safe and secure.  Moreover, I was planning a vacation trip into San Francisco and Oakland (Raider's Game) and a few of the vendors working with Isis were places I need to shop at.
My first step was installing the app from the Google Play store on my phone.  It downloaded without a hitch and then I completed the easy Isis registration to get started.  Once that was done, I added an AMEX Serve pre-paid debit card to the Isis account and was ready to go.  Did I mention I got a free ten dollars just for trying Isis?  Yeah!  Free coffee money for San Francisco is an excellent thing.  Oh! I almost forgot…do you love Jamba Juice?  You get a FREE 12 oz juice or smoothie every time you use the wallet.  Happiness!
My first use of Isis was at Footlocker.  I'd loaded up my pre-paid card since I needed to get new shoes anyway and noticed Footlocker was a participating store.  I went over to the Beverly Center on my lunch hour with a lovely co-worker to try it out.  I picked out my shoes, went to the register and tapped my phone to the terminal.  That's all.  Seriously.  It was paid for before the checker new it was paid.  The checker, my co-worker and I were all visibly shocked at how fast and easy it was.  Did I mention that the CVC (those three numbers on the back of your credit card) change at every transaction with Isis and Serve for safety?  Cool, right?
Still reeling from how simple it was, we left the mall and went back to work.  My co-worker kept talking about how impressive the wallet was and how fast.  She made a pit stop into Verizon to update her phone with a new NFC capable card so that she too could download the app.
The next morning, I was headed into work and decided to buy coffee but wanted to check the balance on the card which is super easy to do on your screen.  I almost fell over because I had an extra $22.00 on the card and was sure it was a mistake.  I checked online and in my transaction history was a credit compliments of Isis.  Yes!  They'd given me money for buying my shoes!  Who doesn't love money back?

My next stop was the Verizon store a few days later to pick up a Morphie charger for my phone.  When you're traveling, you don't always have an outlet nearby and I'd heard amazing things about the Morphie.  The customer service person told me that not only did I get ten dollars back for using Isis, but that they were giving me 20% off for using it. More free money!  I stopped in at CVS to pick up travel bottles for shampoo and such and also used Isis.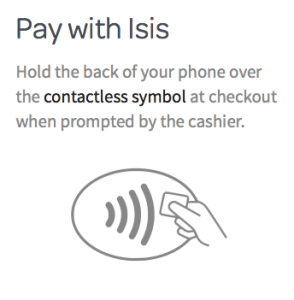 All over San Francisco, I stopped in at Starbucks and used my Isis Mobile Wallet.  It was the single most convenient thing and I felt safe.  My only complaint is that not every store is set up for NFC purchases,but they're getting there.  I would use the wallet exclusively if I could.
I highly recommend getting the app and roaming round town spending.  You'll be impressed with the ease and security of the wallet and you might rack up a little extra dinero like I did.  For more information on the Isis Mobile Wallet and the technology behind it click here and you can find Isis-ready phones here.
Disclosure: I am a member of the Verizon Wireless Lifestyle Program which gives me free access to mobile technology and other benefits. The opinions expressed here are my own.
Suggested hashtags:  #VZWBuzz #IsisShopping