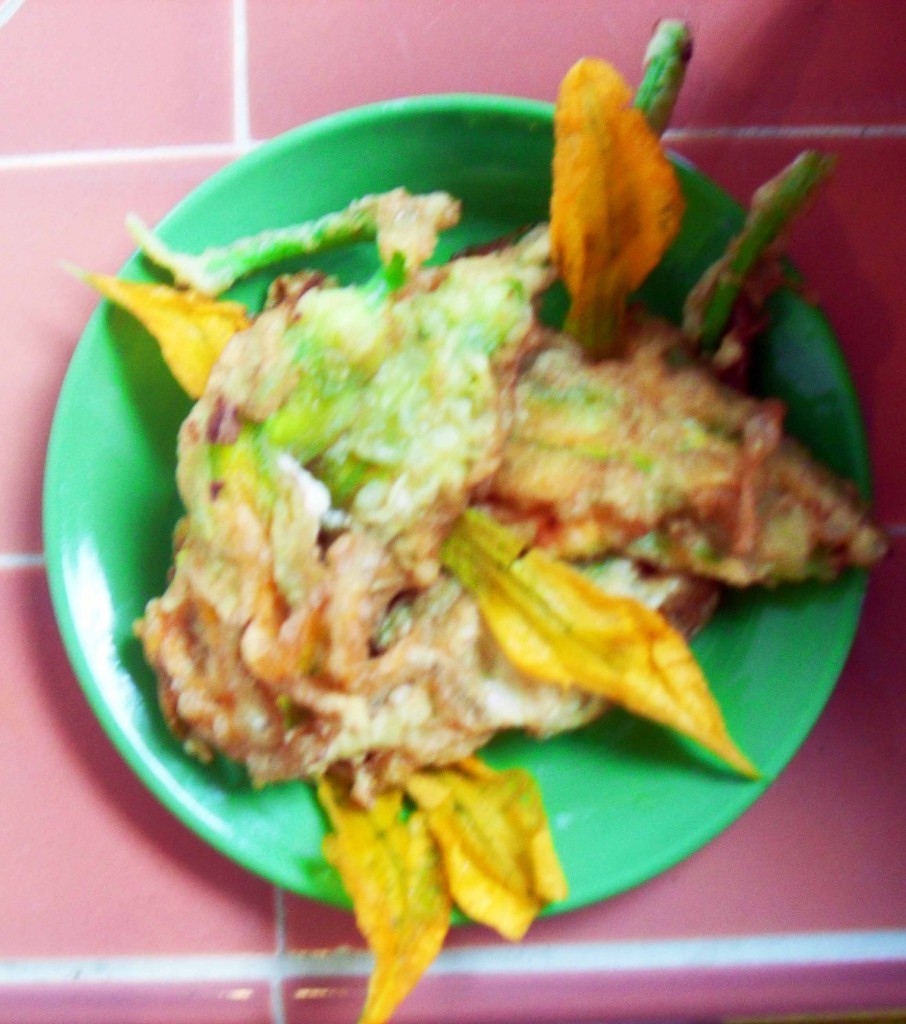 Squash blossom season comes and goes quickly in a delicate flutter of pale orange petals that flavor soups, quesadillas and budins.  It happens so fast that if it weren't for the brilliant color, you'd probably not notice the season unless you were looking for it.
I get excited when I see those delicate orange flowers with the bright green stems.  My heart skips a beat and I literally skip to the flowers as soon as they appear in my local markets.  I make as many dishes as I can get through before the season ends but no matter what I make, the stuffed flowers always, always happen first.  They are my absolute favorite things to eat and that first return from a market with squash blossoms always means I'm going immediately to the kitchen to quickly stuff and fry them.
Sometimes I take the time to make a salsa to dip them in but that's usually after that first day heady rush to make them.  I simply can't wait or be bothered to make salsa.  I just want my stuffed flowers.  They are light, crispy, slightly salty and all kinds of delicious.  Can't live without 'em and once you try them, I don't think you'll be able to either.
Stuffed Squash Flowers
1 bunch – about a dozen squash flowers, stamens removed and stems trimmed
1 egg, beaten
1 cup of flour
1 tbsp. Knorr Suiza (optional)
Queso fresco
Olive oil for frying
Carefully wash the squash blossoms and gently pat dry.  Remove the stamens and trim the stems.  Set aside.
Cut the queso fresco into small cubes and set aside.
In a shallow bowl mix the flour with Knorr Suiza (or salt and pepper if you prefer) and set aside.
In another bowl beat an egg.
Heat oil in a skillet.
Assemble the flowers by carefully sliding in a piece of the queso and making sure the petals cover it.  Dredge in the flour mixture and lay them on a tray.
When the oil is hot enough (think about the temp for frying chicken), take one of the flour dredged flowers and dip it in the beaten egg and slide into the skillet.  Let brown on one side, about three minutes then turn over.  I use tongs to slide them in and turn them.  Remove from the pan when they are golden brown and put onto a plate lined with brown paper or paper towels to drain.
Serve immediately with either salsa, a little cream or just plain.  Delicious!