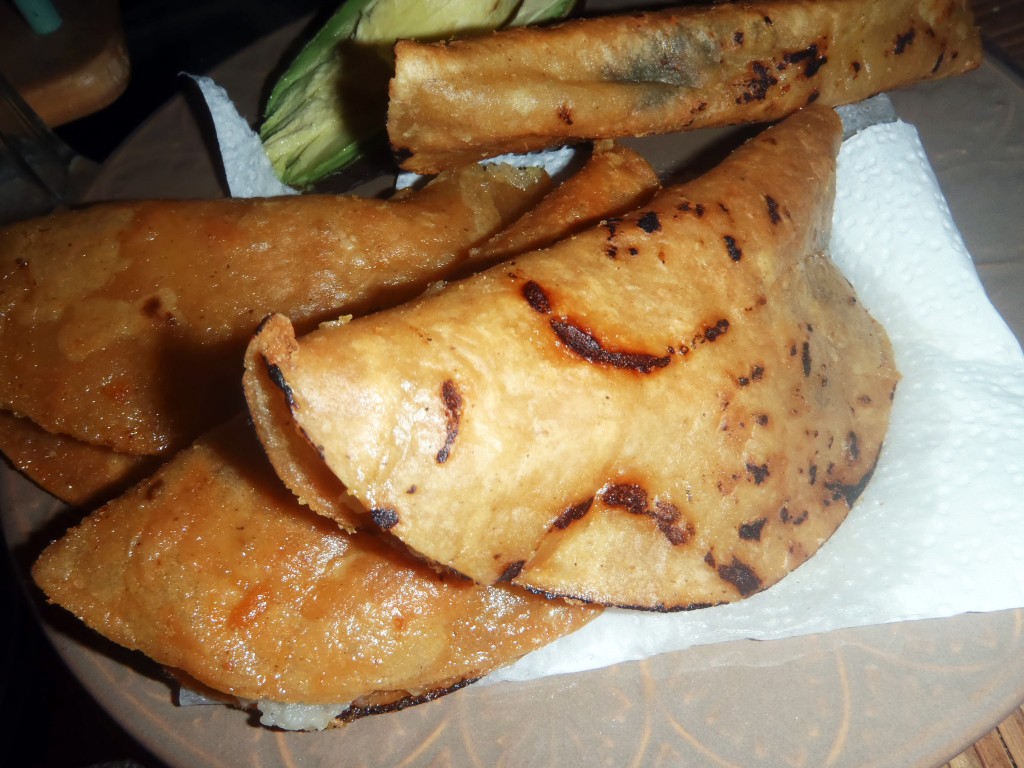 Do you ever have those days when you just want comfort food?  Something rich, creamy, decadent and certainly not on any diet or healthy menu?
I do.  Sometimes comfort food to mes a grilled cheese sandwich with hot tomato soup and sometimes it is crispy fried hash browns sizzling on a plate.  Mashed potatoes fill the comfort food bill nicely as well.
Yesterday, I was in one of those moods.  I'd had a difficult day that started in the morning when I read my email.  I won't get into it, but to say that it was upsetting.  The whole day was challenging in fact in an already challenging month.  So I wanted comfort food.  Something savory, crunchy and fattening.  Something that would warm me up, make me say "mmmm" and chase all the gloom away.  I wanted Mexican food. No grilled cheese or hash browns were going to make my day better, I needed to step it up a notch.  I saw the potatoes in their bowl and thought to myself, "mashed potatoes" but immediately discounted it.  Then I thought, "mmmm tacos de papa" which is basically mashed potatoes stuffed into a corn tortilla and deep fried.  Yeah baby!
I didn't have cabbage which is a traditional accompaniment to tacos de papa, but that wasn't stopping me.  I boiled my potatoes, made a quick tomato and serrano chile salsa, heavy on garlic; and got out the cotija cheese and tortillas.  Once my potatoes were boiled, I mashed them up; added comino (cumin powder), a tablespoon of butter, finely minced garlic, salt and pepper to them and set it aside.
I heated oil in a heavy skillet and while I did that, I warmed my tortillas on the comal.  You can't fold them without them cracking if you they aren't cooked a little.  I generously scooped the warm potato mixture into the tortillas and folded them over.  Once the oil was hot, I slid them into the pan and let them fry till crispy brown before turning them over.  Note: These are tacos dorados (hard tacos) so you want to make sure they are nice and crispy. Turning them over too soon will make the potatoes fall out and you'll have a nasty mess in the frying pan so be careful.
Once my tacos were done on both sides and a lovely, crispy and golden brown, I set them on a plate lined with a paper towel to drain.  I sprinkled the cotija cheese on top, scooped my salsa into the center of them, adding some salsa on the plate for dipping and sliced up an avocado.
Mmmmmm que rico!  Even without the traditional shredded cabbage they were wonderfully delicious and just want I needed to chase the gloom away.
Tacos de Papa
For the salsa:
1 handful of cilantro, finely chopped
1 pinch of crushed, dried oregano
2 cloves of garlic
1/2 an onion
2 large tomatoes
3-5 serrano chiles (depending on how hot you want your salsa)
salt to taste
Boil the chiles, tomatoes, onions in a saucepan until softened, about 15 minutes.
Add those ingredients to a blender or food processor with salt and the garlic and puree until smooth.  Add in some of the water they boiled in as you puree until you get a nice texture.  Add in the oregano and cilantro and puree just enough to blend that in.  Add more salt if needed.  Set aside.
For the potatoes:
4 russet potatoes, peeled and chopped into chunks
pinch cumin
1 tablespoon butter
1 clove of garlic, finely minced
salt and pepper to taste
optional – a tsp of Knorr Suissa in lieu of the salt and pepper
Boil the potatoes until done.  Drain and mash the potatoes.  Add the butter and seasonings to taste and set aside.
To assemble the tacos:
Heat a heavy skillet and fill about half way to the top with vegetable oil.  Heat oil.
Warm corn tortillas (this recipe will make about 10-12 tacos, but if you don't need that many the potato mash keeps well in the fridge) on a griddle (comal) or the open flame until they are flexible.  Scoop in enough potato mixture to fill the tortilla on one side, but stay away from the edges.  Fold tortilla over and using tongs, gently lower the tacos into the hot oil and fry.
Let fry until well toasted and browned on one side before turning over.  Flip the tacos and fry the other side until equally browned.  Remove from oil onto a plate lined with either brown paper or paper towels to absorb the oil.  Alternatively, you can put them on a baking rack but make sure you line the bottom of wherever you are placing them with something to catch the dripping oil.
Serve with the salsa, finely minced cabbage into long shreds and crumbled cotija cheese over the top.  If you don't have cotija cheese, I've used a nice crumbly feta and it has worked very well.  If you don't have the traditional cabbage, lettuce will work or slices of avocado like I used this time.