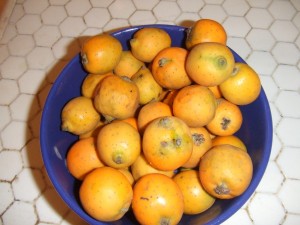 One of the things I love most about the cold weather celebrations in Mexican households is the traditional ponche (hot fruit punch). There is nothing like it. The smell is incredible, it's packed with stewed fruit and has an unbelievable flavor. You can add a dash of tequila for someone who wants an extra kick to hit, but I love it just as it is. It's one of my favorite things and I look forward to it every year. I knew I just had to make some for my guests at the tamalada.
[singlepic=222,320,240,,center]
In ponche, there are some hard-to-find ingredients but they are absolutely necessary or it just won't be the same. Fortunately, the ingredients are getting easier to find here in L.A. One of the main ingredients, tejocotes, used to be virtually impossible to get unless you went to Mexico and brought them over canned since you can't bring fresh fruit across the border.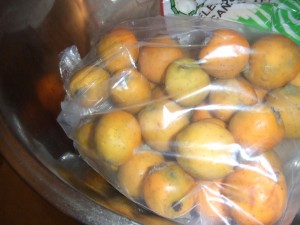 The tejocote is what gives the ponche it's unusually delicious flavor and without it, it's just so-so. I've been lucky in the past few years being able to find them (at somewhat high prices) frozen. This year, I hit the tejocote lottery and found them fresh! I paid a high price per pound, but the ponche was amazing and it was worth it.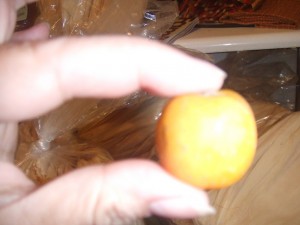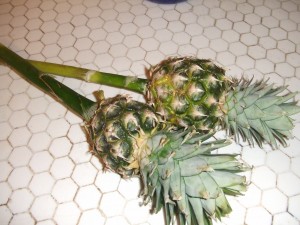 I'm using my grandmother Lupe's recipe, originally written in Spanish so the measurements may be a little off. I never measure and I never could translate grams and litres into cups and teaspoons.
Some of my guests came in cold from the weather and a hot cup of ponche was just the thing to warm hands and tummies.
Ponche (Mexican Hot Fruit Punch)
1 ½ pounds Tejocotes
1 ½ pounds Guayabas (guavas), not very ripe
1 pound of apples (I used Gala) sliced into rings so that the star in the middle shows
1 pound of Caña (sugar cane) – you can get it frozen in Mexican specialty stores if you can't find it fresh. If fresh, chop into 2-inch sections and peel. If frozen you can add it right in, it's already sectioned and peeled.
10 prunes
1 piece of piloncillo (Mexican brown sugar cone)
1 handful of flor de Jamaica (hibiscus flowers, dried)
1 cup of pineapple chunks or rings (optional)
1 dried piece of tamarindo (tamarind), peeled (optional)
Tequila or rum (optional)
Wash all the fruit, peel the sugar cane and slice the apples.
Soak the hibiscus flowers in cold water for about five minutes and strain.
Put a big pot on the stove half filled with cold water and add the tejocotes and cinnamon sticks. Let come to a boil, then add all the fruit and piloncillo. Make sure that the water covers all the fruit. Cook on a medium heat, covered till all the fruit is soft.
Serve hot with some of the cooked fruit in the cup. Add a dash of tequila or rum if desired.