I was born straddling two cultures, so it's no wonder that I'm pretty comfortable absorbing all the culture around me in my city.  My mother, a Mexican Catholic married a WASP whose family ties harkened back to Ireland and Holland.  By age three, my parents had divorced and I was mostly raised by very loving, affectionate Mexican grandparents that were proud to be in America (my grandmother was actually born here) and also very proud of their culture.  It was they who gave me my center, they who instilled in me my work ethic, a love for language, cooking and baking, herbal lore and yes, that very Mexican love affair with the moon.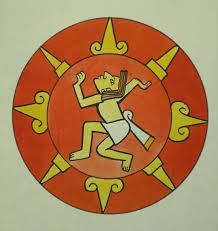 Nanahuatzin
Growing up was rough, because back at the end of the '60's early 1970's I didn't fit in anywhere really.  The Chicano kids thought I was too white and I had that weird last name Gleason.  The white kids thought I was too dark, and I ate that weird stuff: tacos and chiles in my lunch.  I retreated to the libraries and in those stacks of books, I found my home.  Books helped me build a life as a teller of tales, a writer – they helped me find my path, but when things got really difficult, it was the culture of my grandparents that sustained me and gave me the strong legs of a rich history to stand on.  The world didn't seem so hard to me when the moon had so many stories and songs.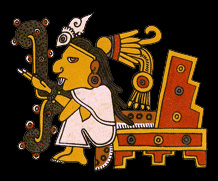 Aztec/Mexica culture is filled with moon lore.  In fact, the Aztec/Mexica people venerated it, told tales of a rabbit on the moon, had a pretty scary female deity (Coyolxauqui) and followed not only the sun calendar, but that of the moon.  Meztli (the moon) is sacred and female in both Aztec and Otomi lore.  The Otomi counted their lunar months from new moon to new moon – giving their months 30 days.
The story of the rabbit on the moon was one of my favorites and involves two deities: Tecciztecatl and Nanahuatzin.  Legend has it that when the fourth sun died, the Gods assembled and built a bonfire to sacrifice one of their own so that he would be the new sun.  Tezziztecatl had the honor but at the last moment he hesitated before jumping into the fire.  Nanahuatzin had no such hesitation and jumped right into the fire, shooting off into the sky to become a dazzling new sun.  Not to be outdone, Tezziztecatl then cursed his hesitation and jumped in too.  The only problem was there were now two suns in the sky.  The Gods and Goddesses were angry at Tezziztecatl who had been very rich and proud had followed the poor and humble Nanahuatzin into the sky.  One of them was so angry, he hurled a rabbit into the sky which slapped Tezziztecatl and stuck to him, thus dimming his brightness so he could only be seen at night.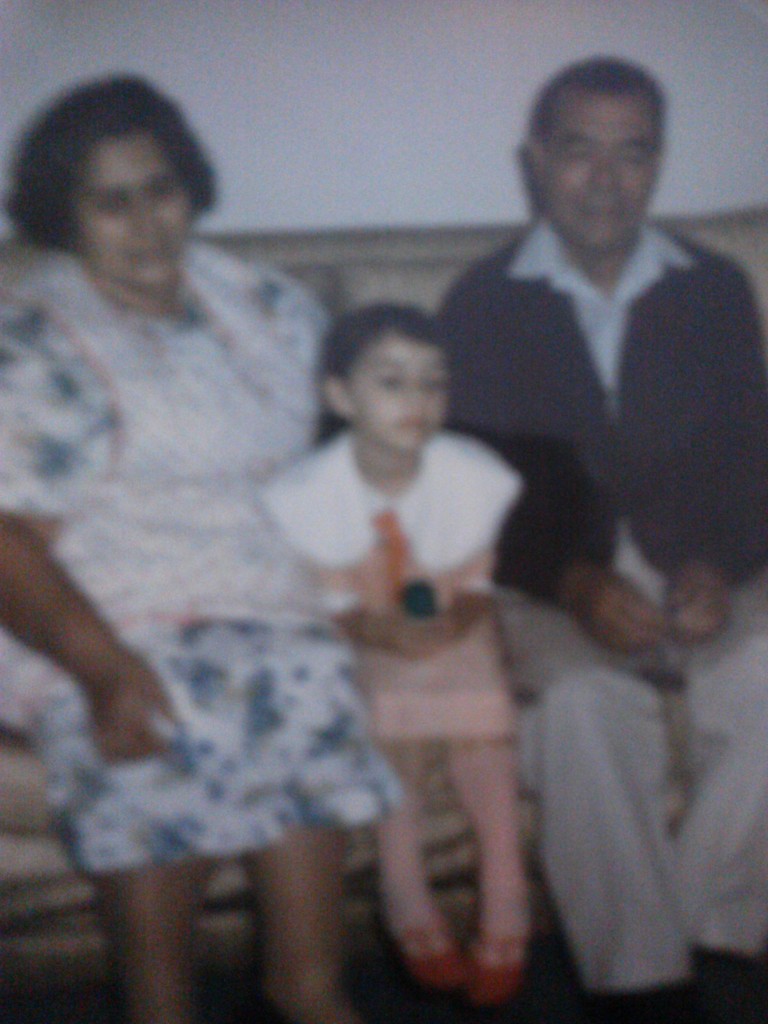 My grandfather told me legends of volcanoes, stories about the moon while my grandmother sang to me Luna, Lunera.  On moonlight summer nights under the patio, if the uncles and aunts were there, there would be guitar playing and singing.  My Tio Pablo would belt out "Pistol Packin' Mama" or other family favorites and the air would smell of my grandmother's garden and night blooming jasmine.
Los Angeles is different now.  The melting pot is even meltier and a multi-cultural child is the norm rather than someone who stands out.  There are so many cultures blending and merging in this city.  It is constantly evolving and I love that about it so much. We have this passionate paso doble together – me and my city.  I step away, come close, step away again and then embrace it fully – surrendering to its madness and mystique.  This city's heart beats in my veins, its soul lives in my stories.
The big lunar new year celebrations in Chinatown and other places around the city stole my heart long ago.  I'd go with my young children and we'd walk around, eat, watch the parades and just have a great day free of charge (very important when you're on a tight single mom budget).  These days, it's my grandchildren I take to the festivals and celebrations and they are no less entranced than my children were way back when.  I am always amazed at the similarities to my own beloved culture – that reverence for tradition that in this case, pays homage to the moon.  I feel right at home celebrating it.
The Aztec Lunar New Year is still a big deal for me too.  I think about my grandparents and tell my grandchildren stories about Gods and Goddesses, nature spirits and play Eydie Gorme y Trio Los Panchos; and sometimes we play Juanes who also sings about the moon.
What are your traditions and customs with Lunar New Year?  Are there red envelopes for you or dancing barefoot in the streets dressed in feathers like me? What traditions do you love? If you're interested in heading to some of the festivities, please take a look at the great events happening around Los Angeles. My friends at Verizon will be there, will you?
Suggested hashtags: #Verizon, #LunarNewYear #VZWBuzz, #writing #culture, #Mexica #folklore
Disclosure: I am a member of the Verizon Wireless Lifestyle Program which gives me free access to mobile technology and other benefits.  The opinions expressed here are my own. #VZWBuzz