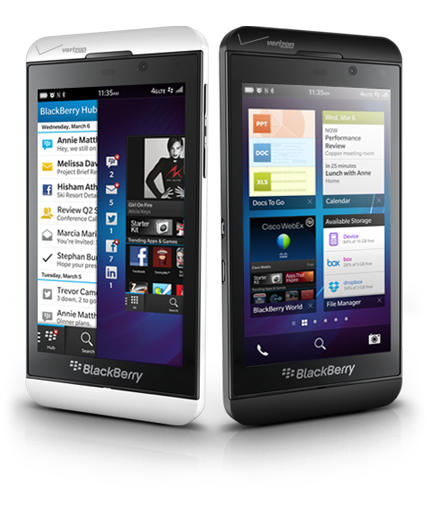 I very recently got my electronic-grasping hands on the new Blackberry Z10 and was immediately impressed by how light weight it was. My old phone is much smaller, yet seems to weigh a ton in comparison. After first being a little disconcerted by the weightlessness of the phone, I fell in love. The momentary lapse was because it almost felt unreal, it was that light. The love came from the fact that I'm a commuter who travels from Eastern Los Angeles to the Westside via Metro. My daily commute involves two trains and a bus and takes about an hour. I carry a bag full of necessities: smartphone, tablet, paperback in case e-reading isn't on the agenda that day, lunch, my office shoes, cosmetics, notebooks and pens (yes I still take handwritten notes) and a camera. I know, I know, both smartphone and tablet have cameras…but still, just in case. Needless to say, this stuff weighs on me so a super light phone is a true pleasure.
Once I got past the weightlessness of the phone, I set it up and was truly impressed by the ease of everything. Verizon and Blackberry made it incredibly simple to add my social media accounts and pull in contacts from email accounts. Everything was there. I'm no stranger to new phone setups and this was by far the easiest. Simple is good, especially when you're a busy and rushed person who hates reading instructions and prefers to figure things out on the fly by doing.
I am loving the Blackberry Hub, wherein all my notifications reside. It pulls together all notifications from email, Facebook, Foursquare, Twitter, etc. and I am loving have all that in one place. AND I found the overall speed of the phone and browser to be very fast, almost instant. Videos load quickly and the resolution is great. Audio is very clear. In a future post I will share with you all the other features I love but for now, I need to tell you that YOU CAN WIN big WITH this campaign:
Tweet to Win Two 4GLTE BlackBerry Z10 Smartphones
All you have to do is tell us why you must have it using #DameELBBZ10 and you will be automatically entered to win the grand prize WITH FREE SERVICE that includes Share Everything Plan con Mexico!!

http://www.verizoninsider.com/bbz10
So go ahead and enter and Join us THIS WEEK on Wednesday May 1st for a special Twitter Party on #DameELBBZ10 to win a great prize! Party starts at 6pm PST – don't miss it!
Be sure to check out more info on this fabulous phone check out the device website here and Verizon for more about the promotion here.  Also, to get an in-depth, insiders view of this feature-packed phone, don't miss this link with tons of pics and screenshots.
Disclosure: I am a member of the Verizon Wireless Lifestyle Program which gives me free access to mobile technology and other benefits. I was compensated for this post. The opinions expressed here are my own.