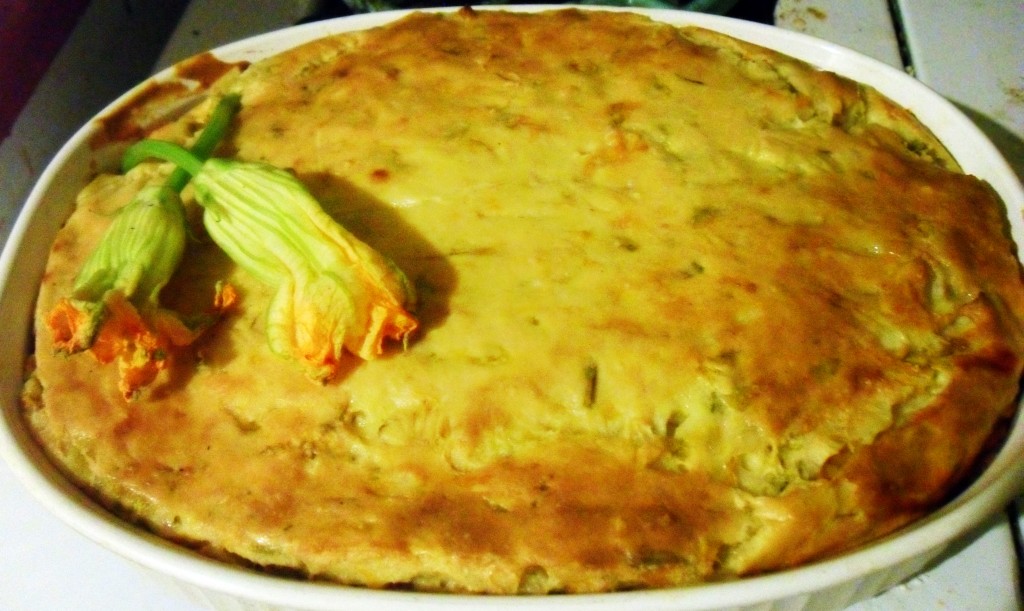 I was lucky enough to get into the market early this morning just as the produce guy was putting out a large box of the beautiful orange squash blossoms I'd made quesdillas with the other day. As he opened the box, I could already taste the budin. I bought half the box and gently carried them home and put them in water, covered the delicate blossoms so they wouldn't wilt and set about assembling my ingredients.
A budin is a pudding, but not that chalky chocolate pudding in cup stuff that I see my grandkids eat on occasion. A Mexican pudding is often savory, always delicious and usually contains ingredients maybe unfamiliar to the American kitchen. This is REAL Mexican food. We are so much more than tacos… oh well that view is rapidly changing so I won't start ranting mid-post.
Squash flowers need to be used the same day they are bought. They are incredibly delicate and tend to wilt almost immediately. In the grocery store plastic bags from store to home, they can get slightly bruised so they usually sit very carefully on my lap on the way home. It's important to have all your ingredients together if you're working with them so that they don't have time to wilt on you.
Making the budin is easy, almost effortless to me. It's a great recipe to listen to some boleros while cooking and just zen out. The brilliant orange of the blossoms mingled with translucent strips of sweet onion give the dish texture but it is oh so light. Like eating a very savory, silky cloud. Que rico! Writing about it makes me want to make another one because of course there's no more. Squash flower season is very short. A couple of weeks in the spring and another couple at the end of summer signaling the start of autumn. They don't preserve well that I know of so squash flower budins aren't made very often and they get gobbled up so fast it's ridiculous. Make sure to hide yourself an extra slice – it will go fast.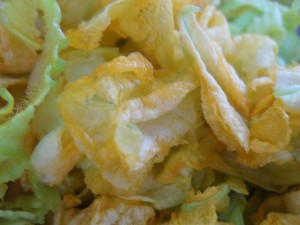 Budin de flor de calabaza/Squash Flower Pudding
6 cups of squash flower blossoms, cleaned and chopped
1 cup of rice flour
1 can of evaporated milk
2 cups of water
1 golden onion, halved then thinly sliced
1/4 cup of butter
4 eggs, beaten
Salt to taste
1 tsp Knorr Suiza
1 1/2 cups of grated Monterey Jack cheese (Note: sometimes I use Comte or Manchego)
Mix the rice flour with the evaporated milk and water in a mixing bowl until smooth, then pour into a heavy pot and heat on low flame stirring constantly until it thickens. Remove from heat and let cool to room temperature.
In a skillet, fry the onion slices in butter until translucent then add in the chopped flowers. Saute about two minutes and add salt and Knorr Suiza. Remove from heat and let cool to room temperature.
Mix the flowers and onions into the rice flour mixture until well blended. Mix in the eggs and incorporate well.
Pour into a greased non-metal baking dish and bake at 350 degrees for about 45 minutes or until the budin has risen and a knife pulls out clean.
The budin will sink a little as it cools so don't worry. That's normal.
Serve with a little creama Mexicana and a salad. Buen provecho!