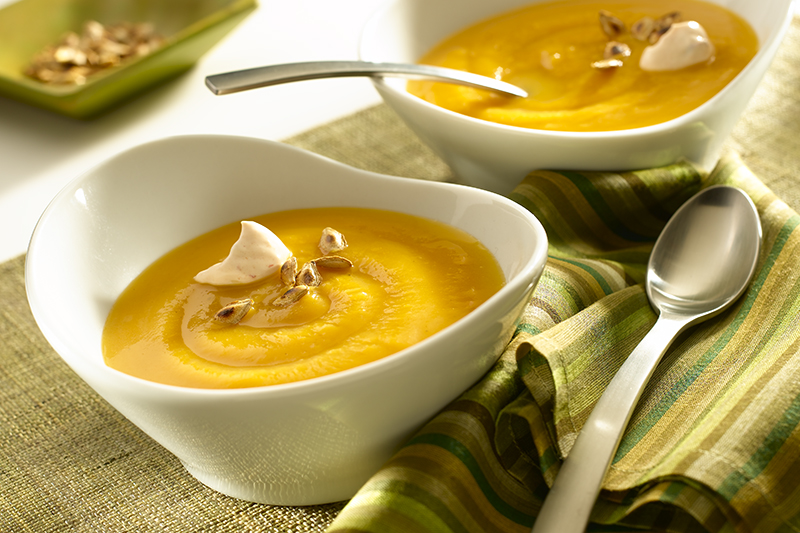 Here in California, the weather is summery and dry, though my friends back East are shivering and shoveling snow. We're in a drought in fact, and saving water. I am kind of longing for a little bit of a chill if only because it's supposed to be soup weather and I adore soup, especially rich and creamy ones with a hint of spice.
My friends at Vive Mejor sent me a lovely recipe for butternut squash chipotle bisque (doesn't that sound amazing?) and my Farm Fresh to You box had a lovely organic butternut squash in it so heatwave or no, I had to make soup using some of the fabulous products that Vive Mejor has for two of you lucky readers in a giveaway I'm hosting.  I have two (2) baskets full of goodies to give away and all you have to do to enter is leave a comment telling me what you think of this recipe.  That's it!  Super simple, no Rafflecopter, no follow me on Facebook, nada…just comment because I truly want to hear what you think.  The baskets will include Knorr, Ragu, Bertolli, Hellmann's and Lipton products and you can find more recipes like this one on Vive Mejor.  Oh yes, the giveaway will run till Friday, January 24, 2014.  Good luck and happy cooking!
 *Announcing the winners!  Mireya and Christina I will be sending you
an email shortly to get your shipping addresses.  Congratulations!!!
BUTTERNUT SQUASH CHIPOTLE BISQUE
INGREDIENTS
·         3 Tbsp. olive oil
·         1 medium butternut squash
·         1 1/2 cups chopped onion
·         1/2 cup chopped celery
·         1/2 cup chopped carrot
·         2 cloves garlic, finely chopped
·         2 Tbsp. Knorr® Chicken flavor Bouillon
·         6 cups water
·         3 tsp. chipotle peppers in adobo sauce
·         1/2 cup Mexican crema [or sour cream]
·         1 Tbsp. Hellmann's® or Best Foods® Light Mayonnaise
DIRECTIONS
1.     Preheat oven to 400°. Grease 13 x 9-inch glass baking dish with 1 tablespoon olive oil; set aside.
2.     Cut squash in half lengthwise. Scoop out seeds, discarding as much stringy pulp as possible. Rinse seeds with cold water in sieve; reserve.
3.     Arrange squash in prepared dish, cut side down, then pierce with fork. Roast 45 minutes or until squash is very tender; cool.
4.     Heat remaining 2 tablespoons olive oil in 4-quart saucepot over medium-high heat and cook onion, celery and carrots, stirring occasionally, 10 minutes or until crisp-tender. Stir in garlic and Knorr® Chicken flavor Bouillon and cook 2 minutes. Scoop flesh from squash into saucepot. Stir in water and bring to a boil over high heat. Reduce heat to low and simmer covered 30 minutes or until vegetables are very tender.
5.     Meanwhile, heat 8-inch skillet over medium heat and toast reserved squash seeds, stirring frequently, 15 minutes or until crunchy. Season, if desired, with salt; set aside.
6.     Cool soup slightly, then process, in batches, in blender or food processor until very smooth. Return soup to saucepot; keep warm. Stir in 2 teaspoons chipotle peppers.
7.     Combine crema, Hellmann's® or Best Foods® Light Mayonnaise and remaining 1 teaspoon chipotle peppers in small bowl. Season, if desired, with salt and pepper. Garnish soup with dollop of chipotle cream and toasted squash seeds.