This shop has been compensated by Collective Bias, Inc. and its advertiser. All opinions are mine alone. #VivalaMorena #CollectiveBias
On this blog, I talk a lot about life with my grandparents. They were the most loving people in my life and perhaps that is why their memory stays strong no matter how many years have passed since they left this world. They were great respecters of tradition – old and new. Their Mexican culture was incredibly important to them, as deeply felt as was their pride in being American. Before the word balance became a buzzword, their life embodied it. Life with them was a perfect balance of two cultures, the old and the new.  My grandmother was a master at blending traditional flavors with new ones.
Food was important, as it was central to our traditions. The big dining table on holidays was laid out with white linen, carefully embroidered by my grandmother. The dishes were from Gladding-McBean/Franciscanware (my grandfather had worked for them in Glendale for years). The food was a delicious blend of old Mexican recipes and newer American ones. My grandmother was a great fan of Graham Kerr, Julia Child and Jacques Pepin and sometimes their recipes graced our holiday table. Like many American housewives of the '40s and '50's, my grandmother carefully clipped recipes from the newspaper or magazines. I learned from her that food has no borders. Early on I was taught to appreciate a wide range of flavors and techniques. Ingredients for her Mexican dishes came from the local Mexican market or farther afield – my grandfather would go to the Grand Central Market in Downtown L.A. Now, Mexican ingredients are easier to find. I just walk two blocks to my local Superior Market which even has both a panaderia and a tortilleria.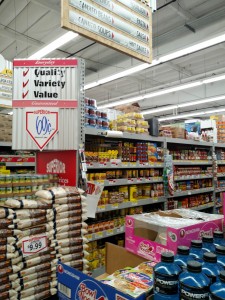 I loved the holidays meals especially, both the commercial and religious ones. My grandmother was always very good about taking the time to explain to me the significance for certain dishes and why we ate them on certain holidays. For certain religious holidays, we abstained from meat – eating only fish, which my grandfather loathed. Because of his absolute aversion to fish, my grandmother had learned to be creative on those holidays, creating vegan and vegetarian dishes for my grandfather before we even knew what those words meant. He happily gobbled up her creations, relieved he wouldn't have to eat the dreaded pescado (fish) and still be obedient to the dictates of his faith. That taught me something too – a cook is flexible. You learn to adapt quickly and create new things that can become family favorites. That lesson has served me well both in the kitchen as well as the office and my personal life. It's relatively easy for me to make quick changes, adapt to situations and come up with new solutions.
I was thinking about that today. I don't celebrate the religious holidays my grandparents did. I don't often make huge family dinners these days, but I often remember the recipes my grandmother made and how she often created pure magic in her kitchen. Those memories inspire me to create something new that would embody those traditional flavors I grew up with.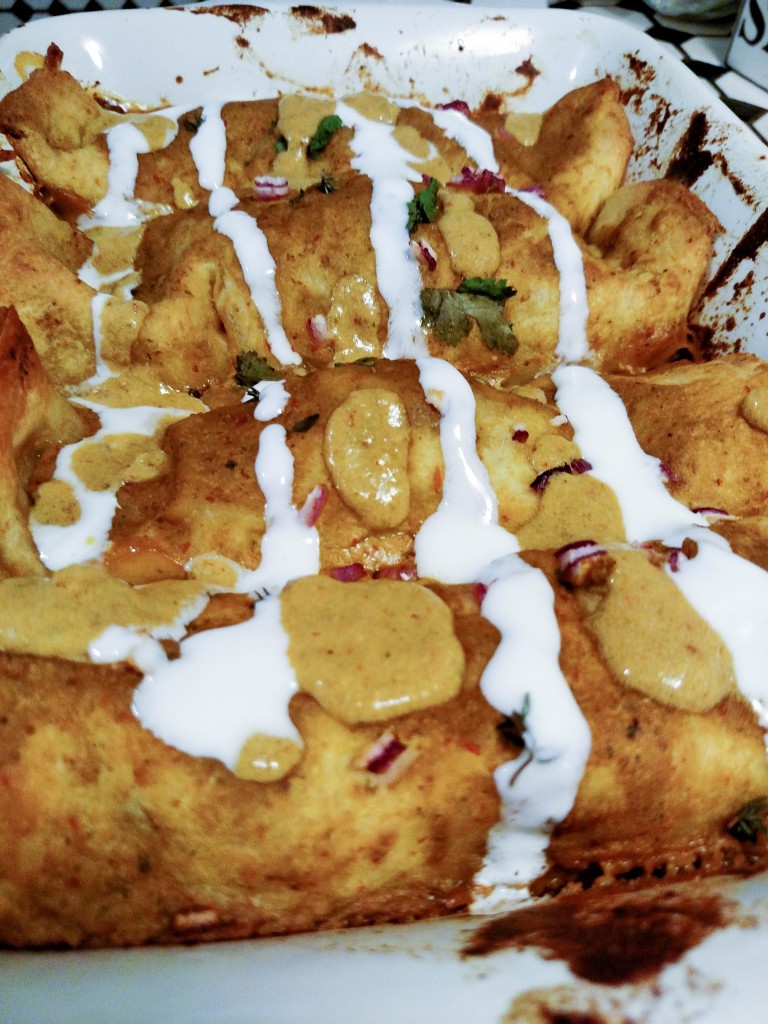 I thought about the traditional enchiladas I grew up eating. My grandmother made her own enchilada sauce and often played with fillings. A few years ago I was talking to my mother's cousins and they asked me if I remembered the recipe for my grandmother's enchiladas with peas and carrots. I remembered those succulent enchiladas. It was one of her inventions and it was so good that my relatives remembered it with longing 30 years after her death. I wanted to create something just as succulent and I hope I have succeeded. I love the smokiness and authenticity of La Morena's chipotles and thought it would make a great enchilada sauce, but I wanted to tone down the heat a bit for something with just a hint of spice and plenty of smoke and tang. I decided to try to make a fish puree or mousse with buttermilk, then fill flour tortillas with that puree and coat them with a sauce made from chipotles and buttermilk. But what to serve with it?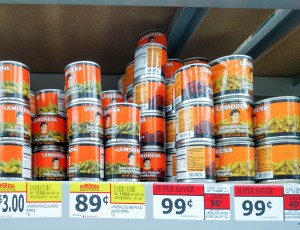 In keeping with family tradition and those vegetarian dishes my grandfather preferred to fish, I thought about capirotada. Capirotada is a Mexican sweet bread pudding made with bananas, peanuts, cheese, stale bread and piloncillo. I adore it and it was one of my grandfather's favorite things as well as being a very traditional dish for this time of year. I decided to try to make a savory bread pudding that would make a great vegetarian side dish. Using La Morena's sliced jalapeños, I kept the tastes and traditional flavors of Mexico while creating something completely (at least I think so) new. Stale bread, red onion, Mexican squash, spinach, Oaxacan cheese, spices and thinly sliced slivers of jalapeños en escabeche made a bread pudding that is savory, cheesy, tangy and spicy – the perfect compliment to my smoky fish enchiladas.
La Morena is having a giveaway for five $200.00 gift cards and I would love for one of my readers to be one of the winners.  I would also love you to share with me your own recipes and holiday traditions. The giveaway link is after the recipes below.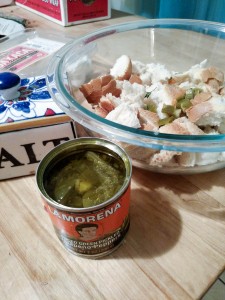 Savory Vegetarian Capirotada
Half a loaf of French or Italian bread, torn into pieces
Fresh thyme (about two tablespoons)
1/2 cup raw spinach
1 small Mexican squash, cut into cubes
Three large eggs
3/4 c. Buttermilk
Salt and pepper
1 tbsp. butter (for sautéing the spinach and squash in)
La Morena sliced jalapeños en escabeche diced (about 2 tablespoons from the 7 oz. can)
1/4 c. Oaxaca cheese, cut into small cubes
Butter for greasing ramekins
La Morena jalapeños en escabeche slices for garnish
Grease four small ramekins generously with butter.
Dry out the torn bread on a baking sheet in a low temperature oven for about 10-15 minutes. Set aside. When cool, place in a large mixing bowl.
Dice the squash and sautee in the butter with the spinach and red onion until translucent. Set aside until cool.
Dice the jalapeños and some of the carrots from the can of La Morena and toss them into the dry bread pieces.
Add the bits of cheese and the cooled vegetables. Add 1 tsp of salt, 1/4 tsp of ground black pepper and 2 tablespoons of the jalapeño liquid.
Toss as you would a salad so that it is all well mixed.
In a separate bowl beat the eggs and buttermilk together. Add a pinch of salt and pepper, then pour the egg mixture into the bread. Mix well, but gently so the bread doesn't break.
Scoop into butter-greased ramekins. Heap the bread mixture in, you want them to be slightly overfull. Garnish the top with a slice of jalapeño. Place the ramekins onto a baking sheet (it will catch any spillover) and bake at 350 degrees for a half hour or until a knife comes out cleanly. Let rest about five minutes, then, run a knife around the sides and turn out onto serving plate. You can also just serve them right in the ramekins if so desired.
Note: You can substitute any vegetable. I have made these with plantain, butternut squash, sweet potatoes and other vegetables. The key is the delicious tangy/spicy flavor the La Morena jalapeños impart to the dish.
Fish Enchiladas with Chipotle-Buttermilk Sauce
For the filling:
1 pound of firm white fish, cleaned and cubed. (I used pike which is a freshwater white fish, but any firm fleshed white fish will do).
1 tablespoon diced red onion
1 tablespoon diced fresh thyme
1/4 c. Chopped fresh cilantro
1/3 c. Buttermilk
1 tsp. Salt
1 tsp. Ground pepper
In a food processor, pulse the fish, onion, thyme, cilantro, salt and pepper until fish is finely minced. Add buttermilk and pulse till smooth. Fish should be like a this paste. Scoop into a small bowl and set aside.
For the sauce:
1 c. Buttermilk
2-3 La Morena chipotles, plus two tablespoons of the liquid
3 tablespoons flour
1/4 c. Cilantro, finely chopped
1 tablespoon fresh thyme
Salt and pepper to taste
1 tsp. red onion, finely diced
In a blender, puree the chipotles, buttermilk, onion and herbs. Set aside.
In a non-stick frying pan, brown the flour, till golden brown.
Slowly whisk in the chipotle liquid, whisking till there are no lumps. The sauce will be golden, but turns redder (and spicier) with  more chipotles added.
Heat on low until sauce thickens but does not break. Add salt and pepper to taste. Sauce should be tangy, smokey and spicy. You can add more chipotles depending on how spicy you like it.
Remove from heat and let cool.
To Assemble:
1/2 c. olive oil
Flour tortillas
Baking dish
Diced red onion, thyme and cilantro
In a frying pan heat the olive oil on medium. Slide in flour tortillas and fry until firm but not crispy.
Remove tortillas from oil onto a plate.
When tortillas are cool, you can begin to assemble.
One at a time, dip a flour tortilla into the chipotle-buttermilk sauce, then lay it in a baking dish. Scoop in the fish mixture and roll. Continue until all the fish is gone. You should get about 6-8 enchiladas (depending on how big your tortillas are). *Note: these are very filling and rich.
Spoon more sauce over the assembled enchiladas and top with a little of the herbs and red onion that you used in the filling. Bake in a 350 degree oven on the middle rack for 20 minutes. Drizzle alternately with sauce and buttermilk. Serve.
I like to serve these over a bed of watercress with more sauce poured over.
La Morena Lent Giveaway