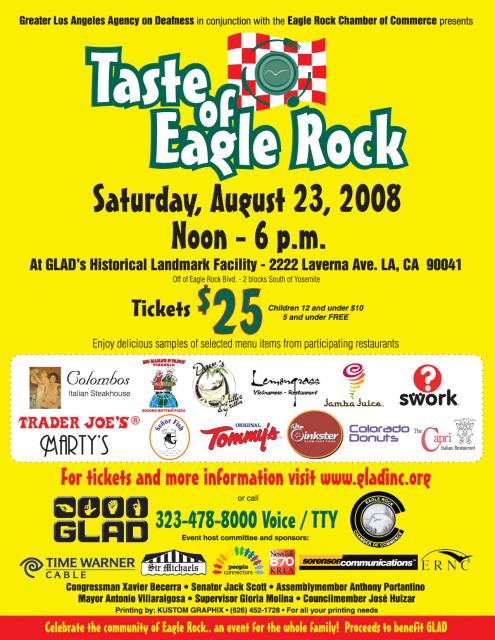 My friend Rachel Braver is very involved in putting together the very first Taste of Eagle Rock event, and being that it involves both food and community service, I was interested to find out more.  Rachel very kindly facilitated an interview with Dr. Patricia Hughes, CEO of GLAD for me, which proved very insightful. I'm happy to include it here on Dona Lupe's Kitchen and hope that my foodie friends and readers will pitch in to help make this event a successful one that will encourage future events like it.
GR:     What is Taste of Eagle Rock and how is GLAD involved?
PH:    The Taste of Eagle Rock will be held on Saturday, August 23, 2008 from Noon-6pm.  This much anticipated event will bring together diverse restaurants and community based businesses in support of our non-profit organization known as the Greater Los Angeles Agency on Deafness, more commonly known as GLAD.  It will showcase local restaurants that will provide delicious samplings of selected menu items and is sure to draw residents of all ages from the local and surrounding areas for a fun filled and informative day.
GLAD in conjunction with the Eagle Rock Chamber of Commerce will proudly present this first ever event.  GLAD has been improving the lives of the deaf and hard of hearing since its creation as a volunteer organization in 1969.  The mission of GLAD is to ensure equal access of the deaf and hard of hearing community to the same opportunities afforded their hearing counterparts. The organization's general purposes and powers are directed around the promotion of the social, recreational, cultural, educational, and vocational well being of its deaf and hard of hearing consumers.  GLAD is proud to be housed in the former Women's Christian Temperance Union building, an Eagle Rock historical landmark and is a 501c3 Non-profit organization Tax ID Number 95-2677094.
GR:    What do you feel are the key ingredients of a rocking good food event
PH:    Great food, entertainment and FUN!
GR:    What local restaurants are participating
PH:    We have secured 13 restaurants for this first time event.
•    Big Mama's & Papa's Pizzeria
•    Colombos's Italian Steakhouse
•    Colorado Donuts\
•    Dave's Chillin'-N-Grillin'
•    Jamba Juice
•    Lemongrass
•    Marty's
•    Senor Fish
•    Swork
•    The Capri Restaurant
•    The Oinkster
•    Tommy's
•    Trader Joes
GR:     What can people do to contribute to both the event and GLAD to insure that this is worth the effort and time you put into it?
PH:    Participation will not only benefit a crucial social service agency serving the needs of the deaf and hard of hearing community, it will also serve as an introduction, establishment or re-establishment of relations with the community at large.  The community can support the event in the following ways:
Become an event sponsor to help underwrite production costs- visit www.gladinc.org for sponsorship opportunities
Restaurant vendors still being accepted- visit www.gladinc.org for restaurant participation
Entertainers looking to share their talents- contact Vic Parrino at Colombo's restaurant if you would like to perform- 323-254-9138
Raffle Items are always accepted- send donated items with item description/value to GLAD, Attn Taste of Eagle Rock, 2222 Laverna Ave. Los Angeles, CA  90041
Spread the word to increase ticket sales- tickets on sale now—www.gladinc.org
GR:    Are there any particular foods that you are excited about?
PH:    ALL OF THEM!  The GLAD staff loves to eat at these Eagle Rock establishments.
GR:    How well received has this event been? Do you still have need of donations in terms of food-related items and/or money?
PH:    The Eagle Rock community and Northeast LA are excited!  We have a wonderful planning committee and the event host committee consists of elected officials Congressman Xavier Becerra, Assemblymember Anthony Portantino, Senator Jack Scott, Mayor Antonio Villaraigosa, Supervisor Gloria Molina, and Councilmember Jose Huizar.  Additional supporters include the Eagle Rock Neighborhood Council, Time Warner Cable, Sir Michaels Party Rentals, People Connectors and KRLA radio.   This is a great way for the community to come together.
YES- we are still in need of financial assistance to ensure the success of the event.  Contributions can be sent to GLAD, 2222 Laverna Ave. Los Angeles, CA  90041 or online at www.gladinc.org
GR:    For future events, do you think the idea of having famous foodies, critics and food bloggers would be invited to speak or otherwise participate?
PH:    Without a doubt- there are endless opportunities for future events.   Peter Dills, son of Elmer Dills, is currently helping with the promotion of this event.
GR: I've taken part in blogging events to benefit a particular cause that were very successful.  Have you considered a food blog event such as A Taste of Yellow – (a food blog event benefiting cancer research), or other type of blog-wide event would be of something that would benefit GLAD?  Food bloggers raising money in a worldwide blog event benefiting the deaf and hard of hearing community?
PH:    GLAD is open to any and all fundraising ideas especially with the current status of the State's financial situation.  GLAD receives 80% of its funding from the Department of Social Services and is facing a 10% cut.



About Chief Executive Officer – Dr. Patricia A. Hughes
Patricia Hughes is responsible for the administration of GLAD programs and services, and working with the Board of Directors for long and short range planning for GLAD, policy and procedure development, establishment of programmatic goals and objectives, program analysis and evaluation. CEO oversees fiscal and budget of the agency, public relations including community education and deaf advocacy statewide and nationwide.
Hughes joins GLAD with a well-rounded career with work experience within government, the public and private non-profit sector and for-profit corporations. Hughes's extensive educational background includes; Bachelor of Arts Degree in American Studies from Gallaudet University, Washington DC, Master of Public Administration Degree from Seattle University, Washington, and Doctor of Philosophy degree emphasizing on Organizational Development from the Union Institute in Cincinnati, Ohio.
About Rachel Braver:
Rachel didn't send me a bio but I can tell you that I've watched her coordinate these events over the time I've known her and she is an amazing and completely tireless dynamo who attacks these events with joy, compassion, her exuberant energy and unbelievable sense of organization. Any event organized by Rachel is bound to be classy, tasteful, fun and successful. Her efforts are what make these events shine.
Thank you to both Dr. Hughes and Rachel for this informative interview. 
Please take the time to visit the GLAD website and learn of the tremendous service they provide for the deaf and hard of hearing community in Los Angeles.  If you live in L.A., please visit the Taste of Eagle Rock to ensure its success and help it to grow for next year.