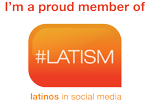 Doña Lupe's Kitchen was nominated and is a finalist for a LATISM award!  Can you hear me squeeing?  Because I am and have been for a week since I found out.  I would have written this post then, but I was still in crazy blog hell as I struggled to move DLK and other blogs to new hosting. So NOT fun.  But we're back up and running and I'll be blogging lots more now.
Back to the LATISM Awards!  LATISM stands for Latinos in Social Media and they are a pretty amazing organization.  They hang out at the White House, do lots of great charity work and have been absolutely wonderful to me.  The weekly Twitter parties are a highlight in my week and I learn so much and meet tons of fabulous people.  I've made lasting and wonderful friendships over the years from hanging at a LATISM Twitter party.
To have DLK nominated is a huge honor.  I'm truly humbled and rather overwhelmed by it.  To have gone even farther as a finalist is surprising, to say the least.  I'm in some seriously stiff competition.  I am up against Latino Foodie and Maura Hernandez of The Other Side of the Tortilla!  That's major.
So if you've a moment each day to vote for my little blog, please do.  The voting link is here and you can vote once a day.  I'm near the bottom in the Food Blog section.  I highly encourage  you to check out the other categories and visit those amazing blogs as well as visit the LATISM Blog and come to a Twitter party on Thursday night.  You'll make great friends and the music is fabulous.