One of our favorite places here in NoHo is the Mi Tierra Restaurant on Victory.  It's an unassuming little place till you walk in the door and the aroma of heavily cinnamon scented coffee wraps around you like a lover's arms.  There's a big screen TV and posters of all the FIFA soccer players with the Mexico team prominent.  There's a jukebox that plays Vicente Fernandez with too much bass but it's all kinds of awesome.
I love to go their for breakfast and sit watching soccer with very vocal fellow customers.  During Copa Mundial, it was the place to be for breakfast.  The waitresses are super sweet, know their futbol and are constantly filling your cup with the deliciously seductive cafe.  I can't stop drinking that stuff, it's THAT good.
I love their breakfasts.  The tortillas are freshly made to order, the beans taste like home and all their breakfast dishes are authentic as well as delicious.  The other day I had their machaca for the first time and absolutely loved it.  I love machaca (shredded beef with eggs) but some places just make it so dry.  I know, I know it's a contradiction in terms.  Machaca was originally a dried, spiced beef which was somewhat like beef jerky but with a Mexican flavor.  The rancheros of Northern Mexico are said to have invented it.  Their way of making machaca was to soften the dried beef, then cook it with eggs and some people still make it that way in Mexico where the beef is more dry.  The problem I sometimes run into is that sometimes the eggs are dry too and that's just icky.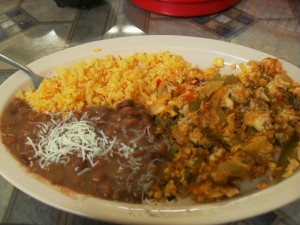 I was pleasantly surprised by Mi Tierra's machaca.  The beef still had that almost dry, chewy texture that is so yummy but the eggs were fluffy, moist and perfect.  With the beans, rice, salsa and fresh tortillas it was beyond delicious and I was a happy girl.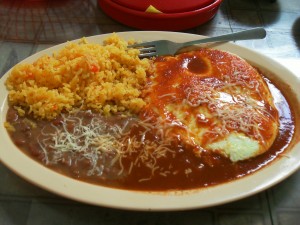 Other menu items include amazing breakfast burritos, menudo, huge shrimp cocktails, camaron ala plancha, chilaquiles and much more.  Everything I've tried so far has been pretty wonderful but there's tons yet to try.  Breakfast plates are in the $5.00 range so it's budget friendly.  Make sure you have the coffee.   It's the best.
Mi Tierra restaurant is located just off of Lankershim on Victory Boulevard at 11746 Victory Blvd., North Hollywood, CA 91606.  Their phone number is (818) 755-9192.