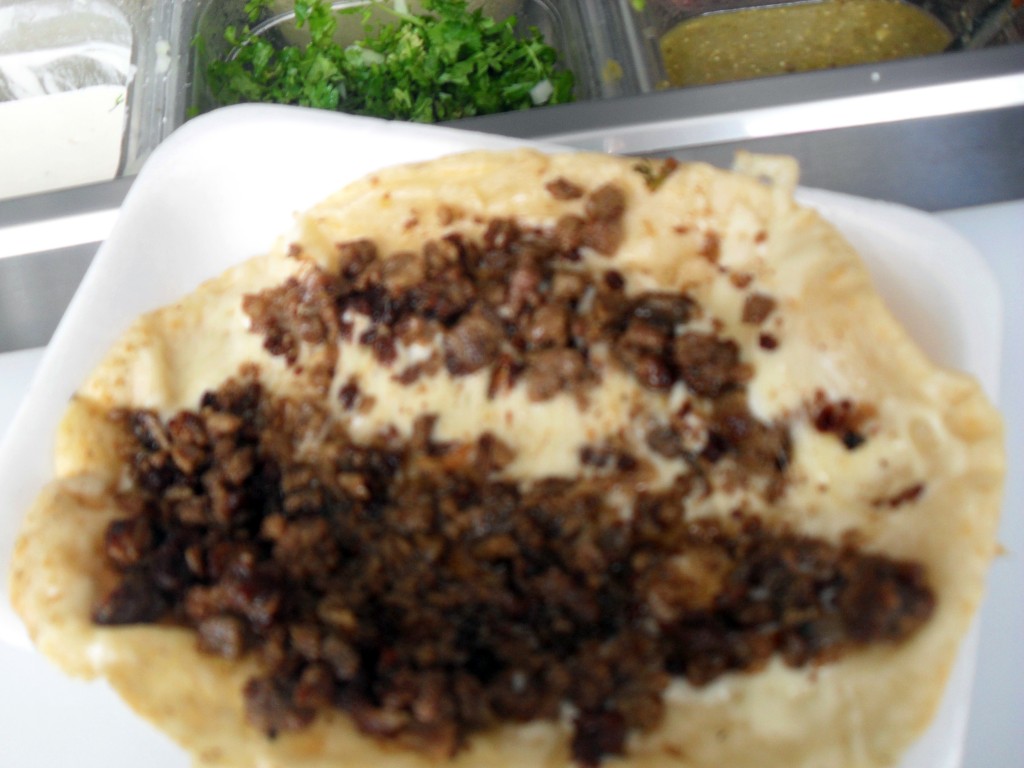 When we first moved here to the North Hollywood fixer upper house, we couldn't cook. There wasn't electricity for three weeks, we couldn't move the stove in, obstacle after obstacle blocked us so we got to know the local eating places right away. On our first trip to the local Superior Market for some much needed coffee and pan dulce, we spotted a quesadilla truck parked on the curb. My roommate wasn't excited but I sure was and as I dragged him to the truck grumbling, the smell hit him and he rapidly changed his mind.
Our first visit was hilarious. The truck owner, Alvaro is a character. As we hemmed and hawed trying to decide if we'd get a quesadilla or not, he made up a big one and proceeded to eat it right in front of us the whole time making orgasmic food noises, "mmmmmm, mmmmm, mmmmm". When we finally decided and ordered, he wondered why were weren't ordering more. He flirted, clowned around and all but capered and turned cartwheels around the truck. I was dying laughing. He didn't need all that fanfare though it was highly entertaining and reminiscent of Tijuana vendor antics while waiting in line to cross the border.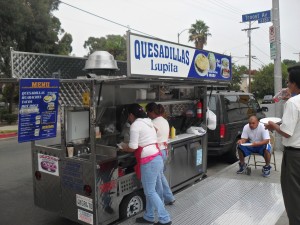 David ordered a carne asada quesadilla and I ordered nopales y hongos (cactus and mushrooms). The tortillas were big, homemade flour cooked on the grill. The quesadillas were stuffed to the max with cheese and filling. Beyond that there were all kinds of toppings to add along with chile verde or rojo. Once we'd made our $3.00 quesadillas and got them home, the smell torturing us in the truck we couldn't wait to dig in. When we did, OH MY GOD! They were delectable, delicious, melt in your mouth happiness. We practically lived there for the next three weeks.
Once we got our kitchen working soundly, we rarely thought of the quesadilla truck because of the nature of this fixer-upper. Constant work and drama have kept us away but we've finally come to a place where we could go out and eat again, not out of necessity but for fun. The first place we thought of was Quesadillas Lupita.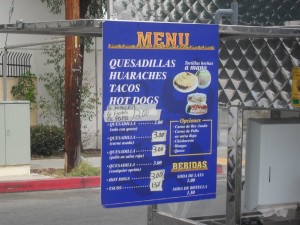 Our afternoon trip wasn't quite the same as our first. Alvaro seemed subdued but he let me take pictures. I full on expected him to clown for the camera but he refused shyly. Upon prodding, he whispered, "la chaparita es mi esposa" (the short girl there is my wife). LOL. I guess he's been taken to task for his flirting and clowning so no photos of him in this post. You'll just have to take my word that he's an entertainer. The food on the other hand was the same, excellent melty goodness. I had the nopales y hongos again, David had carne asada y hongos and Phillip had plain carne asada. We filled our quesadillas with toppings till they couldn't close, dripped on salsa and crema and dusted them with a little cotija and were on our way home. Happy munching ensued.
The quesadillas from Quesadillas Lupita are luscious. The tortillas are made to order, they don't skimp on ingredients and for $3.00 the portions are huge. They're located on the market side of Etiwanda just off of Lankershim from 9:00 a.m. till about 3:00 p.m.