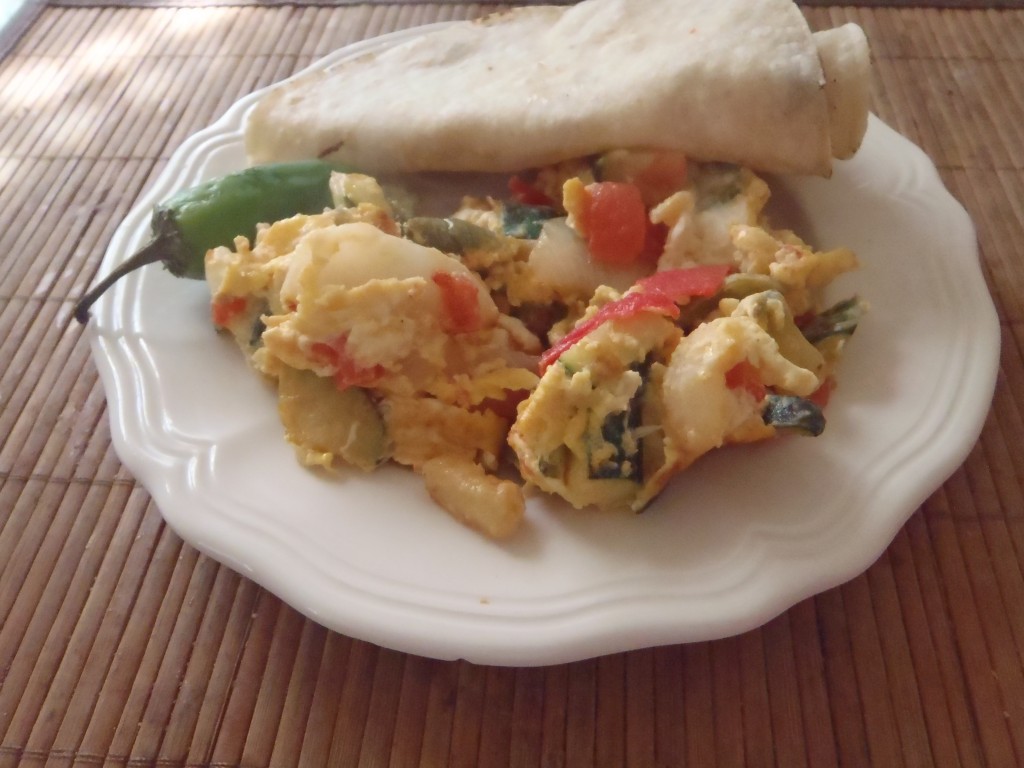 I hate plain scrambled eggs.  When I was growing up, we never had plain scrambled eggs.  Well, my mother made them on occasion but to me they were just nasty and had no flavor.  They weren't like the amazing concoctions my grandmother laid on my plate at her house.  Those eggs were full of color, flavor, and smelled absolutely delicious.  They tasted even better than they smelled and my mouth always watered as my grandma was cooking them.  Plain scrambled eggs = blah to me.
At Grandma Lupe's scrambled eggs were always mixed with things like freshly made chile salsa, nopales, fresh diced chiles, tomatoes, cheese, all kinds of good stuff and served with freshly made, fluffy tortillas, a side of beans and maybe some fruit.  Every bite bursted with flavor and if that wasn't enough, there was always a bowl full of salsa to scoop onto my plate.
I rarely eat eggs these days because I am always on the go with little time to do more than grab my toast with Nutella and freshly sliced strawberries, a cup of coffee and head right back to my computer to get to work.
This morning I woke up early for me and went out for a walk before the heat of the day made it impossible.  On the way home, I stopped at a market to pick up some coffee creamer and found myself in the produce section.  I picked up a few zucchini, some fresh Roma tomatoes and a few other things while I was at it.  By the time I made it back, I was hungry and fished around in the fridge for something to eat.  I saw some left over nopales and remembered those wonderful mornings eating them in eggs at my grandparent's house.  Mind made up, I chopped up my veggies, fried them up with the nopales and added my eggs.  Just like my grandmas'.
Scrambled Eggs with Nopales, Calabacitas y Tomates
1 zucchini, finely diced
1 Roma tomato, diced
1/3 c of cooked, sliced nopales (cactus)
1/4 of an onion, diced
3 eggs
1 serrano chile, diced
Oil
Salt and pepper to taste
Heat about a tablespoon of oil in a heavy skillet.  Chop vegetables, setting the tomatoes aside.
Add nopales, zucchini, chiles and onion to the hot pan and fry on medium heat until the zucchini and onion are cooked.  Add the tomatoes and lower the heat a bit.
Scramble the eggs in a bowl and pour into the vegetable mixture.  Add salt and pepper and mix through.  Cook until the eggs are done.
That's it.
Serve with tortillas, a fresh jalapeno or salsa on the side and you've got a Mexican power breakfast.  I didn't have beans with mine this morning but I probably should have.  They make the eggs taste even better.
Note to  my family:  Yes, I know I added stuff my Grandma Lupe didn't to her eggs with nopales recipe.  The addition of zucchini was my contribution.  Her's were made with nopales, onion, eggs and once in a while tomatoes.  No me regañen por favor, for changing up the receta.