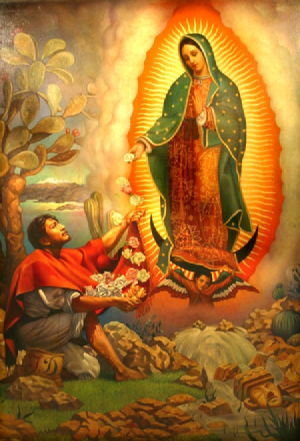 Today is December 12th, which means it is the anniversary of the day that the Virgen de Guadalupe appeared to Juan Diego on the sierra de Tepeyac.  For Mexican Catholics, it's HUGE.  For Mexican non-Catholics it's still huge.
For me, growing up with a grandmother named Guadalupe who had an absolute and firm devotion to the blessed virgin, this day is not only sacred, holy and special; but it is also wistful, a little sad and filled with memories of a wonderful grandmother.  I still remember the huge framed painting of the Virgin's appearance to Juan Diego that had pride of place in my grandparent's house.
As an Aztec dancer, this day also meant I'd be at Placita Olvera at midnight in a press of people, dressed in a traje de gala (Aztec regalia), waiting to dance/pray at 2:00 a.m.
I didn't dance this year, but I dragged myself across town to watch and say hello to my fellow dancers.  As usual, there was a huge press of people. Banda, Aztec huehuetl drums and mariachi music filled the small plaza.  I didn't stay long because I'm getting over a cold and couldn't handle being out.  Still, I pushed my way through, said hi to a few people, knelt down and said a prayer.  It wasn't the pilgrimage of thousands that Tepeyac sees every year and it wasn't my usual start dancing at 2:00 a.m. and don't stop till the next day at 9:00 p.m. odyssey, but the day was observed.  My grandmother would have liked that.
In previous years, when I danced we'd go from Olvera Street; splitting up the group to accommodate all the different Catholic churches that had requested us to dance; to various churches/masses.  I used to laugh and say I got all my churching in a twenty-four hour span because before we'd dance, we'd have to stand in the back of the church or the aisles and listen to the whole mass.  EACH TIME.
After each mass, the church people would offer up menudo, tamales, champurrado but we were always in too much of a hurry to make it to the next mass to take them up on it.  Sometimes, we'd have a chance to grab a tamale for the road but mostly, no.  We were packed into cars or vans with drums, feathers, beads and regalia fighting us for space and headed over to the next place.  Tummies growled, but we didn't care.  We were dancing for Tonantzin, the Aztec diosa that the Guadalupe represents to the indigenous.  With each mass, we got hungrier, colder, more tired but we kept at it.  We danced in parades, in church aisles, in a driveway where someone had seen an image of the Virgin, in front of statues and altars.  We danced.
For us, dancing is a prayer and we'd always start with the special one for that day Tonantzin.  Our rattles kept time with the drums and our rapidly stomping chachayotle clad ankles did too.  We danced Cruz (cross) and we danced to the four directions.  Antigua, the dance to the ancestors was always my favorite next to Tonantzin.  We danced through the dawn and all the next day.  Late that night, we'd end up at Zamora Brothers in East Los Angeles.  All us dancers would turn up, the circle completed.  No more masses, no more parades.  This was the end and we were all together; exhausted, hungry, tired and cold.  We proudly showed off our blisters and talked about how beautiful the churches were we'd seen.  We'd gather the last of our reserve strength and dance one more time, for the Virgen de Guadalupe.
Then we'd eat.  Zamora Brothers always put out a great spread for us.  Menudo, carnitas, chicharrones, ponche, champurrado and tamales.  We'd don our serapes or wearable blankets, put shoes on our cold and tired feet and eat.  We'd eat, talk, laugh and eventually, go home and sleep till noon the next day.
Feliz dia de la virgen!