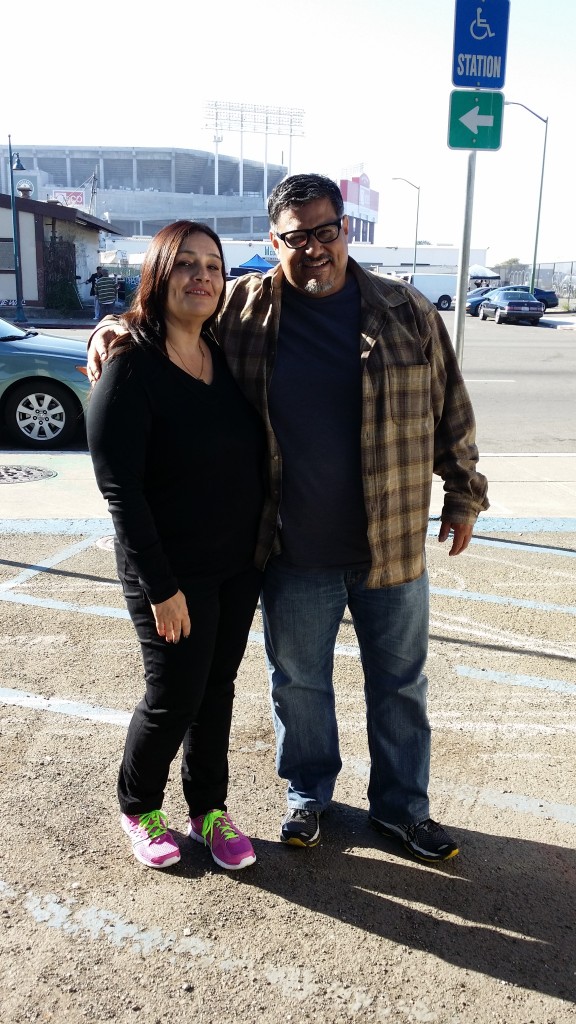 "It cannot be doubted that we witness the meeting of dear friends… The days are fated to be filled with marvels." – Theoden (The Two Towers)
We arrived later than our projected time of midnight and stumbled out of the bus both weary and excited.  As Ellie worked on getting our suitcases, I scanned the parking lot for a friendly face and there he was, standing there, arms folded, feet apart and smiling – Joe Loya.
Isn't it strange and wonderful how people come into your life?
I first heard about Joe Loya from Adriana Dominguez, who was then working at Harper Rayo.  She'd asked if I was interested in reviewing THE MAN WHO OUTGREW HIS PRISON CELL as I had reviewed other Latino titles from Rayo.  I wasn't interested, but I liked and trusted Adriana and if she thought it was great, then so it must be.  She sent me the book and immediately, I was drawn in by his words.  I don't remember what my review was, but I remember the passion I felt for it.  I couldn't put it down and wrote about it with enthusiasm.  As is my custom, if a book steals my heart, I try to get everyone I know and then some to read it.  So I posted and re-posted my review everywhere I wrote for at the time.  I really wanted people to read it.  I still do.  Go buy it.  Right now.  Do that and then and only then, follow him on Facebook and be blessed by his daily musings.  DO IT.
In any case, one day I got an email from the man himself.  It was short, sweet and it made me cry.  I still have it nine years later, it said that he loved my review, that it was the first he had seen and that a week later The New Yorker had reviewed it positively, but it was anti-climatic after mine.  How could I not love someone who mentioned my review in the same sentence as that of The New Yorkers'?
Years passed and eventually, we found each other on Facebook.  I didn't think he remembered me, but I remembered him and his book.  One day, a mutual friend took me to meet the man in person and I got to hear his performance art.  He was wonderful and while it was a short meeting, it was a meaningful one.
Months later, Ellie and I planned this trip up to Oakland and San Francisco.  I was going to see the Oakland Raiders courtesy of the NFL for their #NFLAllClear campaign through The Verizon Insider Ambassador program via The Online Mom and we'd decided to make a vacation out of it.  When I mentioned on Facebook that I was going, I got a private message from Joe.  "When do you come and where are you staying?" We chatted back and forth about it, and he offered to pick us up and also steered me away from my intended hotel (he said it smelled like armpits) and into somewhere safe and clean.
Now it was past midnight and there he was, a friend – family really because of a book, a review and the marvel of social media.  That trip further bonded us.  We had breakfast together at our hotel a couple of days later and he drove us into San Francisco bags and all, to check into an SF hotel for the last day, then back again to O.cO for the game.  As we said goodbye, I felt I was saying goodbye to a brother and I knew I would miss him.  The ex-bank robber turned writer was a gentleman with a warm and generous spirit. Ellie and I came away blessed by his wisdom, friendship and wit.

*Photos in this post were taken using the Samsung Galaxy Note 3 smartphone and the LGG2 smartphone on the Verizon Network. I was NOT compensated for this post.
Suggested hashtags: #VZWBuzz #LGG2 #Samsung #GalaxyNote3 #Verizon #Oakland #travel #friendship #NFL #NFLAllClear #OaklandRaiders